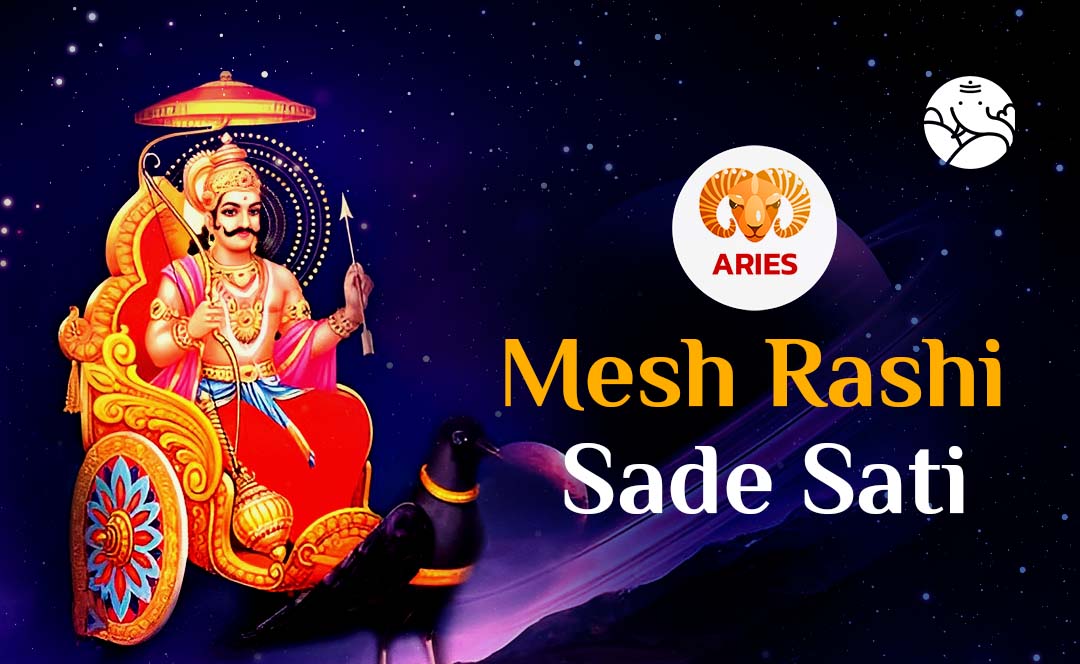 Mesh Rashi Sade Sati - Sade Sati For Aries
The lord of Aries is Mars. Saturn is disciplined while Mars is impulsive. Saturn is the limit while Mars is the unbridled action. Saturn is old while Mars is young. Saturn is a delay factor while Mars is a spontaneous factor. Saturn is self-control while Mars is aggressive. Mars is such a child that Shani would like to raise as a parent. The importance of these two planets is so different from each other that you must have guessed by now what kind of relationship is there between these two.
From the point of view of Vedic astrology, you can say that Mars and Saturn are enemies. Actually, Shani is debilitated on Mars. Also, the wind of Saturn only fuels the fire of Mars so this combination does not work well. Shani Sade Sati is generally a difficult period in life for Aries people.
Mesh Rashi Sade Sati Period
Shani Sade Sati will remain from 29 March 2025 to 31 May 2032. The position of Saturn will be good for Aries people for two and a half years. This time will be auspicious for money and career. All obstacles in life will be removed and health will improve. It will be auspicious to donate food items to the people of Aries.
Sade Sati for Mesh Rashi
For Aries native, Saturn is the lord of the tenth and eleventh house. He rules the career, profits, elder siblings, and friends of Aries people. For you, Sade Sati begins when Saturn transits Meena and ends when Saturn leaves Taurus. When Shani transits to Cancer, then your Ardhashtam Shani moves and when it transits to Scorpio, then Shani moves into the eighth house. Saturn gives excellent results when it transits over Gemini (third house), Virgo (sixth house), and Aquarius (eleventh house). Aries is a debilitating sign for Saturn, so it gives more bad results when it transits over Aries, the natal Saturn.
First Phase of Sade Sati for Mesh Rashi
When Saturn enters the 12th house from your Moon sign, it will occupy Pisces, which will mark the beginning of the first phase. For Aries, this phase of Sade Sati proves to be average because Jupiter, the lord of Pisces, is neutral towards Saturn.
In this phase, the native may have to travel a lot, which may sometimes cause physical pain. Sometimes during this period of two and a half years, you may also suffer due to health.
Second Phase of Sade Sati for Mesh Rashi
When Saturn transits Aries at the beginning of the second phase, it causes a lot of mental stress and anxiety. During Saturn's Sade Sati, the person gets angry quickly. Loss of confidence and depression become the strongest enemy during this phase. The native also has to struggle to maintain his marital harmony.
Some problems with the daily source of income are also felt at the same time. A feeling like jealousy goes home in a person's mind and feelings too. Business partnerships also remain unfavorable during the second phase of Sade Sati for Aries. Since Saturn is now in conjunction with the natal Moon, this phase also gives rise to health problems and domestic problems. The native may also have to bear insult at some point in time.
Third Phase of Sade Sati for Mesh Rashi
In the third phase of Shani Sade Sati for Aries, Shani will enter Taurus, whose lord is Venus who shares a friendly relationship with Shani. The energy of Venus acts as a calming influence here.
It makes the native extremely hardworking. No doubt some mental tension will remain during this phase also but it is comparatively better than the first two phases.
During this time some misunderstandings may also persist with your close family members. Although you may need to cut down on your expenses during this phase, there may also be sudden gains that will bring some relief.
Sade Sati Remedies for Aries
Feed crows and cows.




donate clothes to the needy




Recite Hanuman Chalisa every evening and light a jasmine oil lamp.




Black sesame seeds should be donated along with reciting Sunderkand.
Conclusion
Saturn in the seventh house will bring you new business proposals and personal relationships will also increase. If unmarried, new marriage proposals will come and many commercial treaties will also be seen. There will be an increase in post-prestige. During this period, control your speech, many times in excess of anger you will do something which can bring bitterness in the relationship. This time is important from the point of view of health. There may be digestive disorders or there will be difficulty due to contamination of food. If you are employed then there are high chances of promotion. Jupiter, fifth Mars and Saturn communicating on the zodiac will also help you. The planetary position is favorable for you and you can get its benefits. The chances of transfer of employed people are high. If you are a businessman, new relations will be formed with outside cities and the possibility of business will increase. May have to travel far away from the present place. If Aries sign wants to know more about Sade Sati, then talk to astrologers.