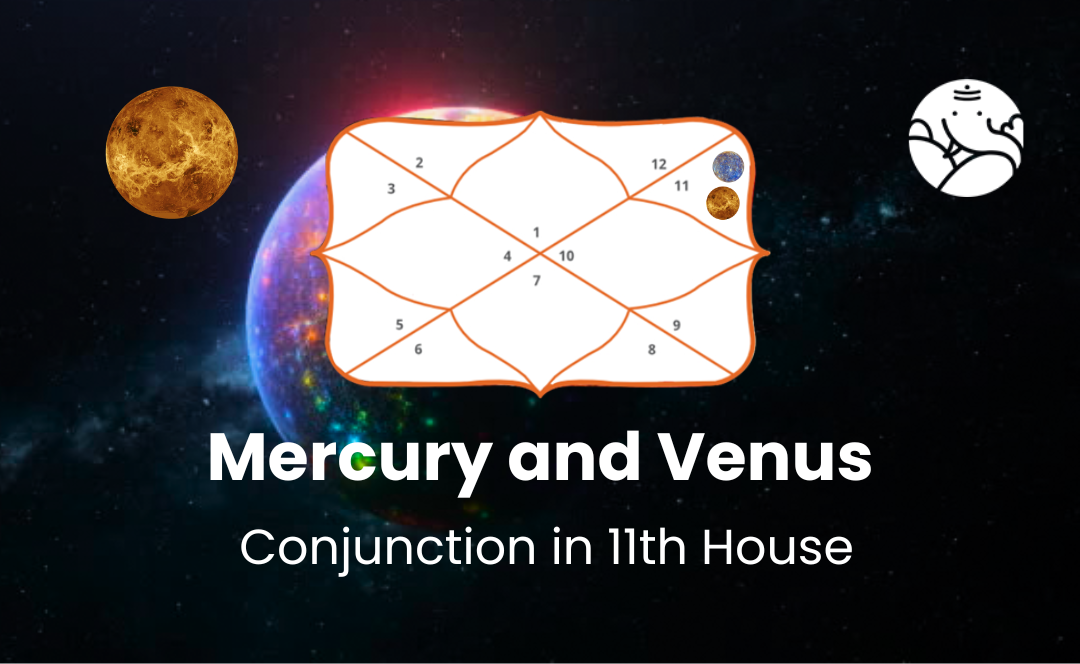 Mercury and Venus Conjunction in 11th House
A harmonious fusion of academic pursuits, social relationships, and artistic expression is indicated by the conjunction of Mercury and Venus in the 11th House, which has profound astrological ramifications. This celestial alignment bestows remarkable communication abilities on its bearers, as well as a persuasive charm that promotes the development of deep and varied friendships. Their networking skills are unmatched, and they have a natural talent for building community among friends.
Furthermore, they can significantly contribute to group projects and humanitarian causes because of their diplomatic style and creative tendencies. People with Mercury and Venus conjunction in the 11th House possess a rare fusion of intelligence, creativity, and a wide-eyed, philanthropic viewpoint.
Mercury and Venus in 11th House
The conjunction of Mercury and Venus in the 11th House has a tremendous impact on astrology, particularly when you can only ask one question during an astrology phone consultation. People with this alignment have outstanding communication skills, artistic talent, and a charming demeanor, strengthening their social relationships and socializing potential.
During the session, one can enquire about their likelihood of succeeding in group endeavors, friendship prospects, or cooperative projects. They could seek advice on effectively using their persuasive skills and creative qualities to build lasting connections or support charitable causes. Individuals can confidently manage their social and professional routes if they are aware of the effects of this conjunction.
Positive Effect Of Mercury and Venus Conjunction in 11th House
In astrology, the conjunction of Mercury and Venus in the 11th House has many favorable outcomes. This alignment's members have strong communication abilities that enable them to connect with other groups and develop lasting friendships easily. They are likable and powerful in their social circles due to their magnetic personality and conciliatory demeanor.
They perform well in collaborative settings, generating harmony and encouraging member participation. Group undertakings and humanitarian causes benefit from their inventiveness and intellectual prowess. Additionally, they have an open-minded, charitable mindset that motivates them to assist and encourage others. Thanks to this combination, individuals can contribute effectively to networks and compassionately to the group's welfare.
Negative Effect Of Mercury and Venus Conjunction in 11th House
The conjunction of Mercury and Venus in the 11th House in astrology has both positive and negative aspects. People that align with this alignment occasionally put social approval before personal authenticity, which can cause them to lose their sense of identity and become conformists. It may be challenging for them to establish deeper connections because their quest for acceptance and popularity may lead to superficial ties.
Additionally, they might avoid disagreements due to their diplomatic character, which prevents them from addressing pressing problems within their social groupings. They might also become unduly reliant on other people's judgment, affecting their decisions. For people with this conjunction, balancing their desire for societal peace and their need for self-expression and genuine connections is critical.
Mercury and Venus Conjunction in 11th House in Navamsa Chart
The conjunction of Mercury and Venus in the 11th House in the Navamsa Chart has enormous astrological importance. This alignment denotes a balanced blending of interpersonal relationships, creativity, and network connections. People with this heavenly conjunction are exceptionally charming and persuasive, making it easy to build various deep partnerships.
Their creative tendencies and intellectual prowess facilitate team endeavors and collaborative undertakings. They also tend to be drawn to humanitarian causes and take an active interest in promoting social welfare. People can be valued members of society, compassionate friends, and successful team players because of this conjunction in the 11th House.
Conclusion
In conclusion, the astrological combination of favorable traits and prospective difficulties brought about by the Mercury and Venus conjunction in the 11th House is intriguing. People with this alignment find it easier to make varied and deep connections within their social network since they have exceptional communication skills, creative abilities, and a captivating demeanor. They are great assets to society because of their capacity to contribute successfully to collective projects and back charitable initiatives. However, students must know the danger of sacrificing their true selves for acceptance and popularity. They can take full advantage of this combination, promoting individual development and beneficial contributions to the group's welfare by balancing their need for harmony with their individualism.