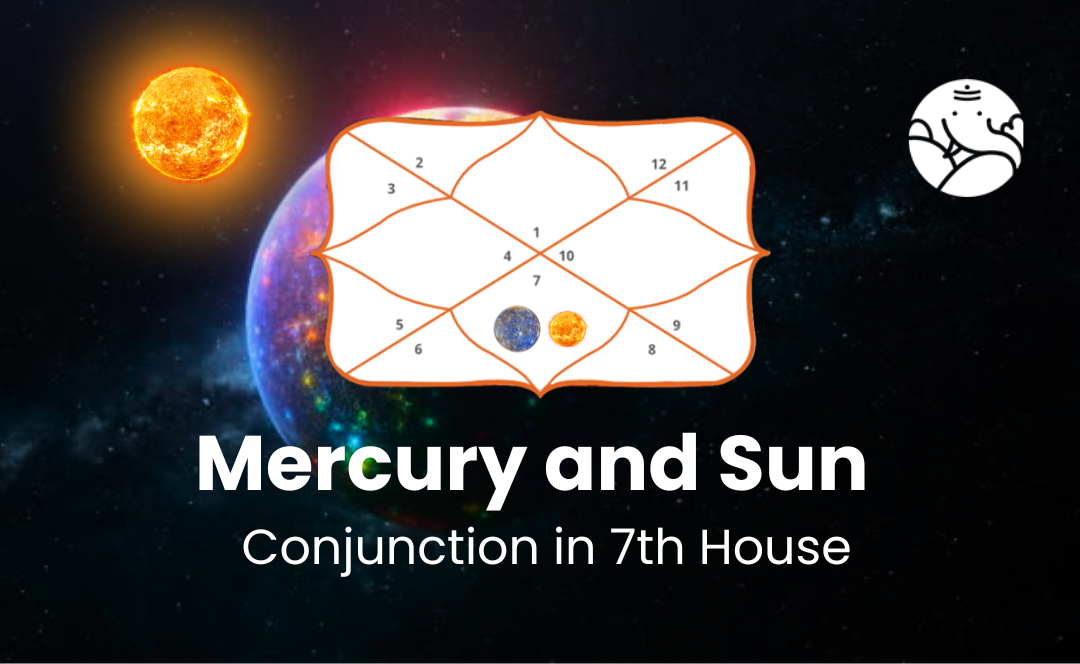 Mercury and Sun Conjunction in 7th House
Mercury's influence on us begins at a very young age. It is the second-most significant planet (after the Moon) in terms of a person's entire temperament. It rules the most crucial areas of a person's life, including expression, natural world reasoning, comprehension ability, and friendships. In the latter years of a person's life, Mercury is a planet that ultimately complements the advantages of the Sun. In astrology, the sun stands in for the inner being. This can be interpreted in the broadest and most open-ended manner possible. The fundamental and purest essence of a sense of self, motivation, and ambition is referred to as the human spirit.
Effect of Mercury and Sun Conjunction in 7th House
All traders, from painters to the person selling fruit, are considered to be in the commercial category because Mercury is a symbol and a representative of business in the seventh house.

The seventh house provides an opportunity for interpersonal abilities, and the native of Mercury and Sun Conjunction in 7th House may be a very skilled orator with exceptional speaking and persuasion skills who works in the judicial or commercial spheres. The planets strive to make communication and connection central to their existence.

These natives like to travel to different nations and to know about the culture of the whole world. They are often regarded as cosmopolitan and they make foreign friends. They trade with other countries and are often successful in export-import businesses. They have the potential to pick up any career and to successfully continue it without facing any additional situations.
Positive Effect Of Mercury and Sun Conjunction in 7th house
Since the seventh house is a house of weddings, if Mercury appears there, you are probably going to enjoy a fulfilling marriage. You two might enjoy some alone time. You and your spouse might find the right balance to forge a strong bond. You may also succeed in your relationship objectives by supporting one another.

If the Sun is strong in the seventh house, the person will be admired and viewed as a leader that others will dread. The native may make a superb leader, legislator, arbitrator, or attorney.

Mercury and Sun Conjunction in 7th House Provides energy that is beneficial, and if it is in your ascendant, it will give you a highly appealing, captivating charisma as well as a brilliant, gleaming face with a fair complexion. Your assertive and upbeat demeanour as well as your propensity for putting in long hours of hard effort will earn you a great deal of admiration.
Negative Effect Of Mercury and Sun Conjunction in 7th House
You may experience problems in your intimate relationship if Mercury is in the seventh house of the horoscope. It might make labor and delivery more challenging. You might, nevertheless, achieve equilibrium in your romantic partnership, but only after experiencing many fluctuations in circumstances.

Because those around them attack their ego and cast doubt on their authority, the native of the Sun in the seventh house has weak self-worth and trustworthiness. As a result, the native of the Sun in the seventh house exhibits irrational rage, acts impulsively, and attempts to establish their value in an effort to appease their ego and adopt an authoritarian demeanor.

They sometimes give more preference to their romantic partner and thereby neglect their childhood friends and close relatives. This creates a disturbance in their age-old friendships and they turn away from them, making them secluded in their problematic situations. Ask One Question regarding your suitable career.
Mercury and Sun Conjunction in 7th House in Navamsa Chart
According to Navamsa Chart, A person with Mercury in the 7th house is very clever and knowledgeable. They yearn to discover and learn more. Sun in the 7th house forms a Bhadra raj yoga, which endows the native with great trade and mathematics skills, if it is in its own or an advanced sign.

A slim physique is indicated by Mercury and Sun Conjunction in 7th House. The native has an elevated forehead, so wide face, passionate facial features, and small eyes. The person's head is represented by the 7th house. Sun in this instance thus suggests an analytical but confused mind. Mercury in the 7th house that is afflicted might cause despair and a lack of moral principles in the native.
Conclusion
There may be a brief break from your spouse. Women may become infertile due to the Sun's positioning in their charts, have issues getting pregnant or giving birth to a child, or both. Even though you will have children, both partners will always be concerned for the health and welfare of the children. Superiority complexes and competitiveness for skill and work will build a barrier between your spouse and your relationship. Astrology Phone  Consultations is a great platform in today's world to take suggestions from our expert astrologers.