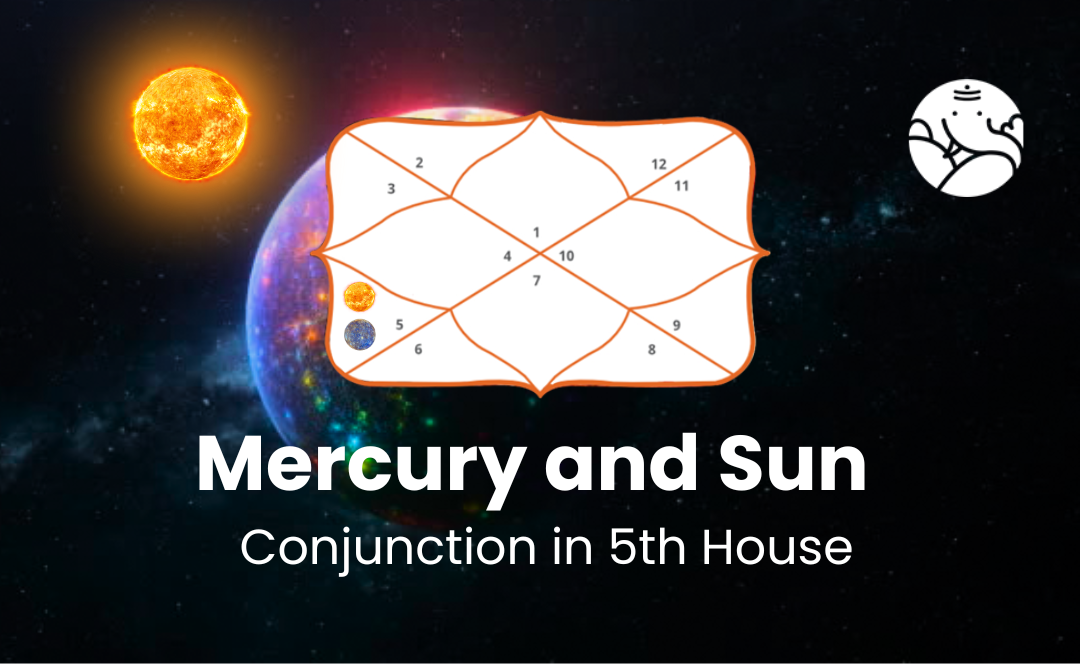 Mercury and Sun Conjunction in 5th House
Happiness is the focus of the fifth house in Vedic astrology. What counts is what makes you happy. And we regularly observe that the fruits of our imaginative deeds and thoughts are a joy. The fifth house therefore also deals with artistic expression which gives us happiness and delight. Therefore, all forms of creation are governed by the fifth house. Included are our offspring, who are referred regarded as our "natural extensions." According to legend, people with the sun in the 5th house excel at activities that need a lot of creative thought, such as humour, relationships, writing, and athletics.
Effect of Mercury and Sun Conjunction in 5th House
When the Mercury and Sun Conjunction in 5th House of marriage, spouses may occasionally have issues with conception and delivery. Or the newborn can be weak and unwell when it is born. Additionally, the expectant women could miscarry. Therefore, the health and happiness of the children will be greatly affected by the sun.

If the Sun is in a difficult position in the fifth house, the native is more likely to lose money on risky endeavours. The Sun's position will also have an effect on the love engagement. One has a higher propensity to become arrogant, erratic, jealous, and irritable.
Positive Effect Of Mercury and Sun Conjunction in 5th house
The 5th house in astrology typically performs pretty well because it is the Sun's own house. If the Sun is not in a bad position, it bestows both a son in life and intrinsic artistic and creative ability. Someone with the Sun in the fifth sign is lucky in adventurous business and has a lot of male companionships, according to Vedic astrology.

The 5th house is also known as the place of descendants and understanding. It helps the couple get ready for conception. Since Jupiter is the house's significator, you might benefit from its gift of luck and wisdom. Mercury's position in the fifth house may enhance your mental capacity. Additionally, it might contribute to the growth of intelligent and productive interpersonal skills.
Negative Effect Of Mercury and Sun Conjunction in 5th House
The powerful and flaming nature of the Sun in the fifth house washes up every aspect, including the native's reproduction, which can make childbearing challenging. There will be no conflict in this aspect, though, if Jupiter is facing the Sun.

The father of the native will be a broker of stocks ingenuous person, or gambler, signifying ups and downs in the economic situation of the family.

These persons are more interested in making black money and can even be caught red-handed for their wrongdoings and may be arrested by law enforcement agencies. They will have criminal psychology which will cause them harm in their career.

They always try to blame others if they are in an odd position and can be very much revengeful. They very often quarrel with their spouse for trivial matters and thus their relationship gets disturbed and they may face legal litigation and divorce. Ask One Question regarding your time of marriage and entering into a harmonious relationship.
Mercury and Sun Conjunction in 5th House in Navamsa Chart
According to Navamsa Chart, Mercury and Sun Conjunction in 5th House is associated with inventiveness, learning, the conception of youngsters, adventurous enterprise, gaming, sports wagering, the arts, live theatre, and past-life deeds. It also denotes an interest in learning about ancient cultural and literary works.

The fifth house signifies numerous professional options in advertising, promotional materials, financial services, or accountancy may become available thanks to Mercury. The IT industry may provide you with a lucrative employment opportunity. Mercury might help you pursue a career as a software engineer. You might eventually land an experienced position in your particular industry. You might advance to the position of manager.

Given that Mercury is the planet for speaking, you probably have a gift for orating and sharing your information. If you seek a job as an instructor or educator, you might be successful.
Conclusion
The fifth house is associated with amorous ties, joyful feelings, and offspring. Mercury in the Fifth Bhava might therefore make you an educated individual who makes a great professor, inspiration, or counsellor. These locals should refrain from going too far, though. Early in life, Mercury in the 5th House brings luck. It also symbolises an early wedding.
These persons might suffer from an inferiority complex in their minds. They might have neurological surgery at a very young age. They have a critical mind which will keep them away from the common people. They always look at the darker side of everything. After all, they may suffer from cataract problems in their eyes in their old age and can even lose their vision if not treated properly at the correct time. Astrology Phone  Consultations will definitely help you in managing your health issues and take tough decisions.