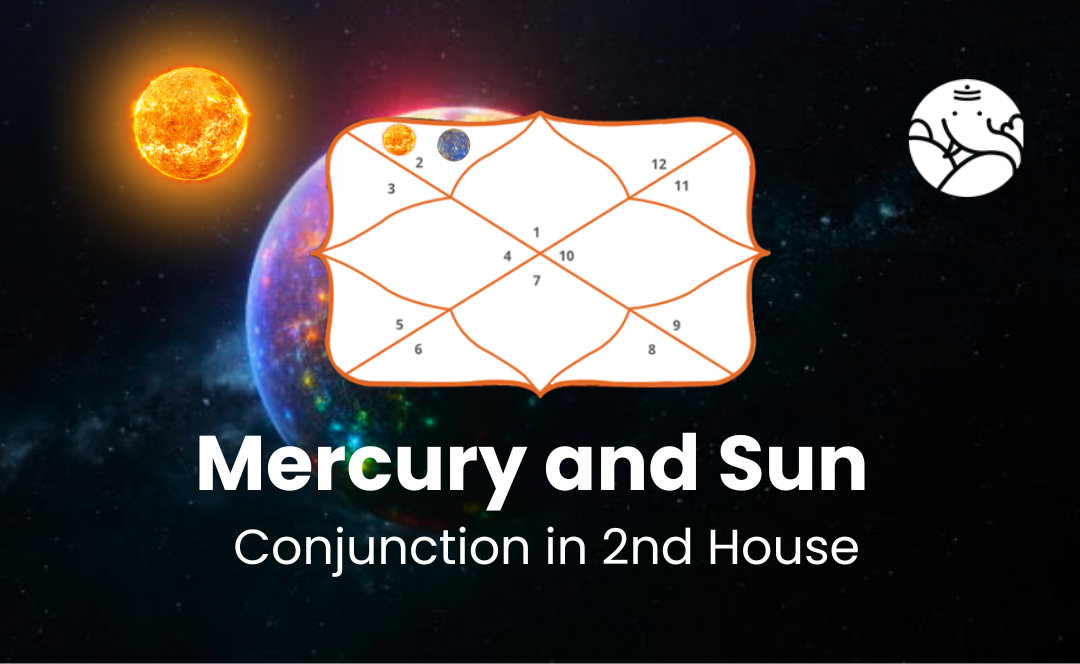 Mercury and Sun Conjunction in 2nd House
Mercury and Sun Conjunction in 2nd House are in charge of the ancestral home, professional front, patriotism, and determination. Due to Mercury's passion for collecting wealth, the second house native of Mercury develops materialism. Mercury in the second house grants the ability to communicate and a sense of the native's level of sincerity. Mercury, on the other hand, can cause difficulties with speech syndrome due to a malefic planet.

This combination can be either too good or it can be too bad. These persons have both benefic and malefic effects depending upon the position of other planets. They are likely to settle in their native place. They might prefer to live in villages rather than in the city and may take up agriculture and fishing as their occupation.
Effect of Mercury and Sun Conjunction in 2nd House
When Mercury and Sun Conjunction in 2nd House, the native develops a strong sense of patriotism for their nation, its heritage, and ancestry, and their reasoning is shaped by this. They would have such intelligence due to the programming in their brain chemicals. They frequently are seen majoring in history and psychology in higher education.

Mercury rules the second house, and its people excel at public speaking, singing, and debating. The business or financial native makes use of his intelligence and analytical side to take profit from the economic climate. According to this understanding, the native should work as an attorney, industrial banker, certified public accountant finance professional, assessment collector, or auditor in general.

A powerful Sun essentially provides you the ability to succeed against any circumstances, but it can also give you anger that leads to selfish attitudes. On the other hand, a weak Sun might result in low self-esteem, poor independence, and difficult circumstances.
Positive Effect Of Mercury and Sun Conjunction in 2nd house
In astrology, the Sun represents the inner being, fatherhood, the government, influence, and legitimacy, as well as your public image and interpersonal interactions. Simply said, a strong Sun offers you the capacity to fight off all of life's ills, including internal battles with illnesses, determination, the immune system, and life-sustaining vitality.

They have an innocent nature which makes them comfortable confronting others and are easily accepted as friends by others. This nature helps them in professional careers like investigation of various criminal and financial scams. They are often awarded by their organization for their distinguished skills and services. They are a center of attraction in their department.

They are often involved in secret operations along the borders and they always keep secrets regarding their mission. They are loved by their wives and family and are happy in their married life.
Negative Effect Of Mercury and Sun Conjunction in 2nd House
They have a lion-like recklessness and fury, as well as a tendency to be a little indolent. The managerial characteristics that the sun bestows on the native as a result of this position can occasionally manifest as anger and a sense of entitlement. The sun's placement in the ascendant, though, can also make the native self-centered.

They often boast about their reputation and standing which makes their friends stay apart from them. They are easily affected by the words of others and are of low confidence. They are likely to suffer from an inferiority complex and stay a secluded life. They are often confused to select their career and soulmates and they make mistakes in choosing them. Therefore, they might suffer a lot from their career point of view. Ask one question of our eminent specialists before choosing a career.
Mercury and Sun Conjunction in 2nd House in Navamsa Chart
According to Navamsa Chart, Married life is closely related to the second house. The Second House is another residence that contributes to fatalities. This house symbolizes loved ones, thus if it is affected in your chart, it will drive you to argue, quarrel, and differ with family members. Makara simply refers to houses that kill you both internally and externally. Any person could die in such a house due to its awful features.


Conclusion
Natives with the Sun and Mercury in the second house have strong moral convictions. Their rigorous standards of ethics cause them to develop a lot of relationships or friendships. They are also highly rational as well as accountable in life, which gives others great faith in them.

Additionally, those with the Sun in their second house are wealthy, own a lot of money, and own a lot of real estate. To fulfill their goals, they might be able to acquire an enormous amount of money. Their early affluence and prosperity will also increase their self-esteem and confidence. This self-assurance aids them in creating a dazzling, prosperous career. Astrology Phone  Consultations will definitely assist you in your tough times.