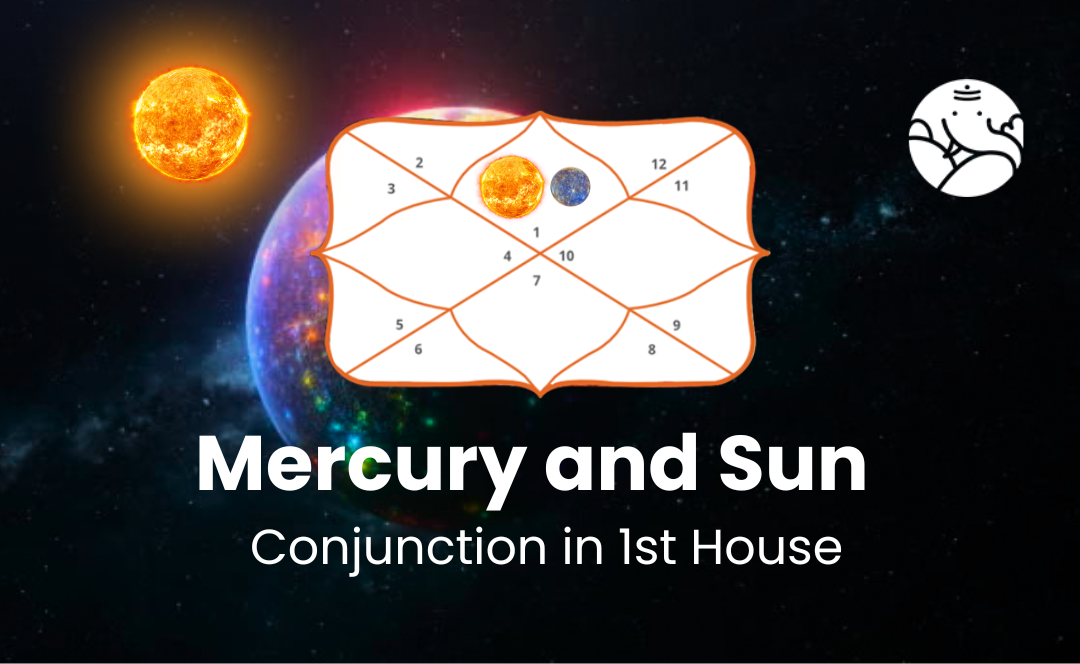 Mercury and Sun Conjunction in 1st House
The physical being, individuality, and characteristics of the native are represented by the first house. For the native's future, the first house is described. The Sun is a symbol of management and an individual who aspires to the peak, such as a monarch or other figurehead.
The conflict between ego and personality is represented when the Mercury and Sun Conjunction in the 1st House of Matrimony. The natives will be self-centered and attempt to impose what they believe and think on their partner, which somehow benefits them. However, if Sun is weakened, the native's partner will just care about themselves, and there will be lots of arguments about social status and image-related issues.
Effect of Mercury and Sun Conjunction in 1st House
People who are born with Mercury in the first house of their birth charts are exceptionally smart and have profound minds. They want to increase the breadth of their understanding by acquiring all available knowledge since they are enthusiastic and questioning.
They are dreamers first and foremost, with broad personality traits, a flexible viewpoint, and a wide-ranging outlook. There are mysteries around that are just waiting to be discovered, therefore everything is valuable looking again.
Positive Effect Of Mercury and Sun Conjunction in 1st house
One of the best traits of people born with Mercury and Sun Conjunction in the 1st House is their thirst for knowledge, which prevents them from letting a chance run by without grabbing it.
The entire world is such a wonderful place to discover because there are mysteries concealed in every nook and crevice. They cannot ignore the allure of exploring uncharted territory, the sound of coming victory, or the wealth of information preserved in the records of previous civilizations.
These people are very faithful to their company and they are always ready to help their employers. They are regarded as the assets of their company. They may sometimes be given out-of-turn promotions in their service life.
Once they reach the age of 45 years, they will lead a luxurious lifestyle and will enjoy every riches. They will significantly gain their respect and will be placed in the zenith.
They have a loyal nature towards their customers which brings them enough profits in their business. They prioritize their honesty rather than their money.
Negative Effect Of Mercury and Sun Conjunction in 1st House
One of the most harmful things they do almost constantly does not give other viewpoints and concepts the attention they deserve.
No matter who is speaking, they will not be listening to what is being said, but rather planning their subsequent lines and objections.
These people sometimes tend to be over-friendly and this makes them lose their respect and others think of them as opportunists. They neglect their friends in their good times and need them in their tough times.
They are very wicked in nature and never think twice before spoiling others' life. They have a strong urge to take revenge and after taking the revenge they become satisfied.
They may face issues regarding inheriting their ancestor's property and they may need to run to the court of law to get justice. They are often deceived by their uncles and brothers. They may engage in a dispute with their father and brother-in-law.
Mercury and Sun Conjunction in 1st House in Navamsa Chart
According to Navamsa Chart, Your interaction is outstanding or fantastic when Mercury is in the first house. You gain a creative mind and skill set as a result. Mercury in the first house elevates your level of thinking and makes you philosophical. A favorable Mercury in the first house encourages people to take risks and venture outside of their comfort zones. They will succeed because of their willingness to take risks. Mercury in Gemini and Virgo in the first house create Bhadra Yoga, endowing you with excellent brilliance and sharp memory as well as making you an outstanding communicator. 
They can be very successful in the timber business and businesses relating to plastic and furniture items. They may run a business of things related to holy rituals and pujas. They can be a wholesaler of sandalwood and wooden beds. Ask One Question regarding your career.
Conclusion
Mercury and Sun Conjunction in 1st House indicates people who are egotistical, assertive, and won't take no for an answer. According to the sign that the sun is in when it is placed in the first house in Vedic astrology, the native has excellent wellness. A person has excellent teeth, a heart that's in good condition, and excellent academic credentials.
Their initial days of life may be very happy but they will have to face troubles during their last days of life. They may even be jailed for involving in criminal activities for the sake of gaining monetary benefits. Astrology Phone  Consultations will help you lead a healthy lifestyle.