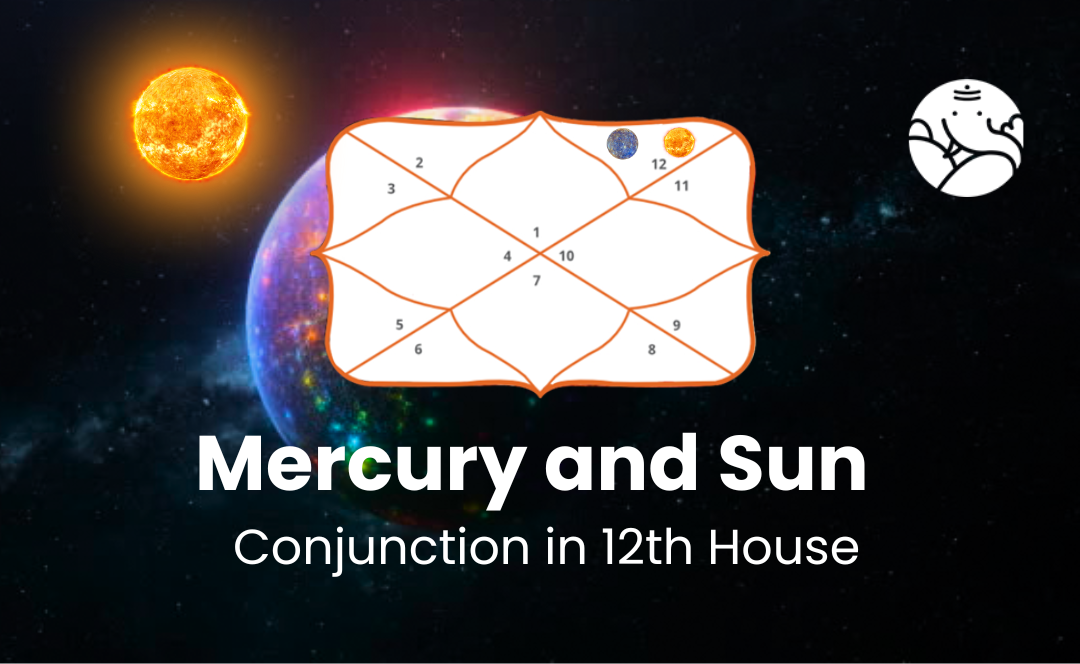 Mercury and Sun Conjunction in 12th House
The conjunction of Mercury and Sun in the 12th house holds a special and important place. Its position and status have the power to change your life. Mercury is also considered to be a planet with a high capacity to think critically, see and inspire. Mercury and Sun Conjunction in the 12th House are in a positive position, there will be fewer disagreements and problems in your life. Additionally, anyone associated with this planet can lead a strange and unusual life. In addition, they have stronger creativity than everyone else.

The heart is pictured by the sun in astrology. This can be taken in the broadest, most ambiguous manner possible. The fundamental and purest nature, the finest significance of personality, motivation, and ambition are all referred to as the inner self. The twelfth house represents the elements of freedom and seclusion. There is a feeling of detachment as well. As a result, when the Sun is in the twelfth house in a native's horoscope, they may be more reflective and more in tune with the greater levels of awareness. Additionally, they can have an intellectual bent of thought.
Effect of Mercury and Sun Conjunction in 12th House
Harmony and tranquilly are deeply rooted in those who were raised in this house. This also paves the path for a smart and well-informed personality. Additionally, they are permanently associated with the universe and their religious affiliation is deeper than ever.

Even while you enjoy receiving praise and prizes, you also prefer to live by yourself. A calm environment is necessary for you to multitask your ideas. According to an analysis of Vedic astrology, the Sun's position in the house has a lot to give you.
Positive Effect Of Mercury and Sun Conjunction in 1st house
Higher levels of knowledge, as well as logical and spiritual education, are provided by Mercury in the 12th Bhava. Wealth, travel, and the chance to relocate overseas are all facilitated by a favourable Mercury in the 12th House. It fosters development that may enable you to advance from the entry-level employment you held to a prominent one in your field.

Due to their self-importance or self-worth, people with the Sun in the 12th House become less concerned about things, which causes them to go down an illegal path. The native can work as a medical professional in a mental institution or healthcare facility, as a counsellor in a prison, or as a warden. They are suitable for officers of correctional homes due to their personality and physical fitness. They can excel in that career and there is a high chance of getting good promotional prospects in that line of work. They can join as a warder in the jail department and can rise up to superintendent of correctional services.
Negative Effect Of Mercury and Sun Conjunction in 12th House
If Mercury is weak or incapacitated, then the 12th House is a curse. The locals could deteriorate physically and even lose limbs. At the age of 32, they only want or love to interact with people outside of their immediate family since they are shy and lack a friendly social demeanour.

Sun in the 12th house denotes the illumination of adversaries or issues that are concealed. The Sun in the 12th house aids the locals in discovering the unidentified issues connected to their hidden character because of something they have been suppressing.

They enjoy talking to ladies and flirting with them. This creates a lot of disturbance in the relationship of their spouses. They tend to avoid them because of their bad character and spend less time with them.

They always try to gain in every situation which creates disturbance with their cousins. They sometimes try to cheat their cousins over ancestral property and often they are produced in courts for the same. Ask One Question regarding your health issues during old age.
Mercury and Sun Conjunction in 12th House in Navamsa Chart
According to Navamsa Chart, Their job in internet advertising will bring in a substantial amount of revenue. They might pursue careers as authors, musicians, or supernatural researchers. They achieve popularity by operating on their own, where they only need to communicate with customers. Because of their powerful physiques and attractive features, they can also excel in sporting activities. They may also attempt their chances in the military or any combative discipline, where they can establish multiple enterprises including import-export, trading in securities, and share trading and become highly prosperous.
Conclusion
These people have both positive and negative sides. They want to enjoy their lives to the fullest and are attracted towards the beauty of nature. They enjoy jogging on countryside roads, swimming in ponds and fishing. They should stay away from water as they are prone to accidents related to water. They should not participate in water sports and should be very cautious while travelling in the sea. Astrology Phone  Consultations will guide you further according to your needs.