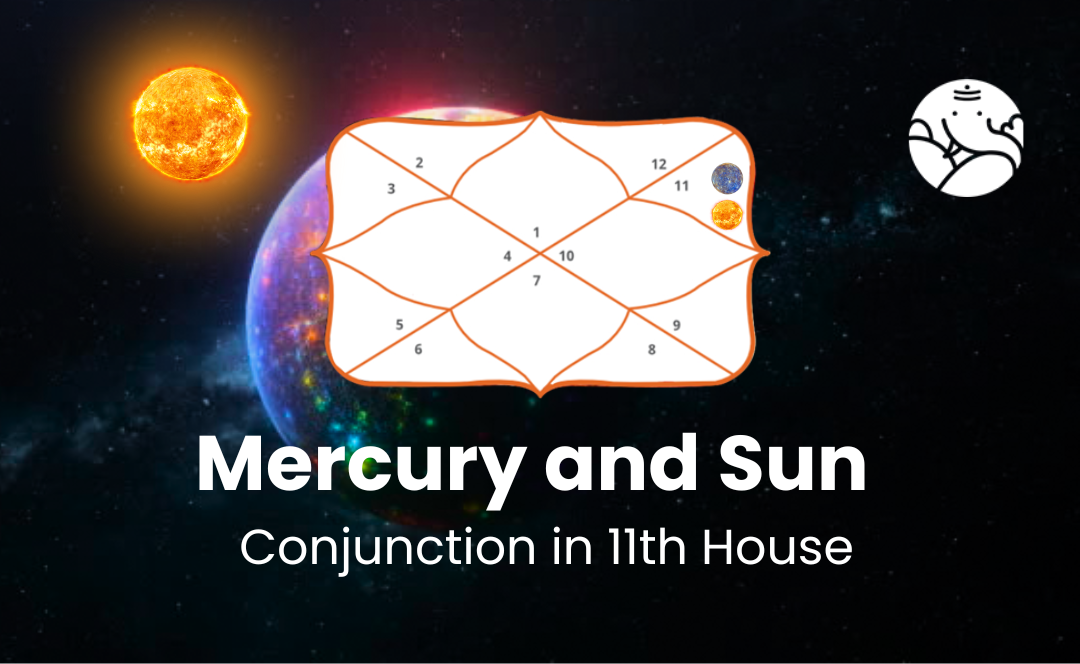 Mercury and Sun Conjunction in 11th House
The 11th house, commonly known as the Labha house or the house of profits, is a fortunate house. It is a reliable predictor of earnings and income. It stands for income, advancements, riches, and luxury. The 11th house will determine your aspirations and wishes, as well as whether or not those desires come true.

When Mercury is in this place, a person has an extremely sharp mind and takes on significant family responsibilities at an early age. The native will possess a clean, imaginative, and active intellect. The accomplishments of the individual after the age of 33 will be due to the native's constant fearlessness and bravery to take chances and try new things. The 11th of all ascendants, Budh Graha, turns. The native will be exceedingly perceptive and smart. Most endeavors will do well if they are native. After getting married at age 33, satisfaction will rise.
Effect of Mercury and Sun Conjunction in 11th House
Sun in 11th house individuals is more interested in winning individuals over to their side than they are in exerting power or dominance over them. They are friendly and amiable and are good at making friends. Additionally, they have excellent organizational skills. They are well-off and live long, robust lives.

Idealists make up the inhabitants of the Sun in the 11th house. They always envision a world that is more peaceful. They have a strong faith in the efficacy of goodness and joy. They are interested in modifying things and improving humanity.
Positive Effect Of Mercury and Sun Conjunction in 11th house
Mercury and Sun Conjunction in 11th House native will be quick to think and very responsive to the kind of person. With a little effort and dedication at a young age, a native's spouse may be crucial to the native's achievement. The native will succeed by being on time. The native will complete all tasks promptly. The native will also visit other countries. Locals can become well-known, content, and wealthy through online commerce and social networks celebrities, among other opportunities. Digital enterprise, as well as YouTube videos, blogging, social media profiles, etc., can lead to significant riches. One who has Mercury in this house is exceedingly sensible, clever, and born with commercial aptitude. The natives will have steady progress and renown in their professional lives.

Between the ages of 30 and 33, a native can get married. The most peace of mind will come from being married to the native. Additionally, the native will have a charming and stylish character. The spouse's job or profession may also be advantageous to the native.

Marriage will bring the native a variety of pleasures and romanticism in life. ercury and Sun Conjunction in 11th House local will journey to far-off locations Additionally, the kids will be exceptionally intelligent and athletic. They can also provide you with an employed, career-focused husband, but they are also a very capable housekeeper and domestic caretaker.
Negative Effect Of Mercury and Sun Conjunction in 11th House
These persons will be more focused on making money rather than giving importance to relationships and friendships. They only know one thing in life which is to earn money from different sources. That is why their mind becomes degraded and they only search for ways to gather monetary benefits.

They make fun of poor people and show their status to them. They never provide them assistance nor do they come forward for any social programs. They stay away from the common masses of society.

They are sometimes afraid of speaking the truth and moving on the path of divinity. They neither follow any spiritual gurus nor devote themselves to God. They are opportunists and they are always ready to utilize an odd situation without thinking twice. Ask One Question of our eminent astrologers before choosing your career.
Mercury and Sun Conjunction in 11th House in Navamsa Chart
According to Navamsa Chart, Native people will have great luck in life and be extremely appealing. Some people gain fame and attractiveness over time thanks to the sun in this house. Sun in this house makes an individual sensible and money-minded but still maintains independence and modesty in their interactions with others.

A lot of political achievement, influence, and leadership positions are given by the sun in this house. Natives will serve the general public and hold positions of influence. Sun in this house brings excellent results in the realm of competition and adventures, thus native may become an athlete star. Sun in the 11th house indicates prosperity in the public relations industry.
Conclusion
They are excellent at drawing pictures and recitation. They have an artistic approach to their lives. They are often injured in accidents related to bus and train journeys. They can have liver disorders at a very young age and can have problems in their reproductive system. Take Astrology Phone  Consultations from our specialists to know more about your life.