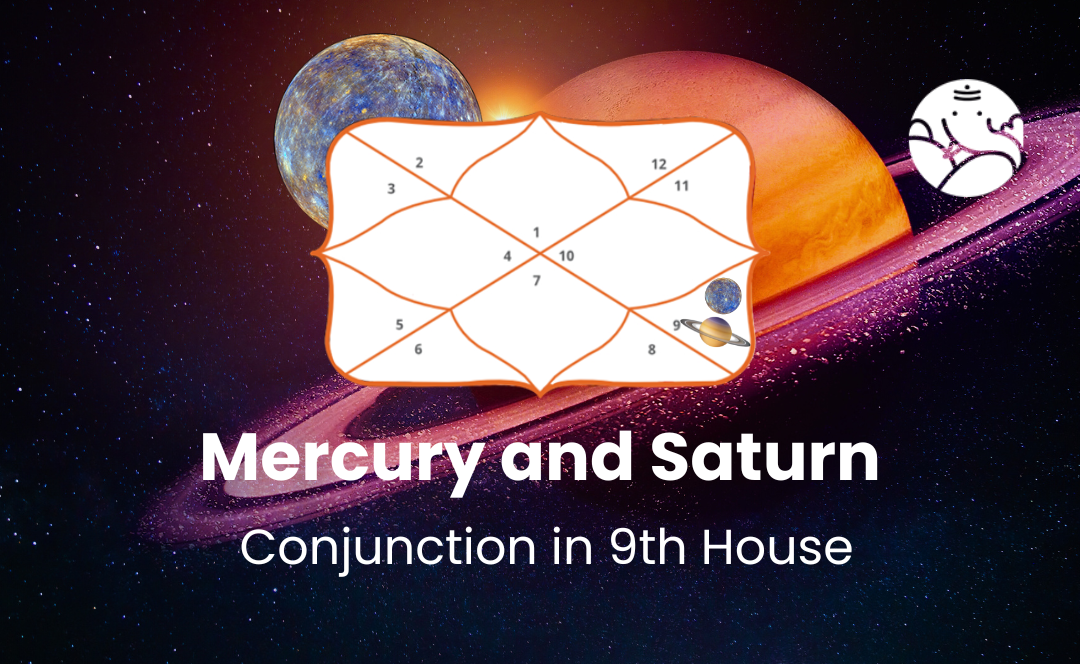 Mercury and Saturn Conjunction in 9th House
The astrological conjunction of Mercury and Saturn in the ninth house considerably impacts a person's beliefs, level of education, and philosophical perspective. The powers of Mercury, which stand for thought and communication, and Saturn, which stand for duty and discipline, are combined in this alignment. These planets form a unique blend of critical thinking and careful approach while in the 9th House, which rules subjects like higher learning, spirituality, and travel. This combination tremendously affects how people view the world, participate in philosophical debates, and pursue educational goals, frequently resulting in a blend of thinking and pragmatism.
Mercury and Saturn in 9th house
In astrology, the impact of Mercury and Saturn conjunction in the 9th House is substantial, affecting beliefs, further education, and spiritual endeavours. This alignment combines discipline and communication abilities to produce people who tackle these areas attentively and responsibly. During an astrological phone session, people can ask one question about how this combination affects their academic endeavours, philosophical attitude, or spiritual journey. They can use the consultation's insights to understand their learning style, worldview, and spiritual development. This allows them to balance order and free-spirited exploration, supporting intellectual and spiritual growth for a more fulfilling life journey.
Positive Effect Of Mercury and Saturn Conjunction in 9th House
In astrology, the conjunction of Mercury and Saturn in the ninth house fosters cooperation and self-discipline. People take academic pursuits, theology, and spiritual endeavours seriously and responsibly. They are better able to participate in comprehensive research and insightful debates due to this combination, frequently excelling in academic pursuits. Their logical reasoning helps them understand complex topics and clearly express their opinions. This feature fosters an overwhelming feeling of obligation to one's views and ideals, which results in a sound and developed philosophical worldview. They can better contribute positively to intellectual endeavours, spiritual development, and cross-cultural understanding when embracing these qualities.
Negative Effect Of Mercury and Saturn Conjunction in 9th House
The conjunction of Mercury and Saturn in the ninth house has both positive and negative astrological implications. This personality trait can make people extremely judgmental or dogmatic in their opinions, which prevents open-minded inquiry. Their cautious disposition may make them reluctant to engage in philosophical conversations openly or consider fresh viewpoints. In their quest for greater understanding, they can have trouble balancing planning ahead and allowing for more spontaneity, thus stunting their intellectual development. To maximise the benefits of this conjunction, it is essential for them to avoid being overly dogmatic and to adopt a more open-minded approach to acquiring knowledge and belief systems.
Mercury and Saturn Conjunction in 9th House in Navamsa Chart
According to Navamsa Chart, the conjunction of Mercury and Saturn in the 9th House in the Navamsa Chart has a significant impact. This alignment combines the energies of communication and discipline, impacting how someone approaches educational institutions, systems of thought, and spiritual study. This characteristic is present in individuals who approach these domains methodically and cautiously. The conjunction denotes the need for in-depth investigation and a systematic approach to comprehending philosophical concepts. However, they must be careful to avoid being unduly pessimistic or narrow-minded, which impedes their spiritual development capacity. People can handle their academic and spiritual endeavours with wisdom by embracing the good aspects of this conjunction, which will create insightful perspectives and a well-balanced approach to higher education.
Conclusion
In conclusion, the conjunction of Mercury and Saturn in the 9th House has important astrological ramifications. This alignment combines discipline and communication skills to produce people who take higher education, religious beliefs, and spiritual development seriously. Creating a disciplined approach to philosophical conversations is important while encouraging open-mindedness and a readiness to consider alternative viewpoints. People can develop a responsible and well-rounded attitude to their beliefs, contribute positively to their intellectual development, and participate in fruitful spiritual discovery by embracing the favourable features of this conjunction. This equips them with the knowledge and insight to explore more advanced areas of knowledge from a broad viewpoint. Astrology phone consultation can provide customized knowledge to deal with the conjunction of Mercury and Saturn in the 9th house.