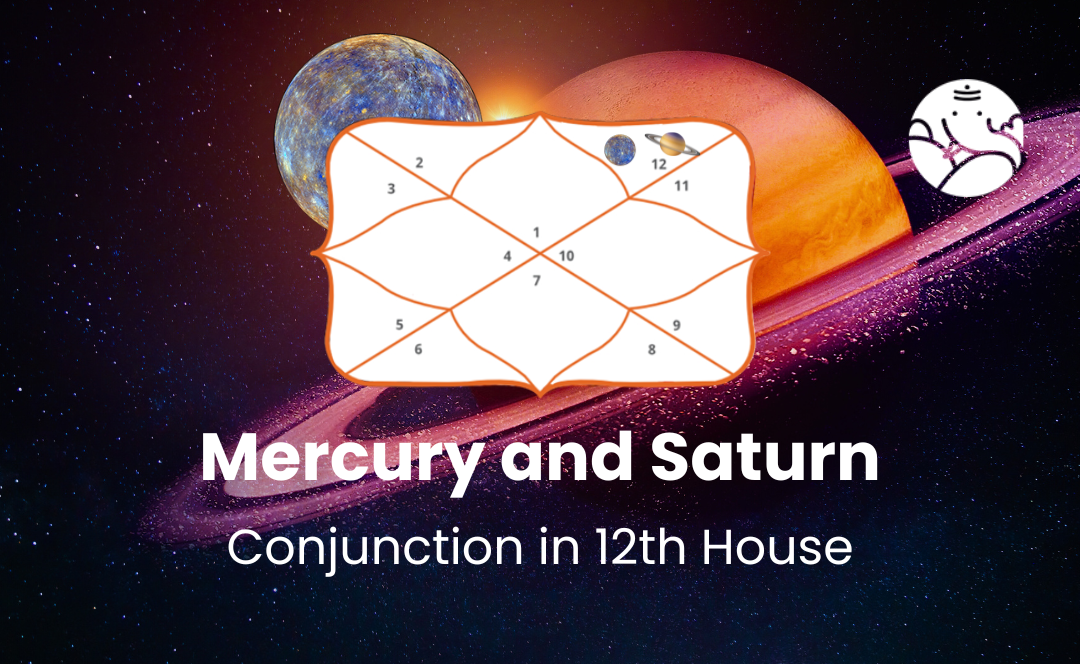 Mercury and Saturn Conjunction in 12th House
A potent astrological alignment that combines the energies of communication and discipline in the world of the subconscious and buried issues is the conjunction of Mercury and Saturn in the 12th House. The hidden parts of life, spirituality, and introspection are all represented by the 12th House. When these planets align, people may take an organized approach to investigate their minds, explore their fantasies, and explore their inner world. This combination can represent a focused approach to spiritual topics, supporting a rigorous and considerate investigation of the subconscious mind. Additionally, it implies that intellectual analysis and intuitive knowledge must coexist in this area.
Mercury and Saturn in 12th house
Astrological importance can be found in the Mercury and Saturn conjunction in the 12th House, which unites discipline and communication in the subconscious and spiritual realms. Intense contemplation and careful study of repressed thoughts are two ways this alignment can appear. During an astrological phone session, people could ask one question about how this conjunction affects their inner life, dreams, and spirituality. They can grasp their subconscious habits and learn how to direct their systematic thinking toward spiritual progress with the help of the consultation's insights. They may navigate their subconscious with knowledge because of this understanding, which supports an equitable approach to spirituality and self-discovery activities.
Positive Effect Of Mercury and Saturn Conjunction in 12th House
Positive astrological results result from the conjunction of Mercury and Saturn in the 12th House, which combines communication skills with methodical contemplation. By enabling people to dive into the recesses of their subconscious, this alignment promotes an organized approach to discovering oneself and spiritual development. They have a sharp analytical mind that helps them comprehend underlying motives and unresolved problems. They are inspired to practice contemplative activities due to this element, which results in profound realizations and radical personal change. They can unravel complex psychological patterns with deliberate reflection and discipline, promoting healing and personal growth. Thus, this conjunction makes it possible to explore the subconscious world with a harmonious synthesis of spiritual research and cognitive comprehension.
Negative Effect Of Mercury and Saturn Conjunction in 12th House
In astrology, the conjunction of Mercury and Saturn in the 12th House can have unfavorable results by fusing focused reflection in the subconscious with communication. This alignment could prevent people from embracing the intuitive and spiritual sides of their minds by making them extremely judgmental of their thoughts and secret motives. They could experience self-doubt and a sense of limitation due to their thought process. This element could make them feel alone or make it tough to communicate their inner ideas to others. To avoid excessive self-criticism and promote a more peaceful inner world, they must balance their disciplined thinking and a desire to accept their spiritual and intuitive realm.
Mercury and Saturn Conjunction in 12th House in Navamsa Chart
According to Navamsa Chart, the Mercury and Saturn conjunction in the 12th House in the Navamsa Chart has a tremendous astrological impact. This alignment affects a person's unconscious, faith, and hidden characteristics by fusing the energies of discipline and communication. This personality trait might cause people to reflect deeply and carefully analyze their unconscious patterns and dreams. Their rigorous reasoning aids in the unraveling of intricate psychological dynamics, resulting in change and personal progress. They must, however, strike a balance between their analytical reasoning and intuitive comprehension to openly and wisely travel into the mysteries of their brain. An exploration of spiritual development and discovery of oneself in the world of the obscure and invisible is suggested by this combination.
Conclusion
Finally, the conjunction of Mercury and Saturn in the 12th House offers a special fusion between interaction and control within the spheres of the unconscious and spirituality. This alignment presents opportunities for significant discovery of oneself, contemplation, spiritual development, and difficulties. It is crucial to strike an equilibrium between systematic examination and intuitive comprehension. People with this component should avoid overly judging themselves and instead encourage a harmonious fusion of their logical reasoning and spiritual inquiry. They can untangle intricate psychological patterns by traversing the unearthed realms with discernment and openness, which results in personal development and a closer relationship with one's true self and the spiritual aspects of life. Astrology phone consultation can provide customized knowledge to deal with the conjunction of Mercury and Saturn in the 12th house.