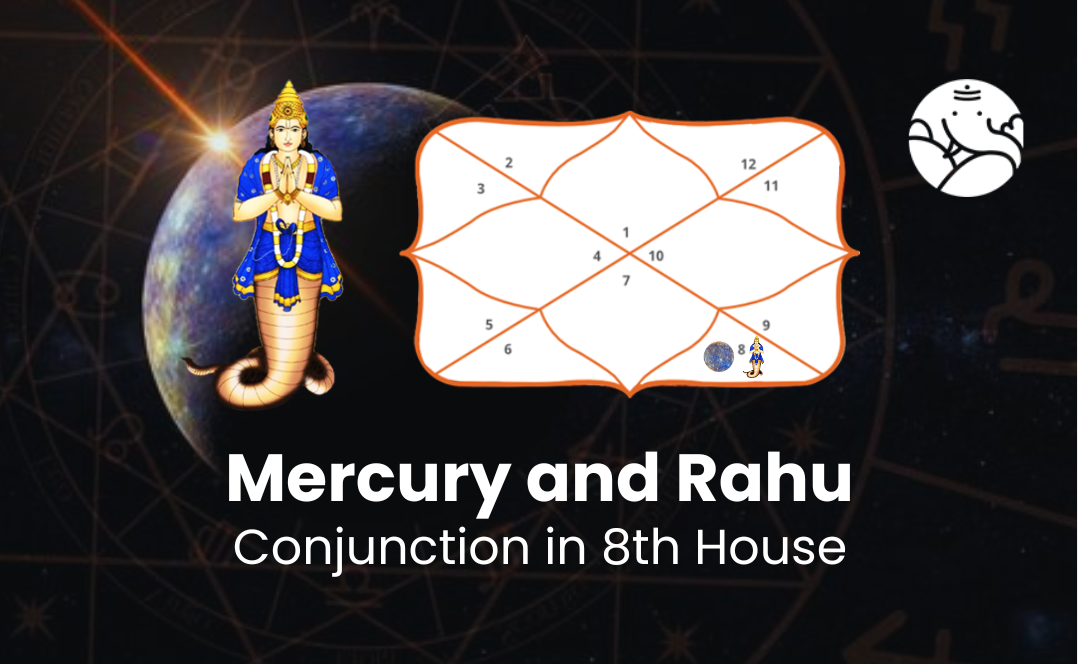 Mercury and Rahu Conjunction in 8th House
The 8th place in astrology is occupied with mysteries and hidden things. It is known to be a complex place as it has both advantages and negative implications. The influence of planets in this place can have both good and bad effects. One such planetary combination is the confluence of Mercury and Rahu in 8th place. This article will bring up the impact of this mix and how it can influence a person.
Mercury with Rahu in the 8th position can show intense and transformative energy in an individual's life. It might lead to an interest in occult subjects or psychology. However, it can also signify a mind that is likely to be overthinking and anxious. The effects can vary greatly based on the overall planetary configuration and the individual's birth chart. It's crucial to consult with an experienced astrologer to understand the specific impact on your life.
Mercury and Rahu in 8th House
The 8th house is mostly about death, inheritance, taxation, investments, debts, joint assets, occultism, and transformation. When Mercury and Rahu influence each other in this house, it can make several changes in one's life. On the bright side, it can draw to expansive thinking and increased knowledge. One may be drawn to spiritual matters and could have a fascination with the occult. On the other hand, the mix can also bring financial losses and difficulty in handling money. In extreme cases, it can even lead to bankruptcy or legal problems related to debt.
In Vedic astrology, the Mercury and Rahu in the 8th position would bring about intense activity, curiosity, and a desire to explore hidden or occult knowledge. It may also indicate an inclination towards secretive communication, financial fluctuations, and potential for unexpected events in the areas related to the 8th house such as transformation, inheritance, and shared resources. The effects can vary depending on the overall planetary alignment and the person's birth chart. It's recommended to consult a professional astrologer for a more personalized analysis.
Positive Effect Of Mercury and Rahu Conjunction in 8th House
In Vedic astrology, the Mercury and Rahu Conjunction in the 8th house can have both positive and challenging effects. On the positive side, this combination might enhance one's communication skills and analytical abilities, allowing them to navigate deep and complex subjects. It could also stimulate interest in occult or hidden knowledge, leading to transformative experiences.
However, it's significant to note that the 8th house also relates to challenges, transformations, and secretive matters. Thus, while there might be benefits, the probability of unexpected events, secrets, or intense psychological exploration should also be considered. Individual effects depend on the overall birth chart and the specific planetary placements. Consulting with a professional Vedic astrologer could provide a more accurate analysis.
Negative Effects Of Mercury and Rahu Conjunction in 8th House
On the other hand, this mix can also bring negative effects for some people. It could lead to irrational behavior such as rashness and impulsivity. One may take unnecessary risks without considering the consequences which can lead to financial losses or even legal problems. They might also be likely to deception which could cause harm to them or those around them.
Mercury and Rahu Conjunction in 8th House In Navamsa Chart
The influence of Mercury and Rahu conjunct in the 8th house is further enhanced if they are present in the navamsa chart as well. This can increase one's understanding of esoteric matters even further; however, it could also lead to an excessive tendency towards occultism which could cause harm if not handled carefully.
The conjunction of Mercury and Rahu in the 8th house of the Navamsa chart suggests a complex and potentially intense influence on your life. Mercury represents communication, intellect, and analytical thinking, while Rahu is associated with desires, obsessions, and unconventional approaches.
In the 8th house, which relates to transformation, shared resources, and hidden matters, this conjunction might manifest as a heightened curiosity about mysteries, psychology, and the occult. You could be drawn to unconventional beliefs or ideas. However, this placement could also bring challenges related to misunderstandings, secrecy, or even manipulation in communication.
It's important to remember that the interpretation of planetary placements depends on the overall context of your birth chart. Ask one question to our professional astrologers to gain deeper insights tailored to your birth chart.
Conclusion
The conjunction of Mercury and Rahu in the 8th house can have both positive and negative implications depending on their placement in an individual's birth chart. It can bring great knowledge and insight but also increased risk-taking behavior that could lead to financial losses or legal troubles. Thus, it is important to take advice from an experienced astrologer on Astrology phone consultation before making any major decisions related to this combination.