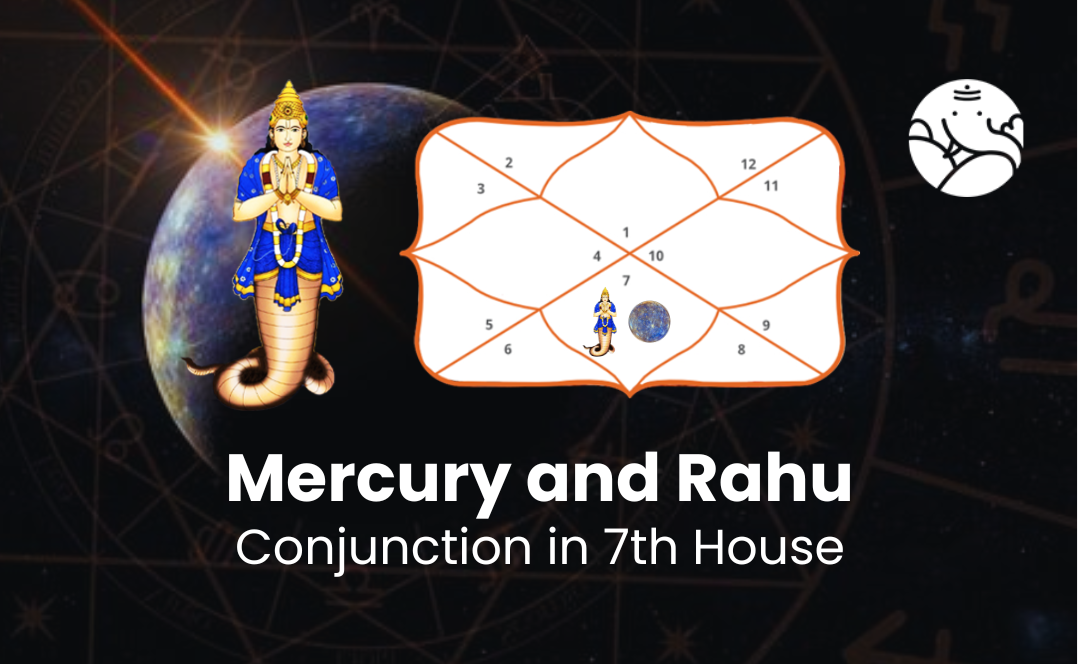 Mercury and Rahu Conjunction in 7th House
Mercury and Rahu Conjunction in 7th House of the chart brings special opportunities for both movements and one's connections and organizations. Mercury addresses the faculties of correspondence, intelligence, and insight, while Rahu represents deception and ambition.
This situation can lead to a complex combination of energies. On the one hand, it can communication skills and build connections with others, especially those from different backgrounds. However, there is dishonesty in manipulative correspondence or communication. Rahu's impact can make one greedy and create instability in associations.
People with this confluence may have a strong desire for driving and innovative reasoning, yet it is vital for them to be aware of miscommunications and to stay reliable. They would be0 successful in professions including foreign exchange, advertising, or creative ventures.
It is essential to consider the arrangement of the chart, and the aspects and effect of the various planets, to gain complete knowledge of how this conjunction in the seventh house influence one's relationships. Astrology Phone Consultation with a learned astrologer can lead to further experiences according to a specific birth chart.
Mercury and Rahu in 7th House
Mercury with Rahu in the 7th house might lead to complexity in personal relationships and organizations. Mercury's rational nature can conflict with Rahu's imaginative tendencies, leading to miscommunication and manipulation in close relations. This combination may show eccentric or random partners, perhaps from different backgrounds. There is real potential for business organizations, however careful correspondence is necessary to avoid conflict.
People may be attracted to mentally stimulating or novel companions. Yet, this position can cause a battle between rationality and instinct in direction, which can make it difficult to form lifetime bonds. Clear understanding, straightforwardness, and self-establishment as common principles are essential for those affected to develop sound communication while dealing with Rahu's heightened energy and Mercury's intellectual influence. Ask one question to our astrologer for customized knowledge in light of the total natal chart.
Positive Effect Of Mercury and Rahu Conjunction in 7th House
Mercury with Rahu in the 7th position can have both beneficial and testing effects. The seventh house deals with associations, married life, and relationships. Mercury brings relational abilities and versatility, while Rahu adds strength and extraordinary reasoning. This mix can improve your associations' ability to actually deliver, foster understanding, and split differences.
It can likewise indicate a kind and imaginative way of communicating. However, Rahu's influence can offer flight or precision, which can create errors or unpredictable elements. It is very important to stay grounded and avoid difficult behavior. Generally, the effect of this combination depends to a great extent on the situation, signs, and aspects of the various planets.
Negative Effect Of Mercury and Rahu Conjunction in 7th House
Mercury with Rahu in the seventh house can potentially create elements of scrutiny in love life and associations. Mercury addresses relationships and rationality, while Rahu focuses on deception, determination, and strong desires.
This combination can lead to communication gaps, and misunderstandings, and is likely to hide the truth in relationships. There can be a powerful desire for glamorous mates who are not up to standard, however, this will lead to weakness. Trust problems, manipulation, and secret plans may come to light.
The effect may vary depending on the general horoscope and angles. They would struggle as one and battle to find the right balance between their desires and the needs of their peers. It is wise to speak with a professional astrologer to get your own assessment and direction on the most expert way to discover such connections in your birth chart.
Mercury and Rahu Conjunction in 7th House in Navamsa chart
In Vedic crystal gazing, the conjunction of Mercury and Rahu in the 7th house of the Navamsa chart can completely influence relationships and associations. Mercury addresses correspondence, shrewdness, and commerce, while Rahu signifies deception, settling, and desires. Their combination in the seventh house, which deals with marriage, associations, and public relations, can take on complex elements here.
Conclusion
This conjunction might lead to unconventional or conventional partnerships, and communication within relationships could be intense but potentially misleading. There could be a tendency to overthink or become overly analytical in relationships. Balancing practicality and emotional connection might become challenging, potentially causing misunderstandings or conflicts. It's important for individuals with this placement to work on clear and honest communication, manage their desires and expectations, and approach partnerships with caution. As always in astrology, the overall impact depends on the entire chart and the influences of other planets and houses.