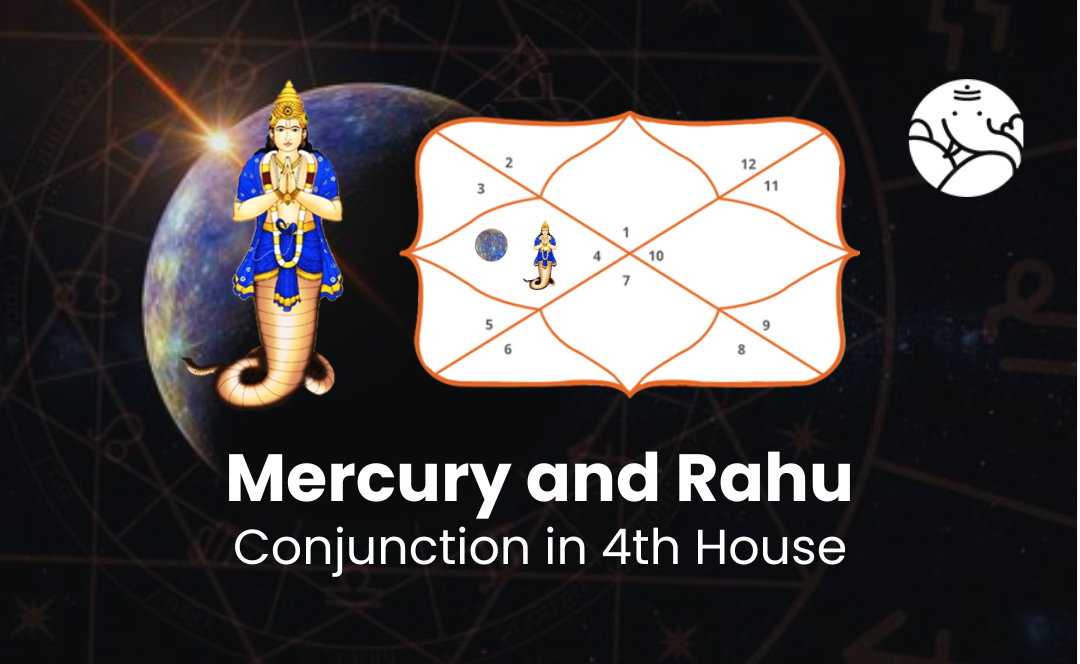 Mercury and Rahu Conjunction in 4th House
This combination in the 4th house, which relates to home, family, emotions, and real estate, could lead to complex family dynamics. The individual might possess a sharp and strategic mind, yet there could be a tendency to overthink matters related to their personal life. This conjunction could also stimulate unconventional thinking regarding property matters, possibly leading to unorthodox investment choices.
However, challenges might arise due to the clash between Mercury's logical approach and Rahu's tendency for exaggeration. There might be a struggle to balance rationality with irrational desires. It's essential for individuals with this placement to cultivate mindfulness and clarity in communication to avoid misunderstandings and emotional turbulence within the family environment.
Mercury and Rahu in 4th House
The confluence of Mercury and Rahu in the fourth house might have a complex effect on one's life. The fourth house addresses home, career, feelings, and mental health. Mercury represents correspondence and intelligence, while Rahu is related to deception, desires, and flight. This bond can lead to a mix of conflicting feelings and thoughts regarding family, property, and comfort.
This can cause misunderstandings, ambivalence, or flighty reasoning within the family environment. On the positive side, it can upgrade intellectual pursuits related to land, property, or mental science. In any case, careful correspondence and avoiding hasty choices are important, as there is a real potential for error and unexpected changes. Generally, the effects vary in light of individual charts, aspects, and other combinations, so it is advisable to talk with Astrology Phone Consultation and fix an appointment.
Positive Effect of Mercury and Rahu Conjunction in 4th House
The Mercury and Rahu Conjunction in the 4th house can have both good and testing effects. Mercury addresses correspondence and learning, while Rahu signifies ambition, desire, and quick reasoning. At this point when conjunct with the fourth house of home, family, and feelings, this combination can yield imaginative ideas related to land, property, or ancestral issues.
This can foster a unique perspective on relational complexities and establish an agreeable living climate. Nevertheless, there may be instances of irritation or a tendency to amplify emotions. Positive effects can include heightened mental alertness and the ability to plan for whimsical arrangements. As with each conjunction, the result varies depending on the general chart and the effect of other planets. You can ask one question to our astrologer for a more customized understanding.
Negative Effect of Mercury and Rahu Conjunction in 4th House
The combination of Mercury and Rahu in the 4th house can cause various problems. Rahu will usually increase the qualities of the planets it joins, creating a strong desire for material success and recognition. In the 4th house, this combination can create family pressure, absence of deep strength, and deterioration of the native climate. Mercury's influence can further fuel relationship problems, leading to clashes and conflicts within the family. Fair reasoning may be clouded by Rahu's imprudent and eccentric nature, leading to unfortunate dynamics associated with domestic affairs.
Depression and a troubled psyche can affect personal connections and deep well-being. It is fundamental for people with this combination to develop care, practice clear correspondence, and refrain from hasty choices, finding harmony in everyday life and deep balance regardless of these difficulties.
Mercury and Rahu Conjunction in 4th House in Navamsa chart
The combination of Mercury and Rahu in the 4th house of the Navamsa chart can have a great effect on Vedic astrology. The fourth house addresses aspects such as home, family, feelings, and inner harmony. Mercury represents correspondence, insight, and scientific abilities, while Rahu signifies deception, ambitions, and extravagant pursuits.
This combination suggests that the individual may have a remarkable communication style and may be inclined towards unexpected reasoning or interests related to his home and family affairs. It can show a strong desire for material things. However, due to Rahu's effects, restlessness, or unexpected changes, there may be difficulties in keeping the home environment stable and calm.
Their intelligence may be sharp, yet they must prepare to be swept away by absurd thoughts. This position may likewise suggest the need to accommodate rationality and instinct in domestic matters. In general, the influence of Mercury can improve scientific abilities, while Rahu can bring surprising turns or want to be carefully monitored for a pleasant daily life. As always, a thorough examination considering the entire birth chart is fundamental to a complete understanding.
Conclusion
In any case, this combination can likewise show a tendency towards overthinking or focusing too much on past or secret matters, leading to personal difficulties. People in this position should really have a fair outlook and try not to get caught up in excessive deception or fixation related to their home and family affairs.
The effect of this combination depends on various variables such as zodiac signs, various planetary angles, and general chart elements. A consultation with an expert astrologer will give a more customized and accurate assessment of the effects of this combination in your birth chart.