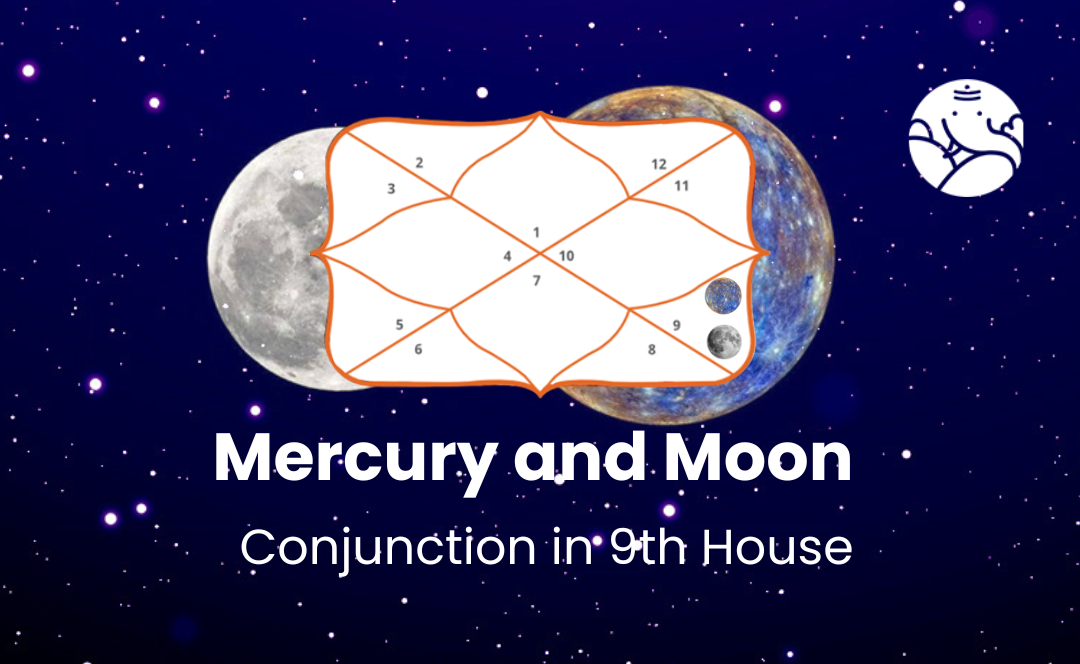 Mercury and Moon Conjunction in 9th House
A combination of Mercury and the Moon in the ninth house of the natal chart can bring out the individual's keen interest and a strong appetite for knowledge. This position often means someone who expands their psychological horizon through movement, higher education, and philosophical pursuits. The reaction near the house of the Moon combined with the relational abilities of Mercury can create an individual who is adept at communicating his beliefs and convictions.
Mercury and Moon in 9th House
Mercury and Moon Conjunction in the 9th House usually bring about a blend of intellect and emotional sensitivity in matters related to higher learning, beliefs, and spirituality. This placement often grants the individual a curious and adaptable mind, fostering a keen interest in philosophical and religious subjects. They might possess effective communication skills that aid in expressing their thoughts and beliefs persuasively.
However, this conjunction can also create some emotional fluctuations when dealing with matters of faith and ideology. It's important for individuals with this placement to find a balance between their rational thinking and emotional responses to avoid getting lost in abstract ideas. Overall, this conjunction in the 9th house encourages a reflective and intuitive approach to understanding the world and seeking personal growth through knowledge and exploration.
Positive Effect of Mercury and Moon Conjunction in 9th House
The combination of Mercury and Moon in the ninth house can bring beneficial results in the life of the individual. The ninth house deals with higher learning, otherworldliness, reasoning, and long journeys. Mercury stands for correspondence, intuition, and scientific abilities, while the Moon represents feelings, instincts, and versatility.
This arrangement can improve an individual's capacity for philosophical reasoning, allowing them to investigate and develop a deeper understanding of different sentencing frameworks. Their interpersonal skills can develop, empowering them to successfully communicate their ideas and beliefs. The homely nature of the Moon joining with the steady reasoning of Mercury can indicate a balanced direction, especially in matters related to training and travel.
People with this combination may gravitate towards subjects such as the way of thinking, religion or higher education. Their regular interest may lead them to travel to distant places to gain information and broaden their horizons. In general, a Mercury-Moon combination in the ninth house can create a pleasant combination of mind, feeling, and otherworldly explorations, increasing self-awareness and enhancing encounters.
Negative Effect of Mercury and Moon Conjunction in 9th House
The combination of Mercury and the Moon in the ninth house can bring difficulties related to relationships, instinct, and conviction. Mercury addresses the mind and correspondence, while the Moon represents feelings and senses. At the point when these two planets participate in the ninth house of faith, higher education, and otherworldliness, there can be clashing ideas. This can lead to problems communicating one's beliefs successfully or making good decisions.
Discontinuities can have a dynamic impact on issues of religion, ideology, or schooling. However, it is important to note that astrology is a complex field and individual encounters fluctuate. Various variables in the birth chart likewise play a part in deciding the general effect of this combination. Consulting online astrology consultations can provide customized knowledge.
Mercury and Moon Conjunction in 9th House in Navamsa chart
In astrology, the combination of Mercury and the Moon in the ninth house of the Navamsa chart can indicate areas of strength for correspondence, learning, and instincts in matters related to otherworldliness, higher learning, and extreme travel. It may suggest that the individual is curious and open-minded, drawn to philosophical and otherworldly points. This situation can likewise suggest the possibility of significant excursions or encounters that expand how they interpret the world and their beliefs. Remember that translations can change, and it's important to ask one question to our astrologers for a custom reading.
Conclusion
This combination can make them curious about different societies, religions, and ways of reasoning, and they may be drawn to teaching, writing, or public speaking that sheds light on these matters. However, their emotions may have a tendency to influence their reasoning or surround it, giving rise to occasional internal conflicts between reason and instinct. They should really find some sort of harmony between their psychic insights and the immediate domestic parts.
In general, this combination in the ninth house favors them with the ability to verbalize their convictions, engage with different perspectives, and approach academic and domestic satisfaction through higher insight.