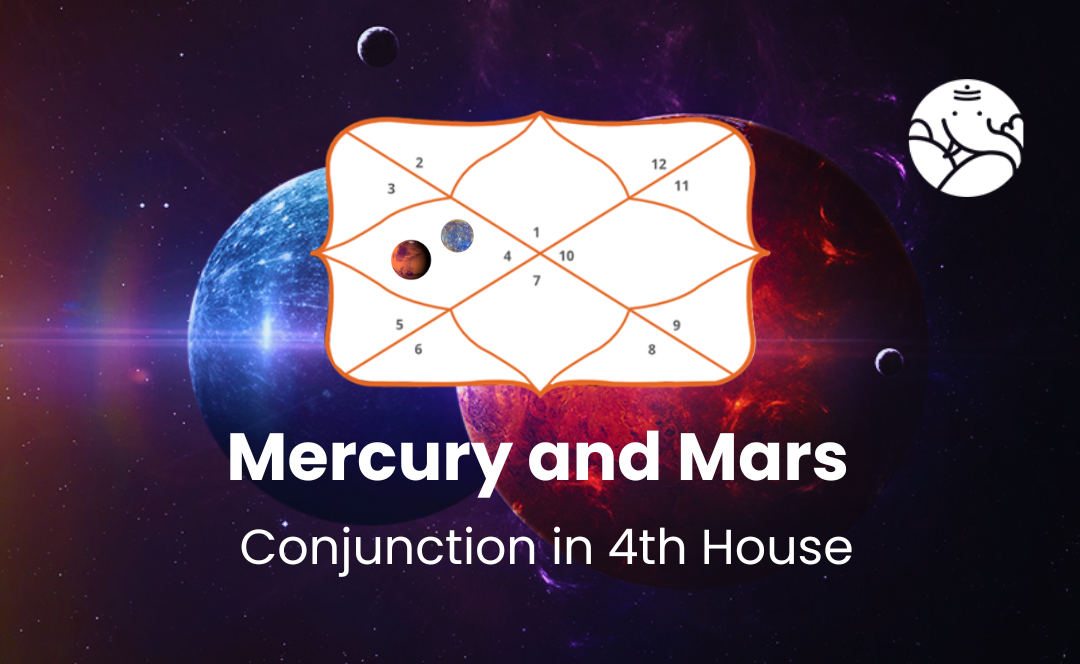 Mercury and Mars Conjunction in 4th House
Astrologically speaking, Mercury and Mars conjunction in the 4th House is important. The fourth house symbolizes inner feelings, family, and home. A dynamic and aggressive approach to issues about the home environment and familial ties is created when Mercury, the planet that governs interaction and mind, conjuncts Mars, the planet governing behavior and power, in this house. Strong communication abilities, a confident demeanor, and a proactive approach to fostering one's emotional well-being and family ties may be characteristics of someone with this combination. Successful resolution of issues within the family context, an eagerness to take the initiative in domestic concerns, and an aggressive presentation of their psychological demands can all be signs of this alignment.
Mercury and Mars in 4th house
In astrology, the impact of the Mercury and Mars conjunction in the 4th House is significant, particularly when one can only ask one question during a phone consultation. This alignment blends assertive communication and dynamic energy concerning the home, family, and emotional well-being. People who have this combination might want to know how to resolve family disputes amicably or face emotional difficulties in their own lives. They might seek advice on expressing their emotions confidently while avoiding needless conflict. They can create a more peaceful environment at home, forge closer family ties, and handle emotional difficulties with resiliency and tact if they are aware of the impact of this combination.
Positive Effect Of Mercury and Mars Conjunction in 4th House
In astrology, the conjunction of Mercury and Mars in the fourth house has several advantages. People that align with this alignment have excellent communication skills and take a proactive approach to domestic and family issues. They take the initiative in fostering family ties and are forceful in articulating their emotional demands. Their ability to effectively resolve issues within the family and handle disagreements with tact and assertiveness is enhanced by this conjunction. Their vibrant energy ensures everyone feels acknowledged and appreciated in a lively, energetic home atmosphere. They might be adept at organizing or remodeling their living space to create a comfortable and encouraging environment. Overall, this alignment promotes emotional fortitude, closeness among family members, and a sense of stability and security inside the home.
Negative Effect Of Mercury and Mars Conjunction in 4th House
In astrology, the conjunction of Mercury and Mars in the 4th House could result in unfavorable outcomes. This alignment might make people more susceptible to reckless and violent behaviors within the family, which can cause disputes and misunderstandings. Other family members may find it difficult to freely express their emotions due to their aggressiveness, which sometimes verges on dominating. They might have trouble controlling their emotions, leading to emotional outbursts that disturb the peace at home. Their craving for control and desire to handle household issues may also lead to conflict with other family members. People with this combination must use perseverance, compassion, and honest conversation to prevent unneeded conflict and promote a loving and peaceful home situation.
Mercury and Mars Conjunction in 4th House in Navamsa Chart
According to Navamsa Chart, the Mercury and Mars conjunction in the 4th House in the Navamsa Chart has enormous astrological importance. This alignment denotes a robust fusion of dynamic energy and aggressive communication regarding issues about the household, family members, and psychological roots. The people who have this conjunction are strong leaders in their families, actively fostering close relationships and psychological well-being. Their effective emotional expression and courageous conflict resolution are made possible by their forceful communication abilities. They should be wary of any impatience or aggressive tendencies that can spoil the peace in the home, though. Understanding this element would enable them to harness their aggressiveness for good and provide their loved ones with a safe and secure environment at home.
Conclusion
In conclusion, the astrological conjunction of Mercury and Mars in the 4th House creates a potent mix of aggressive communication and dynamic energy. These people are strong leaders who actively approach issues affecting their emotional, familial, and domestic roots. This conjunction strengthens their ability to express their feelings clearly and peacefully resolve family disputes. They must watch out for impatience and violent tendencies that can spoil the peaceful environment of the family. They can take advantage of the benefits of this conjunction by exercising kindness, compassion, and candid interaction and establishing a safe and secure home environment that strengthens family ties and emotional fortitude.