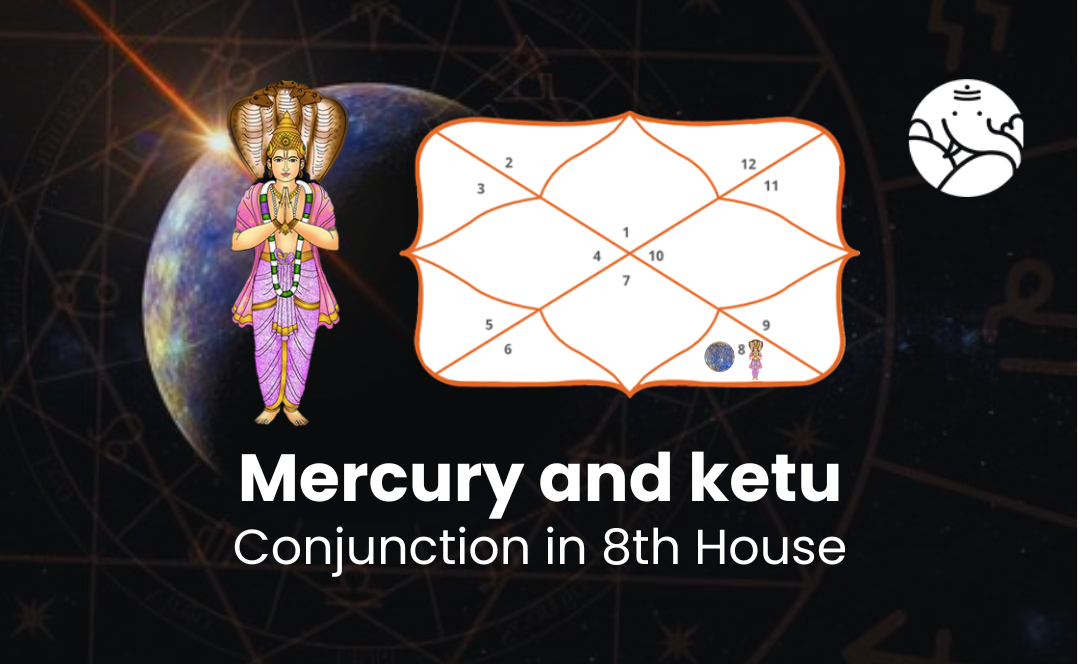 Mercury and Ketu Conjunction in 8th House
The conjunction of Mercury and Ketu in the 8th house of a birth chart can bring about a complex blend of energies. Individuals with this conjunction might possess intense mental depth and curiosity about life's mysteries. They could have a fascination with occult or esoteric subjects, and their communication style might be enigmatic or reflective of their inner thoughts. However, challenges could arise in maintaining consistent focus or clear communication due to the unconventional Ketu influence.
Mercury and Ketu in 8th house
When Mercury, the planet of intellect, communication, and logic, joins forces with Ketu, the mystical and spiritual planet, in the 8th house, it creates a compelling influence on an individual's life. The 8th house is associated with transformation, secrets, occult knowledge, and the unconscious mind. This conjunction, therefore, has the potential to bring about profound changes and deep introspection.

This placement could also stimulate the exploration of their own subconscious and hidden talents, leading to profound insights and personal transformation. Navigating issues related to trust, shared resources, and joint ventures might be part of their life journey, possibly involving inheritances or other people's resources.

As with any astrological combination, the effects depend on the overall chart and the planetary aspects. Consulting a professional astrologer can provide more personalized insights into how this conjunction influences one's life path and experiences.

This combination suggests a potential for deep introspection and a strong inclination towards mystical or esoteric pursuits. Individuals with this placement might possess an innate ability to perceive hidden meanings and uncover truths that others may overlook. They could excel in fields that require investigative skills or profound insights.

However, challenges may arise due to the conflicting nature of Mercury's logic and Ketu's unconventional approach. There might be periods of mental restlessness and a struggle to convey their unique insights clearly to others. It's important for them to balance their analytical tendencies with intuitive wisdom.
Positive Effect Of Mercury and Ketu Conjunction in 8th House
Intuitive knowledge: The conjunction of Mercury and Ketu in the 8th house enhances one's intuition and psychic abilities. It allows individuals to tap into their subconscious mind and uncover hidden truths. This heightened sense of awareness can lead to insightful revelations and a deeper understanding of life's mysteries.

Research and Investigation: With Mercury's analytical prowess and Ketu's inclination towards research and investigation, individuals with this conjunction in the 8th house possess a natural inclination towards delving into profound subjects. They excel in fields such as psychology, astrology, metaphysics, and detective work, as their analytical skills are heightened.

Transformation and Rebirth: The 8th house is associated with transformation and rebirth. When Mercury and Ketu join forces here, individuals experience a profound inner transformation. They have the ability to let go of old patterns, beliefs, and attachments, paving the way for personal growth and spiritual evolution.
Negative Effect Of Mercury and Ketu Conjunction in 8th House
Mental Turmoil: The conjunction of Mercury and Ketu can create mental unrest and confusion. Individuals might find it challenging to maintain a stable thought process, leading to scattered thinking and indecisiveness. It is important for them to learn how to ground their thoughts and seek clarity amidst the chaos.

The tendency for Secrecy: The 8th house conjunction can also manifest as a tendency to keep secrets or hide information. Individuals may be guarded about their thoughts and emotions, making it difficult for others to fully understand them. This can sometimes lead to misunderstandings and strained relationships.
Mercury and Ketu Conjunction in 8th House in Navamsa Chart
The Navamsa Chart provides deeper insights into an individual's life and potential. When Mercury and Ketu conjoin in the 8th house of the Navamsa chart, it further emphasizes the themes of transformation, spirituality, and occult knowledge in the person's life. This conjunction in the Navamsa chart can amplify the positive or negative effects witnessed in the birth chart, depending on the overall planetary alignment.

In Vedic astrology, Mercury and Ketu Conjunction in the 8th House of a Navamsa chart can bring about a complex blend of energies. The 8th house is associated with transformation, secrets, and hidden aspects of life, while Ketu represents detachment, spirituality, and past-life karma. Mercury symbolizes communication, intellect, and analytical thinking.

Spiritual growth and transformation are likely themes in their life journey. The conjunction's effects can vary based on the signs and aspects involved, ask one question to gain in-depth analysis by an experienced Vedic astrologer is recommended to gain a more accurate understanding of its implications in an individual's life.
Conclusion
The conjunction of Mercury and Ketu in the 8th house is a potent force that can shape an individual's life in profound ways. It brings a unique blend of intuitive wisdom, analytical prowess, and spiritual transformation. While it has the potential to unlock hidden truths and propel personal growth, it can also lead to mental turmoil and secrecy. Understanding the effects of this conjunction in both the birth chart and Navamsa chart can provide valuable insights into an individual's life path. If you want to explore the impact of this conjunction or any other astrological queries, consider seeking Astrology Phone Consultation to gain deeper clarity and guidance in your journey.