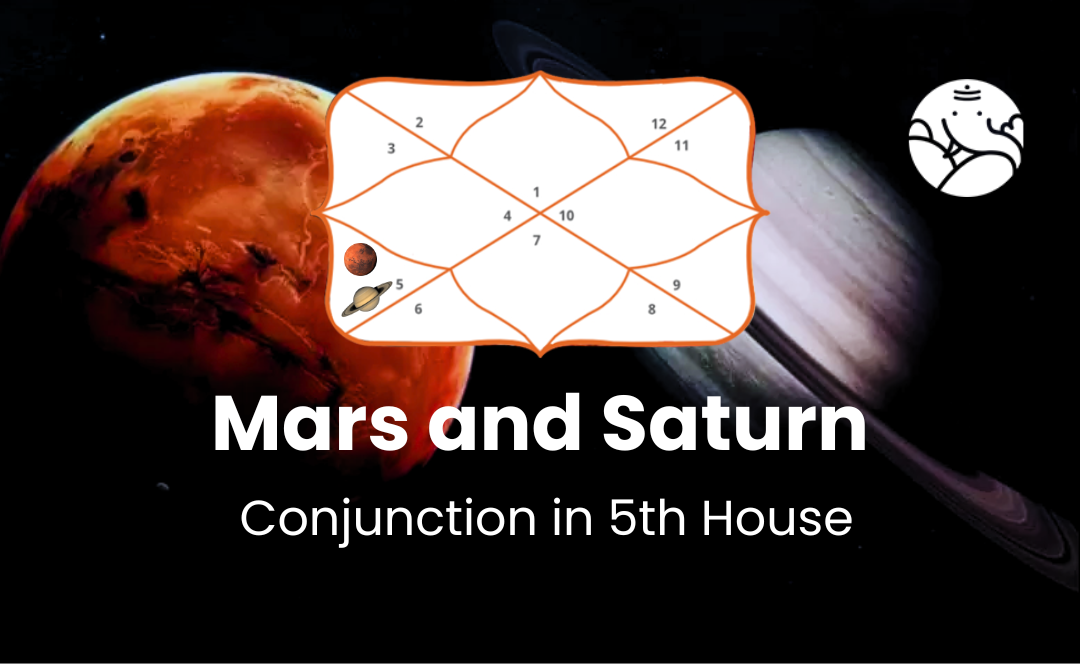 Mars and Saturn Conjunction in 5th House
Mars and Saturn in the 5th house Conjunction is a unique combination. Then, as a result of its impact, it takes longer for that person's occupation to stabilize. The locals only succeed in this after a great deal of effort and hardship.

If Saturn and Mars conjunction in the sixth house in a person's horoscope, they may experience health problems. Many locals may experience digestive system issues, discomfort in joints, or any form of accident.
Effect of Mars and Saturn Conjunction in 5th House
Saturn and Mars Conjunction in the 5th house is considered as an average combination. There is a good chance that you will experience gastrointestinal issues. It is advisable to monitor your diet and take good care of your health. The combination doesn't seem right for investing because there's a chance the money will go lost somewhere. People who are employed or own their own firms are probably going to encounter difficulties. Any new endeavor should be put off for the time being. Both married couples and individuals in romantic relationships may experience small problems. The locals would benefit from praying to Lord Shiva.
Positive Effect Of Mars and Saturn Conjunction in 5th House
They are highly skilled in motivating others and they always look at the optimistic side of a situation. They take decisions after thinking and never take decisions hurriedly.

They have a calm and cool nature which makes them peaceful people and they are thought to be as mature people. They lead a healthy lifestyle and have values of freedom. They love to enjoy their lives but simultaneously they don't make others' life miserable.

They start their career late after experiencing many failures but still, they become motivated. They have a lot of patience which makes them practical people. Their ideal professions include teaching in colleges and universities, being the team leader of a multinational corporation, being a geophysicist, a botanist, and a railway official.

They love to study science and discover the reason for everything that is taking place around us. They also have a scientific approach to life and are interested in subjects like psychology and sociology.

They have a chance of becoming a psychiatrist and a career as a neurologist will make them famous in the noble profession of doctors. They will be associated with multiple hospitals and clinics. Patients will come to them with the hope of getting good treatment and accordingly their name and fame will be widely spread.
Negative Effect Of Mars and Saturn Conjunction in 5th House
Saturn and Mars will align to make this conjunction in your 5th house. Age, risk, and mishap are all represented in the fifth house of the horoscope. The emergence of this unlucky combo in these houses is causing a lot of issues for the locals of Cancer in this condition. You must therefore be careful to prevent any sort of accident at this time, or you risk suffering an injury. Additionally, refrain from taking any chances at work and concentrate solely on your tasks.

Childbirth could create problems for the natives. Their child's health may not be as it should be. Native people's children reflect their lack of contentment. With their offspring, Natives have different thoughts. They have problems with their loved ones.

It's possible that native people lead materialistic lives. They could have a shameless attitude and a sensual disposition. They may be money minded and always looks for profits.

These natives have a tendency to criticize others and feel that they are superior to others both in their position and financially. This will make their friends stay away from them and avoid them. Their superiority complex will make them face challenges all throughout their lives.
Mars and Saturn Conjunction in 5th House in Navamsa Chart
According to Navamsa Chart, the conjunction of Saturn and Mars is regarded by Vedic astrologers as unlucky and as Dwandwa Yoga. This increases the likelihood of arguments or disagreements. When Saturn, the giver of Karma, and Mars unite, many natives must work more than normal to succeed in their professional life. Their social reputation will be hindered in this combination therefore it is advisable to talk very carefully about others. Ask One Question regarding your love life and your soulmate.
Conclusion
When Saturn's concentration is paired with Mars' strength, extraordinary results can also be obtained. This is therefore not as horrible as expected. We may utilize this energy in a constructive manner if we are ready to put up the effort to comprehend it.

These persons should be extremely cautious regarding the safe keeping of their jewelry and ornaments as they may be attacked by antisocial elements that can harm them. They should not be over-friendly with strangers. They should pay attention to their health as well after the age of 45 especially since diseases related to the excretory system can affect them badly. You can take the help ofAstrology Phone Consultations to know about your problems in advance.