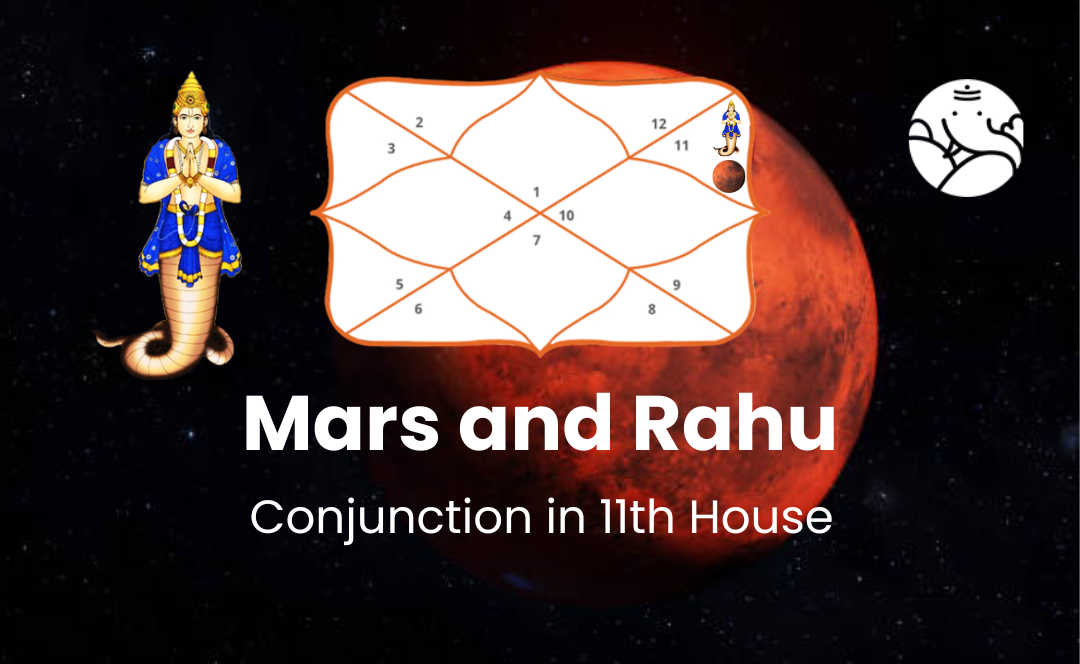 Mars and Rahu Conjunction in 11th House
Mars, a planet with a masculine nature, has a reddish appearance. It stands for the native's aspirations and desires. A malefic planet, it is referred to in Vedic astrology. However, if its alignment is right, it can bring plenty of rewards to the native. Rahu, the second unfavorable planet, is renowned for fostering illusions and an eager intention for worldly possessions. Rahu, like Mars, can help its residents succeed in their professional paths and become famous.
Effect of Mars and Rahu Conjunction in 11th House
Rahu symbolizes breaking customs and taking difficulties, whereas Mars represents ferocious qualities, enthusiasm, and aggression. In Vedic astrology, the eleventh house is known as the ascendant. It bestows physicality, self-importance, and self-perception. As a result, Rahu and Mars in the first house give rise to a violent disposition, a selfish mentality, and an insatiable drive for revenge.

When Mars and Rahu are together in the horoscope, the Shadow planet Rahu controls the native. They have a sharp mind which enables them to make difference between the good and the bad. They can easily eliminate the negative persons from their life and continue to live optimistic live.
Positive Effect Of Mars and Rahu Conjunction in 11th House
These people have a good time with their friends and family. They want to enjoy the company of their loved ones. They choose their life partner very wisely and once they choose them, they didn't change their decisions.

They are friendly toward their neighbors and colleagues. They help them to perform their tasks. They often help them in taking leaves in their office and they have a lot of emotions for them.

Their parents are highly respected in society because of their pious activities and they are often offered seats by the political parties to contest an election mainly in the state legislature. They have the capability to become an honest politician who would look after the citizens of the country and would always work in their favor. Their association will be strong and they will have a good network in their native place which will allow them to know about their opposition. They like healthy competition and always condemn political assassination. They will also have good relations with high-level police officials and officers of the election commission.

They can start their political journey just after completing their graduation and they will also be involved in student politics during their college days. At every turn of their lives, they will be benefited from the grace of God which will definitely help them to become a more influential and powerful person of the society. They will have a lot of respect for the judiciary and would always abide by the judicial bodies and judges.
Negative Effect Of Mars and Rahu Conjunction in 11th House
When Mars and Rahu conjunctions in the 11th House, the native wants to lead a luxurious lifestyle which sometimes causes health issues. They often drink and smoke which adversely affects their health and fitness.

After reaching a certain position they become egoistic and think of themselves as the supreme power to rule others. This makes them stay away from the ordinary masses and they often didn't get the support of the public, as a result, they lose the election.

They sometimes please others by making false promises and this creates a lot of problems when the other person comes to know about the reality.

They often try to get their work done by utilizing their influence, this sometimes loss of their reputation and the officials do not work according to their wishes.

They have a dominating tendency towards their wives and children. This makes them angry about this person and they try to avoid them. They should know that each and every person in this universe should have their own freedom and putting one's ideas to others is not a solution. Ask One Question regarding your marriage life.
Mars and Rahu Conjunction in 11th House in Navamsa Chart
According to Navamsa Chart, In Vedic astrology, the 11th house is known as the Upachaya house, and it represents an individual's expectations and desires, achievements, etc. Malefics in the eleventh house typically prosper. Additionally, the energy of Rahu and Mars here makes the natives more focused on possessions in order to profit from dealings, short-term sales, or the stock market.
Conclusion
They will be dealing with complications with their health once they reach the age of forty years and may have problems relating to eyesight and hearing. They could have urination troubles or problems relating to constipation. There is a chance that these natives will have to undergo surgery for piles and fistulas. They should definitely pay attention to their food habits and should eat fruits and vegetables daily.  Astrology Phone Consultations will help you know your life in a better way.