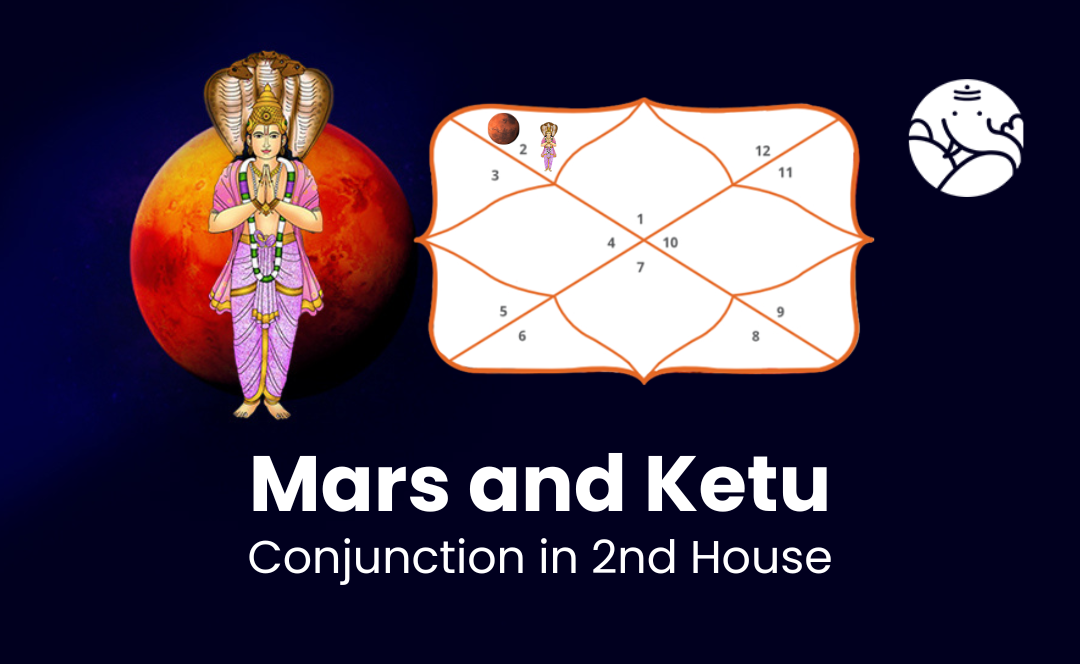 Mars and Ketu Conjunction in 2nd House
Ketu is a thoughtless and careless planet. It typically exhibits apathy for the happenings and characteristics of the house it is in. You have experienced a lot of things in the past, and Mars makes you wish you didn't. Mars and Ketu Conjunction in the 2nd house can make you more desperate for extravagance. On the one hand, you might have a strong hunger for pleasure. On the other hand, if you don't receive what you want, you could become unstable and hostile. However, when performing Kundali analysis, there are certainly more factors that are taken into account in every house.
Effect of Mars and Ketu Conjunction in 2nd House
With the placement of Mars and Ketu Conjunction in the 2nd House of a person's birth chart, a person will always focus on the brighter side of their life and will give more attention to the major things that need his attention. They will have excellent leadership skills that can take their careers to great heights in managerial positions.

The conjunction of Ketu and Mars is likely to deliver negative effects in the second house. They might turn out to be very aggressive people who would love to bully others and criticize anyone which will give them some kind of mental satisfaction. This negative quality will act against them and their friends and close ones will start hating them. They should try to help their near and dear ones when they are in a difficult position.
Positive Effect Of Mars and Ketu Conjunction in 2nd House
The placement of Ketu and Mars in the second house of your Kundali will bring the native numerous favorable outcomes in all facets of life. You would have an authoritative nature and speak intelligently. Being naturally communicative will make you an expert at picking up new languages. Your speech would be impressive and full of energy. You will be frank and hold a good value towards anyone while motivating others.

You would be attracted by international relationships and partnerships, and the same will be beneficial for your own development. Furthermore, with Ketu in the second house, money issues would resolve quickly and without difficulty.

Ketu is in your chart's second house. Additionally, you will enjoy writing songs and observations. Your second love would be documentation, which you could pursue professionally. If you want to have a successful working life, you might perhaps choose accounting or a related career. You could perhaps work in paranormal studies or as a humanitarian. You may be representing your country in international events and games and will bring name and fame to your country.

You have the potential to become a prime witness of a complicated serious crime and you may be used as evidence in a court of law. Your contribution will be definitely awarded by the police officials as well as the government. In this regard, the government can offer you a job in the police department.
Negative Effect Of Mars and Ketu Conjunction in 2nd House
This combination of Mars and Ketu in the second house makes the native arrogant. They can become hostile suddenly and act in a rough manner. They may not have friends during their childhood and will be all alone. They may not pay attention to their studies and waste their time talking and doing mischievous things in their class.

They have a weakness for women and they always obey the requests given by them. The requests can even be unethical or illegal but they will try to keep it. This may ruin their personal life as well as their professional front. They may involve in proceedings of court due to negligence of duty at the workplace. Take Astrology Phone Consultations to stay away from the worst effects of this combination.
Mars and Ketu Conjunction in 2nd House in Navamsa Chart
According to Navamsa Chart, Mars and Ketu Conjunction in the 2nd House make a person multi-talented and they can concentrate on different things at the same time. Their memory capacity is far better than others and they have a superiority complex in them which makes them stay separated from others. They may not express their feelings and views to their spouse and turn out to be an introvert.

Additionally, the locals could become argumentative. They grow illogical and arrogant. This could lead to conflicts between the locals and their relatives, which could make their problems worse. Additionally, the Indigenous can be accused of acting improperly with government representatives, which could put them in a tough situation.
Conclusion
This combination of Mars and Ketu in the second house is considered auspicious in certain cases. Mars and Ketu Conjunction in 2nd House helps the native to be famous in their professional lives but on the other hand, this combination signifies illness at a very young age. They can be attacked by thalassemia, HIV positive, and sometimes have polio from their childhood. They could also have sexually transmitted diseases and can have AIDS. They and their parents should pay attention to their health from their childhood to detect these problems at a young stage. Ask One Question about your year of marriage.