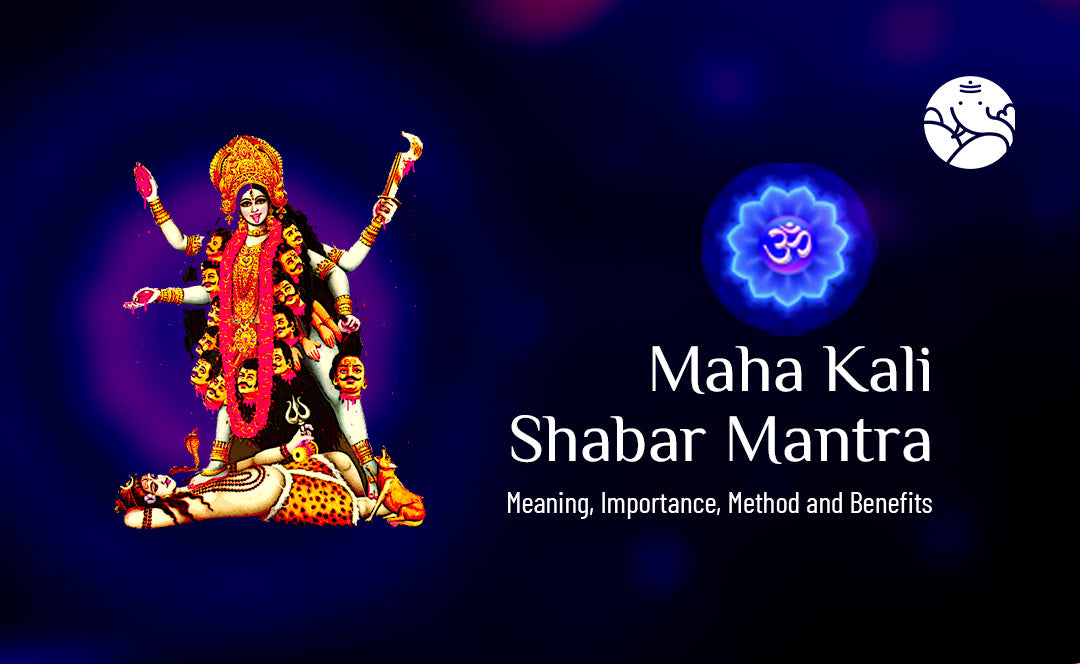 Maha Kali Shabar Mantra: Meaning, Importance, Method, and Benefits
Kali of Mahakal. 'Kali' means time and time. Kaal, who swallows everyone into himself. Terrible darkness and the goddess of the crematorium. Goddess Kalika originated to protect religion and destroy sinners and demons. Kali has been called Mahamaya of Mother Jagdamba. He is considered the first of the ten Mahavidyas. She has many mantras like Vedic, Tantrik, Puranic, and Sabar.
If you make Maha Kali Mantra a part of your life, then Maa Kali herself will take the responsibility of protecting you. With this mantra, you will be protected in every way, and you can also do good to other people with this mantra.
Maha Kali Shabar Mantra
ॐ कलिका खड़ग-खप्पर लिए खड़ी, जोत तेरी है निराली,
पीती भर-भर रक्त प्याली, करे भक्तों की रखवाली,
ना करे रक्षा तो महाबली भैरव की दुहाई। 
Om Kalika Khadag Khappar liye khadi, jot teri hai nirali,
peeti bhar-bhar rakt piyali, kare bhakto ki rakhwali,
na kare raksha to mahabali bhairav ki duhai.
Benefits Of Maha Kali Shabar Mantra
Enemy fear and ghost-ghost fear are removed by the above mantra. This mantra removes all kinds of tantric effects etc. By removing inhibitions and sorrows, this mantra also removes physical and mental anger.
Daily chanting of this mantra keeps all kinds of evil spirits and evil forces away from you, as well as the glory of Maa Kali, makes enemies afraid of you, and does not become an obstacle in your path. Physical diseases and mental restlessness also go away with this mantra.
Maha Kali Shabar Mantra Chanting Method
You have to chant this Mahakali Raksha Shabar mantra 1 round daily for at least 11 days. You can awaken this mantra by chanting 5 rounds in a day on auspicious times like eclipse, Diwali, Dussehra, Holi, and Akshay-Tritya. You can also use the mantra for protection after the mantra practice is proven, but the mantra is not proven so quickly. To prove it, one should keep on chanting with faith even after the completion of his meditation. After the mantra is proven, the seeker gets supernatural power, due to which he can do any impossible task in the world. Mantra Sadhana has to be started on any Tuesday of Shukla Paksha. Keep a pot of incense, lamp, and water near in chanting mantra and distribute some raisins to little girls daily.
Conclusion
By chanting Kali Mantra 108 times daily, the problems start getting destroyed and the person who chants this mantra starts getting money all of a sudden. If you are taking the blessings of Maa Kali by chanting this mantra daily, then tell you that once every 15 days, you should go to the temple of Maa Kali and offer sweets to her, because of this, Maa's blessings will continue to be on you. If you want to know more about Kali Mantra then talk to Astrologer.