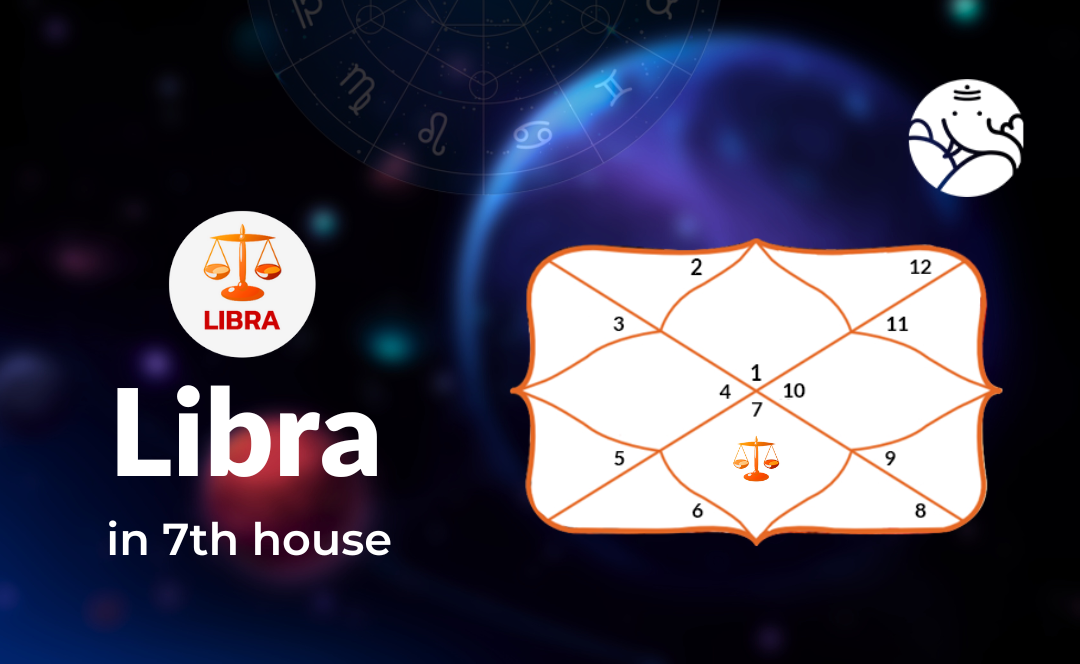 Libra In 7th house
In astrology, Libra in the seventh house is a crucial placement because it affects how someone views connections, alliances, and matrimony. Libra brings these attributes to the world of one-on-one relationships because it is renowned for its appreciation of peace, equilibrium, and justice. Individuals with Libra in the seventh house frequently seek equality and harmony in their partnerships and place a high value on collaboration and communication. They have diplomatic abilities that help them resolve disputes and reach agreements. The quest for mutually rewarding relationships and balanced give-and-take dynamics are stressed by this placement. Understanding the effects of Libra in the seventh house will assist people create harmonious relationships by illuminating interpersonal dynamics.
Libra in 7th house Astrology
The seventh zodiac sign of Libra, which rules the seventh house in astrology, has a big impact on a person's partnerships, marriage, and relationships. Libra offers harmony and balance to relationships because it is recognized for emphasizing these concepts. When Libra is in the seventh house, people frequently look for harmony and fairness in their interpersonal interactions. They have excellent diplomatic abilities that enable them to resolve disputes and reach agreements. In their relationships, these people place a high value on collaboration, communication, and understanding.
Libra's placement in the seventh house denotes a strong need for company and a desire for an amicable and rewarding relationship. These people cherish the idea of equality and work to keep partnerships with a healthy give-and-take dynamic. Online Jyotish consultation can provide insightful information for people looking for direction regarding the effect of Libra in the seventh house or searching for help on relationships and marriage. Professional astrologers may evaluate the particular configuration of Libra in the seventh house and offer individualized advice on interpersonal dynamics, connectivity, and techniques for establishing and upholding harmonious relationships.
Seventh House Astrology
Astrology's seventh house is extremely important since it controls collaborations, unions, and relations. It symbolizes the one-on-one interactions people have with others in both their personal and professional lives. This house provides information on the kind of relationships one seeks out as well as the qualities one looks for in a partner.
It clarifies the nature of relationships, peace, and stability as well. The seventh house emphasizes the value of justice and teamwork through governing legal contracts, discussions, and collaborations. A person's birth chart seventh house can have a significant impact on interpersonal patterns, connectivity, and methods for creating harmonious partnerships.
Positive Effects of Libra in 7th House
In astrology, the position of Libra in the seventh house has several advantageous consequences. This placement makes people very adept at creating and sustaining peaceful relationships. They are diplomatic, which enables them to negotiate disagreements and reach just agreements. A keen awareness of equilibrium, fairness, and collaboration in relationships is encouraged by Libra in the seventh house. These people place a high value on understanding one another, compromising, and open communication, which promotes happy and fulfilling partnerships. They excel at establishing harmonic dynamics and pursue justice in all their dealings. This setting fosters a profound appreciation for friendship, fostering effective relationships and heavily emphasizing forging a harmonious and equal marriage.
Negative Effects of Libra in 7th House
In astrology, the placement of Libra in the 7th house astrology can also have some unfavorable outcomes. Even though Libra is renowned for its emphasis on harmony and balance, its presence in the seventh house can occasionally cause apprehension and make it difficult to make firm promises. People with this trait may have difficulty being forceful and might encounter it difficult to express their wants and aspirations in intimate relationships. Additionally, they could have a propensity to put their partners' preferences and opinions above their own, which might result in an asymmetry of power. In addition, there may be a fear of disagreement, which can result in a propensity to avoid conflict or to sweep problems under the floor, which can exacerbate difficulties in relationships.
Conclusion
In conclusion, a person's interactions and connections are greatly influenced by the position of Libra in the seventh house. The necessity of harmony, balance, and justice in one-on-one relationships is eventually highlighted even though there are advantages as well as drawbacks. People with Libra in the seventh house are diplomatic and work to maintain harmony and equality in their relationships. However, there could be issues with making decisions, being aggressive, and having a propensity to put other people's needs before their own. Understanding the effects of Libra in the seventh house can help people navigate their way to building harmonious and balanced relationships by offering insightful information about relationship dynamics.