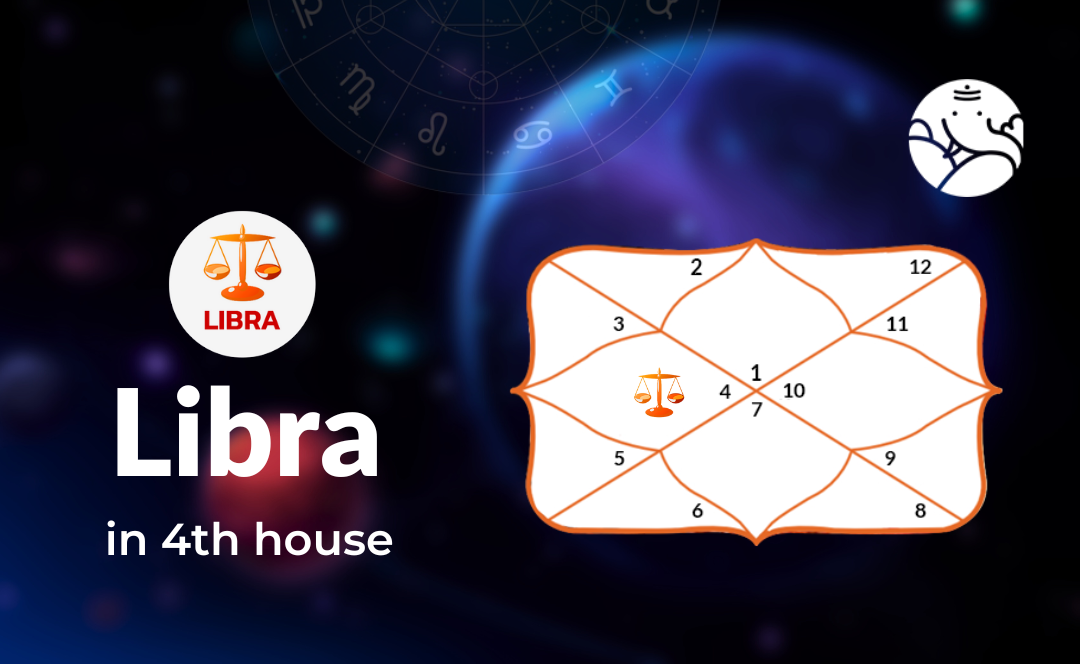 Libra In 4th house
A unique fusion of peace, diplomatic efforts, and artistic sensitivities is brought to the home and family living area by the position of Libra in the 4th house of a person's birth chart. Scales reflect the sign of Libra, which emphasizes justice and balance. Libra's presence in the fourth house highlights the value of fostering harmony in the home. Individuals with such a position will likely value maintaining a calm and aesthetically beautiful home environment where relationships are nourished via honest dialogue and compromise. A strong connection to aesthetics and creative expression within the household indicates the Libra energy in the fourth house, which promotes serenity and refinement.
Libra in 4th house Astrology
Astrologically speaking, Libra in the 4th house astrology represents a special fusion of balance, diplomatic activity, and artistic sensibility in home and family life. People may be predisposed to fostering a calm and balanced home environment when Libra rules this house. They value honesty, fairness, and compromise to sustain healthy connections with those they value most. Their desire to create a classy and aesthetically pleasant environment extends to their home, reflecting their refined aesthetic sensibility. It is important to remember, though, that the impact of Libra in the fourth house can differ from person to person based on their general horoscope and other planetary positions. It is advised to get advice from a professional astrologer via an online Jyotish consultation to gain a thorough understanding and unique insights into the effects of Libra in the fourth house. A qualified astrologer can offer insightful analysis, analyze the subtleties of this position, and provide suggestions on maximizing its potential for individual development and familial peace.
Fourth House Astrology
The fourth house in astrology is crucial in determining a person's household life, origins, and psychological base. The fourth house represents our domicile, loved ones, and an innate feeling of safety linked to our most intense feelings, past lives, and ancestry. Our connection with our biological parents, our early experiences, and the setting we were brought up are all reflected in it. The fourth house also rules our sense of home, our devotion to our origins, and our yearning for a secure haven. It also demonstrates how we relate to property, ownership, and real estate matters. The fourth house's energies significantly impact our mental health and help to mold our deepest emotions of security and comfort.
Positive Effects of Libra in 4th House
When Libra is in the fourth house of a person's birth chart, it has various advantages that improve their mental health and domestic life. Libra's harmonizing influence in the fourth house fosters a calm and balanced atmosphere in the household. These people have the innate ability to foster a peaceful environment where honest dialogue and reasonable compromise rule. They place a high priority on justice and work to keep their family dynamics in balance. Additionally, their elegant aesthetic taste elevates the beauty and sophistication of their house, creating a tranquil haven for them and those they love. They can resolve family disputes with subtlety and elegance thanks to their diplomatic temperament, which fosters goodwill and emotional stability in the home.
Negative Effects of Libra in 4th House
While having Libra in the fourth house of a person's birth chart has many benefits, there can also be a few drawbacks. The focus on peace and diplomacy may result in a tendency for family members to avoid conflict and hide their genuine feelings. Decision-making may be difficult for those with Libra in the fourth house because they continuously weigh the advantages and disadvantages to find the ideal balance. Uncertainty and procrastination in crucial decisions about the house and family might result from this indecision. Furthermore, their great sense of aesthetics may cause them to place too much emphasis on appearances, thereby obscuring deeper emotional relationships. Even more, than resolving deeper problems, they might place a higher priority on maintaining the appearance of unity. These people must balance fostering unity and tending to the real emotional demands inside their family dynamics.
Conclusion
In conclusion, a person's domestic life and emotional health are impacted by the position of Libra in the fourth house of their birth chart in both positive and bad ways. Libra's gentle and diplomatic temperament fosters healthy relationships and creates a sense of fairness and balance in the home environment. However, drawbacks also include a propensity to avoid disagreements, difficulty with choices, and a focus on outward appearances. Finding a balance between upholding exterior peace and attending to underlying emotional demands within their family relationships is vital for people with this placement. They can establish a family environment that is genuinely peaceful and gratifying by accepting candid dialogue, negotiation, and awareness of themselves.