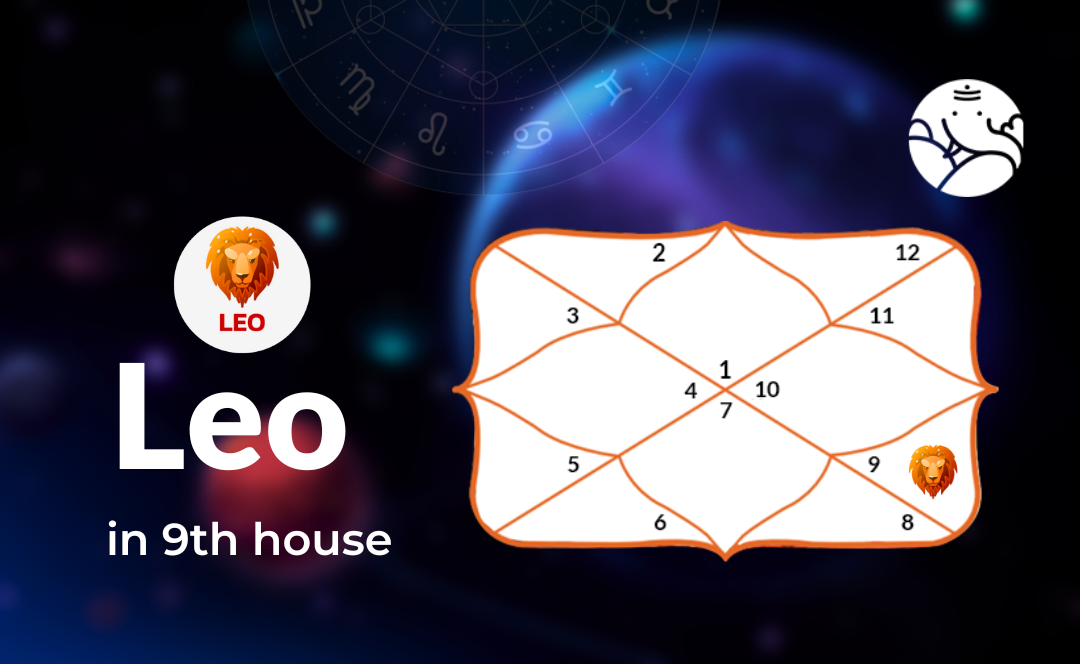 Leo in 9th House
Leo's placement significantly influences an individual's convictions, faith, and pursuit of wisdom in the 9th house of their natal chart. The ninth house is associated with higher learning, theology, traveling, and the search for life's meaning and purpose. The 9th house is infused with the self-expression and creative energy of the Sun-ruled sign Leo. Leo is a passionate and fiery sign. Leo in the 9th house is frequently associated with a strong desire to travel, try novel experiences, and participate in intellectual activities. Due to their magnetic existence and innate leadership abilities, they can inspire others and act as successful teachers or mentors. This heavenly combination inspires them to discover their truth, welcome fresh experiences, and impart their knowledge to others.
Leo In 9th House Astrology
Leo in the 9th house brings a dynamic and spirited energy to higher learning, spirituality, and exploration. When the extravagant sign of Leo evokes an explosive combination that concentrates on the domicile of philosophy, beliefs, and traveling long distances, it deeply impacts a person's life.
As a result of their innate enthusiasm and charisma, people with Leo in the 9th house make compelling communicators and role models in academia and spirituality. They are driven by a strong desire to learn the truth, widen their horizons, and embark on adventures that will change their lives. They use their bright energy to guide others on their spiritual journeys, acting as mentors, teachers, or gurus.
Ninth House Astrology
A birth chart 9th house, which in horoscope stands for higher learning, spirituality, purity, and traveling long distances, is an important area. It involves enlarging one's horizons, seeking the truth, and finding one's life's purpose. The ninth house is ruled by beliefs, morality, and the desire for knowledge, whether obtained via educational institutions or self-discovery. It also includes exposure to diverse viewpoints, travel abroad, and cross-cultural experiences. Powerful spots in the ninth house are frequently associated with individuals who strongly desire to learn and are open to investigating different faiths, ideologies, and psychological practices. They naturally display curiosity and a desire to learn, frequently transforming into voracious learners and astute teachers. The 9th house encourages people to go on transformational journeys, literally and figuratively, to deepen their comprehension of the outside world and connect with the higher planes of existence.
However, there may be some challenges associated with this placement. A desire for affirmation of one's convictions or an overwhelming feeling of pride can occasionally result from the strong Leo influence. People in this position must be humble and keep an open mind to allow for personal growth and explore other points of view.
Those seeking guidance and an in-depth comprehension of Leo in the 9th house and its impact on their lives may find that online Jyotish consultation can provide specialized insights and advice. An experienced astrologer can offer wise guidance on maximizing this placement's advantages while avoiding potential drawbacks. They can guide how to start meaningful spiritual journeys, cultivate an open mind, and embrace authenticity. With an online Jyotish consultation, people with Leo in the 9th house may optimize their capacity for growth, self-discovery, and spiritual evolution.
Positive Effects Of Leo In 9th House
Leo manifests positive and vibrant influences in the ninth house. People with this placement are naturally enthusiastic and full of life when discussing issues related to more profound understanding, spirituality, and exploration. They exude confidence and likability, allowing them to communicate clearly and motivate audiences in jobs like guidance, speaking in public, or teaching. They strongly desire to learn the truth and grow spiritually and intellectually, expanding their scope and providing a unique perspective on life. They have a strong attraction presence that can inspire others to follow their respective spiritual paths and embark on life-changing adventures. The deep feeling of personal genuineness and the bravery to fully express oneself fostered by this placement eventually led to an intimate relationship with one's greater purpose and an immense effect on the world.
Negative Effects Of Leo In 9th House
Although Leo in the ninth house has advantages, there may also be disadvantages that you need to be aware of. People with such a position sometimes show a tendency towards rigidity or self-righteousness in their convictions and philosophical views. They might feel compelled to dominate or control discussions of spirituality or higher knowledge because they strongly desire acceptance and recognition. Leos may also feel restless or impulsive due to their fiery nature and the wide-ranging power of the 9th house, which can lead them to change their beliefs without giving them enough thought or understanding.
Conclusion
Leo's vibrant energy is united with the vast field of higher learning and spirituality by Leo's placement in the 9th house. There may be challenges to overcome even though it fosters admirable qualities like enthusiasm, appeal, and an appetite for knowledge. Those in this position have the potential to grow into inspiring leaders and mentors who can guide other people on their spiritual quests. But they must understand the perils of rigidity and the requirement for approval. If they cultivate humility, transparency, and a precise understanding of their beliefs, they will be capable of fully comprehending the transformative influence of the 9th house. By sharing their unique perspectives and inspiring others to begin their journeys of discovery oneself and personal development, they can make an enormous difference with their infectious enthusiasm.