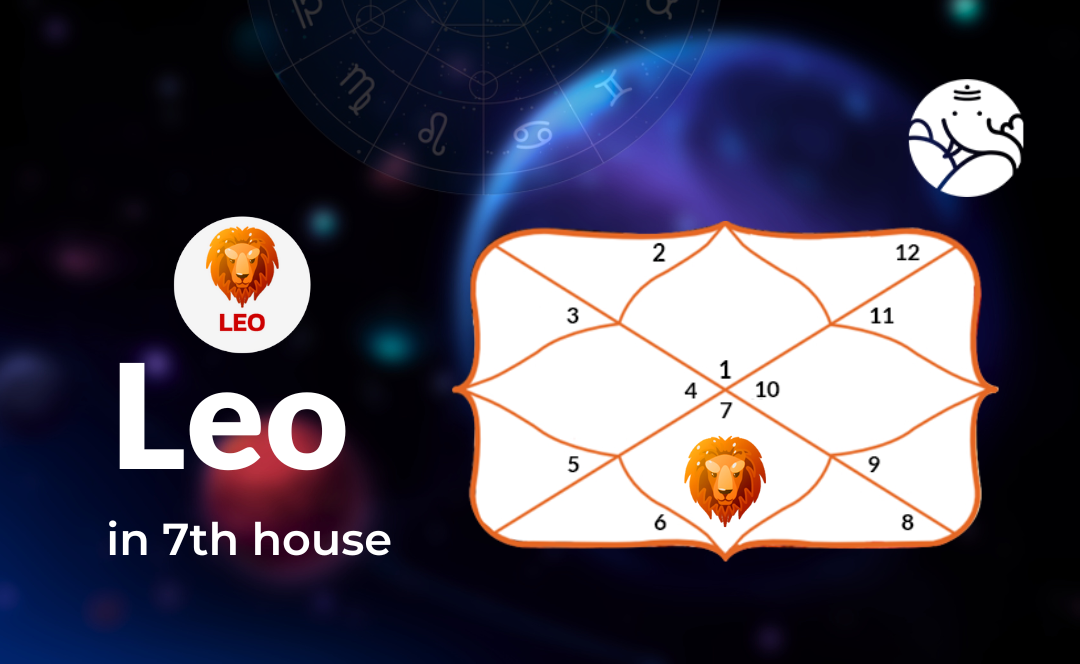 Leo in 7th house
The 7th house, which rules alliances, connections, and marriage, is where Leo is positioned astrologically, and this placement has a lot of significance. Leo, a fire sign linked to expressing yourself, imaginative thinking, and authority, provides energetic and magnetic energy to one-on-one interactions. People with a Leo in their seventh house are more likely to look for dramatic, intense connections to fully convey one another and prevail in their spouse's admiration. They are very confident and might take on leadership roles in their relationships. This posture indicates a desire for admiration, acceptance, and a fulfilling romantic connection. The Leo energy in the 7th house produces a vibrant and alluring dynamic, full of energy, imagination, and a profound awareness of self.
Leo In 7th House Astrology
Astrologically, Leo in the seventh house is an intriguing placement that significantly affects marriage, partnerships, and relationships. In their one-on-one interactions, those with Leo, a fire sign that rules the seventh house and symbolizes self-expression, creativity, and leadership, exude dynamic and charismatic energy. They have immense confidence in themselves and radiate an enticing charm that draws in others. People with Leo frequently experience passionate, dramatic, and admired relationships in the seventh house.
However, there might be issues with this placement. An obsession with being the center of attention, a need for admiration, or a tendency to rule in relationships are just a few manifestations of Leo's energy. Power struggles or disagreements with their partners may result from this. The needs of their significant other may occasionally be overshadowed in favor of the person's own needs and desires.
An online Jyotish consultation can help gain a more thorough understanding of the effects of Leo in the 7th house and its impact on a person's relationships. A knowledgeable astrologer can offer unique insights into the particular dynamics of this placement in a person's birth chart. They can advise on how to manage power dynamics, strike a balance between one's needs and those of one's partner, and promote harmony in relationships. These consultations can offer insightful guidance for overcoming obstacles and utilizing Leo's advantageous traits in the seventh house, resulting in more satisfying and harmonious partnerships.
Seventh House Astrology
The seventh house in astrology is significant because it represents synergies, marriage, and one-on-one relationships. It influences how we communicate with others and form deep connections with them. This house determines how committed, harmonious, balanced, and cooperative we are. It personifies how essential relationships, affection, and cooperation are to us. The seventh house sheds light on the qualities we seek in a partner and our ability to build just and fulfilling partnerships. It is essential to comprehend how we deal with negotiation, bargaining, and the reciprocal that characterizes relationships. Understanding the functioning of the seventh house can help us better understand our romantic and professional relationships and the qualities we value in our closest friends.
Positive Effects Of Leo In 7th House
Leo in the seventh house has many positive effects on an individual's relationships and partnerships. Because Leo's flaming and magnetic energy rules the world of one-on-one connections, people with this sign's placement have an overwhelming feeling of confidence in themselves and radiate a magnetic charm. They seek relationships that are passionate, dramatic, and admiring. They make captivating partners because of their inherent capacity for leadership and creative expression. They generate an intriguing and lively dynamic by providing excitement, joy, and an aura of esteem to their relationships. They can assume leadership positions when necessary and inspire their partner's thanks to their confident demeanor. Leo, in the seventh house, urges individuals to embrace affection, romance, and an elevated sense of oneself within their relationships, leading to fulfilling and passionate partnerships.
Negative Effects Of Leo In 7th House
Leo in the seventh house is advantageous for partnerships and relationships, but there can also be negative effects. One-on-one relationships are strongly represented by Leo's fiery energy, which could lead to a tendency to control or request continuous focus in relationships. Partners may want to impress others and need to boost their egos. This may lead to authority battles or disputes with others who are important to them. Additionally, people with Leo in the seventh house may need help with being in the limelight and prioritize their own needs and wants above those of their significant other. People in such a position must develop modesty, endurance, and an ability to pay attention to and comprehend their partner's needs to sustain positive and loving relationships.
Conclusion
Leo in the seventh house lends associations and connections a vibrant and charismatic energy. Due to their fiery and confirmed nature, which provides them with an unwavering belief in themselves and renders them desirable partners, Leos are magnetic charmers. They seek out dramatic, passionate relationships that allow them to be authentic and gain admiration. However, if the other person tends to dominate, demand unceasing attention, or prioritize their needs over yours, problems may develop. Striking a balance requires engaging in open dialogue, humility, and tolerance. By making use of the positive characteristics of Leo and avoiding potential pitfalls, individuals can master the subtleties of the 7th house, leading to contented and harmonious relationships.