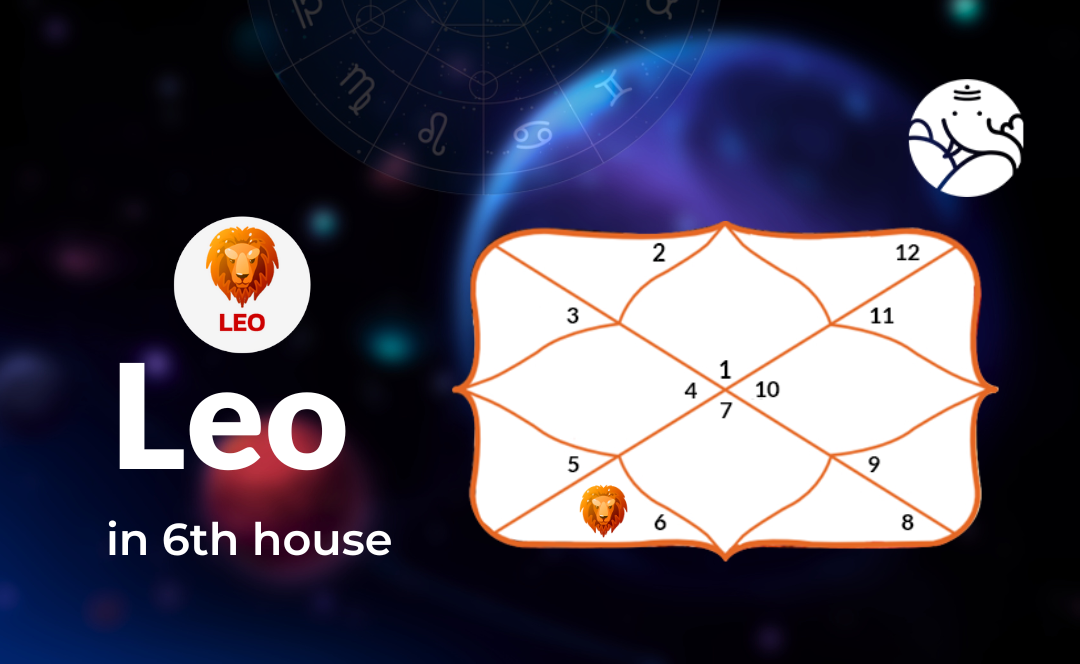 Leo in 6th house
Leo's astrological placement in the sixth house is significant and affects a person's life in many ways. The 6th house, which rules employment, well-being, and daily routines, is ruled by the fire sign Leo, which stands for creativity, self-expression, and leadership. This positioning produces a unique fusion of energy. LeoIn the sixth house, Leo undoubtedly excels at carrying out their responsibilities with vigor and friendliness. They thrive in settings that allow them to develop their managerial abilities and creative talents. Their unique position also suggests that their efforts should be recognized and thanked. They strive to maintain their youthful look and radiate their lively spirit all through every aspect of their lives, so awareness of health and an ambition to improve themselves is essential to them.
Leo In 6th House Astrology
The fascinating astrological placement of Leo in the sixth house of a birth chart lends unique energy to the areas of work, health, and daily routines. Leo, a Sun-ruled fire sign, represents qualities like imagination, self-expression, administration, and an appetite for focus. Leo in the sixth house represents people who approach their jobs and daily responsibilities with an air of vigor, persuasiveness, and an instinctive desire to take the lead.
Leos in the sixth house frequently have a solid commitment to their work and a desire to succeed in their careers. They flourish in settings where they can use their creativity, demonstrate their leadership skills, and perform tasks involving organizing and leading others. These people naturally inspire and motivate their coworkers, fostering a supportive and effective workplace.
Health and well-being are crucial for those with Leo in the sixth house. Since they are more conscious of the significance of mental as well as physical wellness, they place a higher priority on self-care. These people strive to stay healthy and radiate life energy in everything they do. They might be drawn to pursuits that make them happy and improve their general well-being, such as exercise, athletic competition, and artistic interests.
Based on an individual's unique birth chart, online Jyotish consultations can offer a deeper understanding of the precise effects of Leo in the 6th house. A competent astrologer can offer specialized direction and counsel about careers, employment situations, wellness practices, and methods for balancing work and personal obligations. These consultations assist individuals in maximizing the benefits of this placement and address any issues or imbalances that may develop, resulting in a more satisfying and harmonious life.
Sixth House Astrology
In astrology, the sixth house, which regulates all facets of our daily existence, health, and careers, is very significant. It stands for how we go about our jobs, serve others, and care for our physical and mental well-being. This home demonstrates our attention to detail, organization, and work ethic. The sixth house frequently influences our understanding of our well-being, everyday activities, and effectiveness in managing responsibilities. It is linked to progress, realism, and restraint. Ailments can manifest as health problems or difficulties at work, while a solid sixth house indicates a well-organized and committed service nature. Understanding the layout of this house can give one critical insight into how they approach their tasks and how they feel overall.
Positive Effects Of Leo In 6th House
Numerous positive things can happen in a person's life when Leo is in the sixth house. These people are naturally good at their jobs because Leo's creative and magnetic presence governs the fields of work, health, and daily activities. They carry out their responsibilities with enthusiasm and exhibit initiative and leadership skills. They encourage those around them with their inspiring personality and positive attitude, which fosters a supportive and effective work environment. As people's health awareness has increased, a focus on preserving vitality and well-being has emerged. These people exude an excellent vibe that motivates others to better themselves and their everyday lives. Leo, who rules the sixth house, promotes professional success by displaying traits like creativity, leadership abilities, and a love of life.
Negative Effects Of Leo In 6th House
Leo in the sixth house has many positive aspects, but there can also be drawbacks. Leo's fiery energy substantially impacts work, health, and daily life. This could result in a tendency to be exorbitant or limiting at work. Disputes with managers or coworkers may result from an ongoing desire for verification and approval in the sixth house, Leo can make balancing their personal and professional lives challenging, putting their health last. They occasionally put their physical and mental health last in their never-ending pursuit of success. To stay energized and maintain positive workplace interactions, these people must learn to be modest, cooperative, and empathic.
Conclusion
Last, Leo in the sixth house produces a unique fusion of favorable and unfavorable outcomes in a person's life. Because Leos are flamboyant and charismatic, those with an intrinsic aptitude for work can inspire others, lead by example, and display their leadership skills. They carefully consider their well-being and are motivated to grow individually, leading to a busy and satisfying daily schedule. Problems could result from a desire for constant acceptance, a propensity for dominance, a potential disregard for finding a suitable equilibrium between work and life, and other factors. Self-care, teamwork, and humility must be developed to maintain equilibrium. One can manage the energies of the sixth house, setting the path for a life full of joy and fulfillment, by utilizing Leo's positive traits while addressing potential issues.