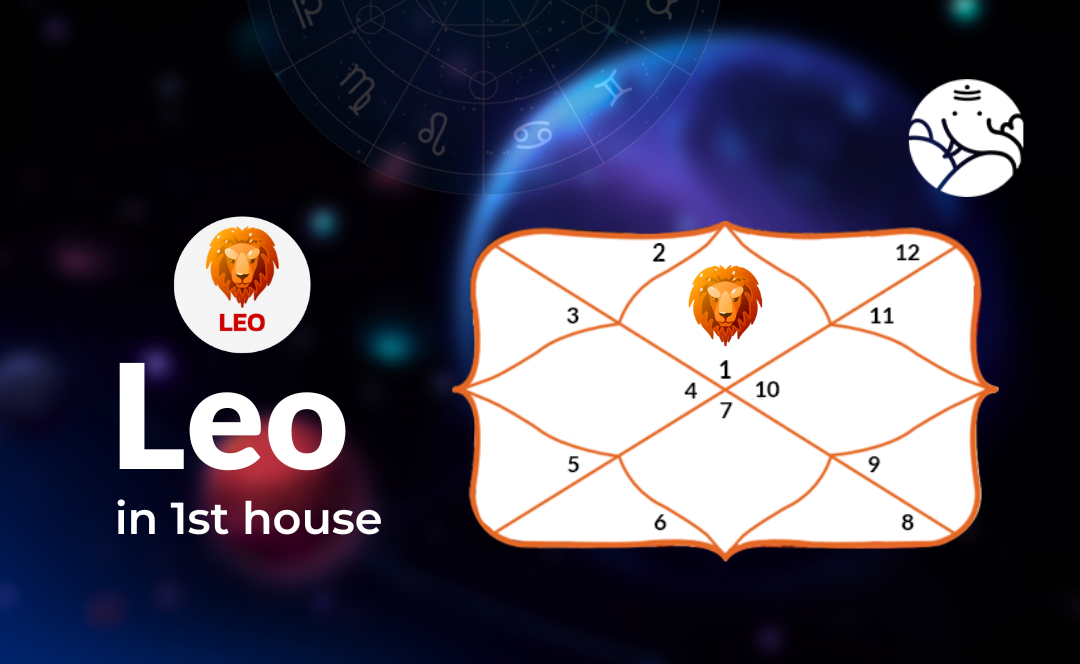 Leo In 1st House
In astrology, the first house, also known as the Ascendant or Rising sign, represents our perception of individuality, individual characteristics, and how we relate to others. When Leo, an energetic and reassuring sign, is positioned in the first house, an individual's external appearance develops energetic and magnetic energy. Self-assurance, uniqueness, and an overwhelming sense of self frequently radiate from individuals with a Leo in the first house. They need to be noticed and admired, and their presence commands attention. We can learn vital information about how individuals voice themselves, assume leadership roles, and navigate the world with energy and optimism by comprehending the effects of Leo in the first house.
Leo In 1st House Astrology
An individual's expression and exterior appearance have a dynamic and vibrant energy when Leo is in the first house of astrology. The first house represents our sense of self, our personalities, and how we interact with others, also known as the Ascendant or Rising sign. When Leo, a fiery and confident sign, rules the first house, it strengthens a person's natural friendliness, confidence, and leadership capacity. People with Leo in the first house often show a confident, self-assured demeanor because they have an overwhelming feeling of belonging and self-belief.
People who are in this position are magnetic and predisposed to draw admiration. They frequently exhibit expressiveness and creativity and thrive on getting the focal point of attention. They can inspire and lead others through their charisma, self-assurance, enthusiasm, and zest for life. Leo in the first house also represents an overwhelming need to express oneself and a desire to succeed in one's chosen field. These individuals possess a natural talent for performing, so jobs that allow them to use their creativity and individual personalities may suit them well.
An online jyotish consultation can provide enlightening details about how Leo in the first house affects a person's capacity for expressing oneself and sense of self. By examining the birth chart, a Jyotish practitioner can guide how to make the most of this placement's benefits, accept their trust in themselves, and discover fulfillment in their chosen career. Knowing the structure of this placement can help people who accept their true identities and contribute with charisma and vitality.
First House Astrology
The first house, also referred to as the Ascendant or Rising sign in astrology, stands for our sense of self, belonging, and how we express ourselves to others. It is the residence of individuality, outward manifestation, and general personality. An individual's outward demeanor and way of life are greatly influenced by the characteristics of the zodiac sign that rules the first house. Knowing how the first house functions can give you important insights into a person's sense of self, confidence level, and how they come across to others. It aids in comprehending how they move through space, make their presence known, and exude their particular energy. A person's astrological profile must include the first house because it establishes the overall theme for their birth chart.
Positive Effects Of Leo In 1st House
Leo in the astrological first house has several beneficial impacts on individuals' capacity to express themselves and their perception of identity. Improved charisma, confidence, and an inherent capacity to keep people's attention are all benefits of this placement. People who have Leo in the first house exude a radiant, infectious energy that enthralls and attracts others to them. They are self-aware and naturally inclined to take charge. They can take on initiatives that highlight their unique talents and abilities thanks to their capacity utilization for creative expression. With their innate confidence, they can inspire and uplift others, departing an indelible mark wherever they go. In general, Leo in the first house bestows an undisputed aura of charm and vitality that helps people move confidently through the stages of life.
Negative Effects Of Leo In 1st House
Numerous benefits result from Leo in the first house of astrology, but there are also some potential drawbacks that you should be conscious of. People with Leo in the first house occasionally have a voracious appetite for recognition and validation and are constantly seeking approval from others. They might give off an air of conceit and excessive self-consciousness, which might cause them an inclination to be pompous. Due to their intense hunger for power and attention, they might find it challenging to take on the highlight or consider the views of other people, which can be challenging in working environments. People in this position must learn humility, practice listening with intent, and smash an equilibrium between their needs and those of others. 
Conclusion
Finally, Leo, in the first house of astrology, provides an individual with a powerful and dynamic energy for self-expression and self-awareness. The benefits of this placement, including trust, friendliness, and leadership skills, are undeniable, even though there might be some unfavorable outcomes to be mindful of, such as a tendency for a sense of self or an urge for steady approval. Individuals with Leo in the first house can inspire and uplift others with radiant energy. By becoming more self-aware, performing modestly, and balancing their desire for consideration with empathy for others, they can sparkle as sincere and powerful people.