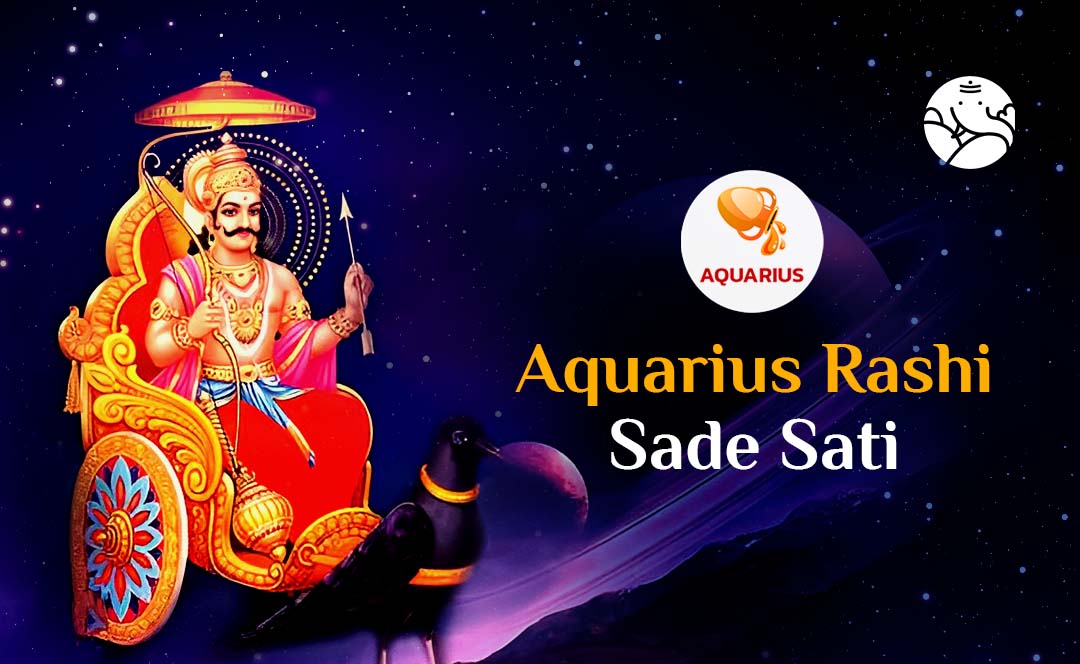 Kumbh Rashi Sade Sati - Sade Sati For Aquarius
Aquarius is an air sign which is ruled by Saturn itself, so the results of Sade Sati will be tolerable for the people of Aquarius. Saturn now wants you to keep an eye on your money. You should pay attention to your sources of income.

You may love being part of and creating groups, but too much community involvement can get in the way of progress. You will become emotionally weak. You will open your heart to anyone you find trustworthy.

All you need is a shoulder to cry on during these years, but Shani wants you to control yourself. During this Shani Sade Sati period, Aquarius people need to be practical and independent and adjust to their zodiac characteristics. You need to curb your emotions and get life back on track. During this, your love life also needs attention. Innovation can take you to new places during this time, so get your creative juices flowing!
Kumbh Rashi Sade Sati Period
Saturn's Sade Sati in this sign started on January 24, 2022, and will continue till June 3, 2027. But will completely end on 23 February 2028.
Sade Sati for Kumbh Rashi
According to Astrology, Shani Dev is currently sitting in Aquarius. In such a situation, this time is going to be good for business and marriage. Taking care of health is very important. High work pressure can lead to mental stress. If you work honestly, you will definitely get the fruits of your hard work. Worshiping Lord Shiva will shower the blessings of Shani Dev.
First Phase of Sade Sati for Kumbh Rashi
The first phase of Shani Sade Sati for Aquarius begins when the transiting Shani enters the 12th house from the natal Moon, which means Capricorn. Since Capricorn is also ruled by Saturn, the first phase is generally good. It can be challenging at times but if you work hard enough, success will eventually find its way to you. Minor health-related problems may persist during this period. You need to control your desires as well.

However, you will become very loyal and responsible and you will also become emotional, just and fair. In fact, you can also get involved in social work. You will work towards having a better life and will be willing to learn new things and have new experiences. You can also benefit from land in the first phase.
Second Phase of Sade Sati for Kumbh Rashi
When transiting Saturn enters your own Moon sign, then the second phase of Sade Sati starts from Aquarius. Saturn is a recluse and Moon is emotions and thoughts, so naturally, Moon and Saturn together in a house make the person very deep and inquisitive.

The Second is a bit confusing but a positive phase. Saturn is here in its own sign. Your efforts and hard work will pay off well during this phase. You may get fame in politics and public administration. During this time you will like to do social work. Your business will also run smoothly. However, too much work can also give you mental stress.
Third Phase of Sade Sati for Kumbh Rashi
The effect of Shani Sade Sati on Aquarius is going to be neutral during the third phase as Saturn is now in Pisces, which is ruled by Jupiter, who shares an average relationship with Saturn and now your focus will turn towards spirituality.

You would want to travel and explore places. You become a lot more polite, knowledgeable, and mannered during this time. You would want to achieve great heights. You will be logical and scientific in your methods and you will also be a loyal person and use speech effectively.
Sade Sati Remedies for Aquarius
Worship Hanuman ji along with Shani Dev.




Donate oil and iron utensils.




Give clothes to your servants.




Try cleaning your house yourself on Saturdays.




Practice charity and help those in need.
Conclusion
Saturn is the lord of the twelfth and first house for Aquarius. It indicates expenditure abroad, general health, overall life, personal affairs, etc. For you, Sade Sati begins when Saturn transits Capricorn and ends when Saturn leaves Meena. Your Ardashtam Shani moves when Shani transits the 4th house, Taurus. Ashtam Shani runs when Shani transits the eighth house, Virgo. Saturn is your zodiac sign lord, so when you are going through a bad transit of Saturn, it will give less negative results as compared to other zodiac signs. If the Aquarius sign wants to know more about Sade Sati, then talk to astrologers.