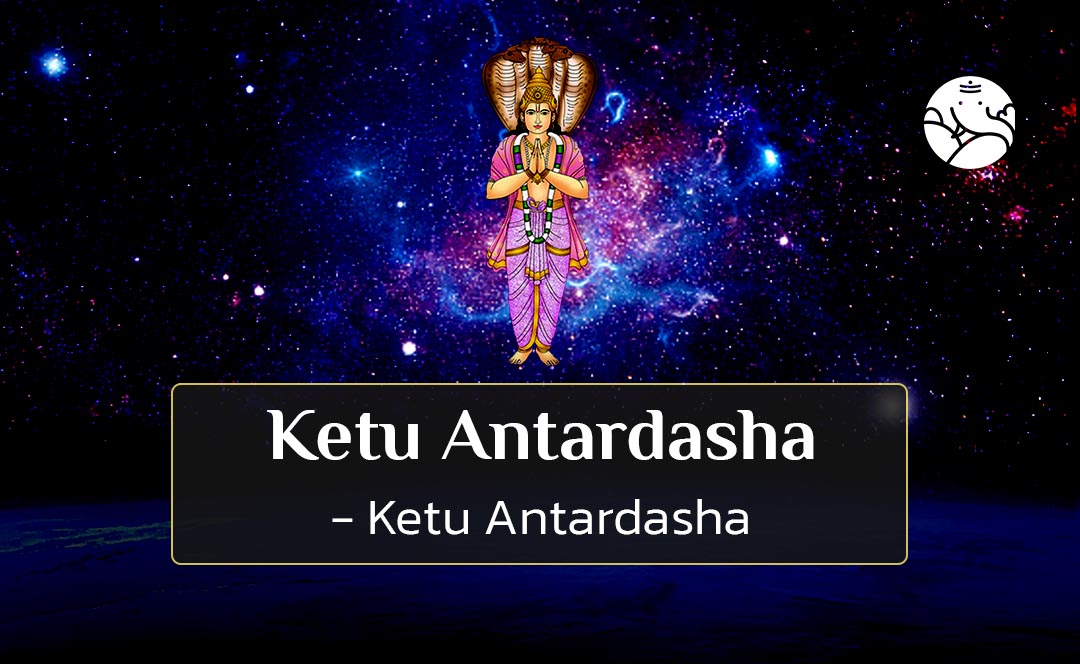 Ketu Antardasha - Ketu Ki Antardasha
Ketu is considered to be the half of Rahu. It is believed that Lord Vishnu beheaded Rahu with his Sudarshana Chakra after a war between the gods and demons. The head became known as Rahu and the rest of the body as Ketu. Ketu's presiding deity is Chitraketu and Pratyadhidevata Brahma. It is said that the Mahadasha of Ketu lasts for 7 years and is considered one of the most inauspicious period in the life of the native.
During the Antardasha of Ketu, a person experiences mostly sorrow. He may face physical, emotional, and social difficulties. Such a person may also indulge in sinful activities which can create more problems in life. Difficulties can be caused mostly by those who are in a position of power. One should be careful of theft, poison, weapon, fire, and water elements. Friends can prove to be back-stabbing, which can affect your reputation in the social circle. Beware of backstabbing a good friend. There will be no respite on the marriage front also. You may have to face problems related to your life partner and children. There will be a loss of money and accidents in Ketu's Antardasa.
This thing may seem a bit exaggerated but one should be careful during this period. During this period, there can be fear of loss of happiness, vehicle, fear of fire, and public condemnation. Children and spouses may get scared, there may be disputes with family members and mother and there may be grief afterward. One can get food, land, and a house. So, overall it is a time of intense bad luck, so be careful.
Ketu Antardasha Ketu Mahadasha 
This intuition gives inner strength to the person. One feels more motivated toward spiritual activities. Some religious journeys and pilgrimages are also possible during this dasha. The native feels a sense of indifference towards the material world and is inclined to explore the spiritual realms of life.
Some business-related travel is also possible. The native is quite unstable and overly optimistic during this period, so any new decision in career or job change should be avoided. This period of Ketu Antardasha in Ketu Mahadasha is a period of much mental confusion and causeless fear and the natives may also see distance in relationships.
If Ketu is in your eighth and twelfth house then it is a mixed situation for you. On the one hand, you may suffer from dental, cheek, and urinary diseases. You will also lose your friends, money and in the worst case, you are at risk of losing your father as well. If in your case Ketu is afflicted and is the lord of maiden or wealth then premature death is predicted. If your Ketu is very weak, it indicates health problems such as wounds, diseases related to the spinal cord, nervous and central systems, ulcers, fever, intestinal diseases, mental instability, skin diseases, inflammation, and low blood pressure. If your Ketu is in a debilitated sign or is in a hole or expenditure with the planet Ketu, then heart disease, wealth, and palace can be destroyed. There can be problems with the wife or children too.
Conclusion
When Ketu enters a person's life, then the person has to face opposition from his family members. One has to bear the separation of one's integral friend or one's loved one dies. The fellow native has to face a financial crisis because Ketu and Sun are strong enemies, Ketu mainly gives inauspicious results. Therefore, along with mental pain and loss of wealth, Ketu weakens the bravery of the native. Talk to astrologers to know more about Ketu Antardasha.