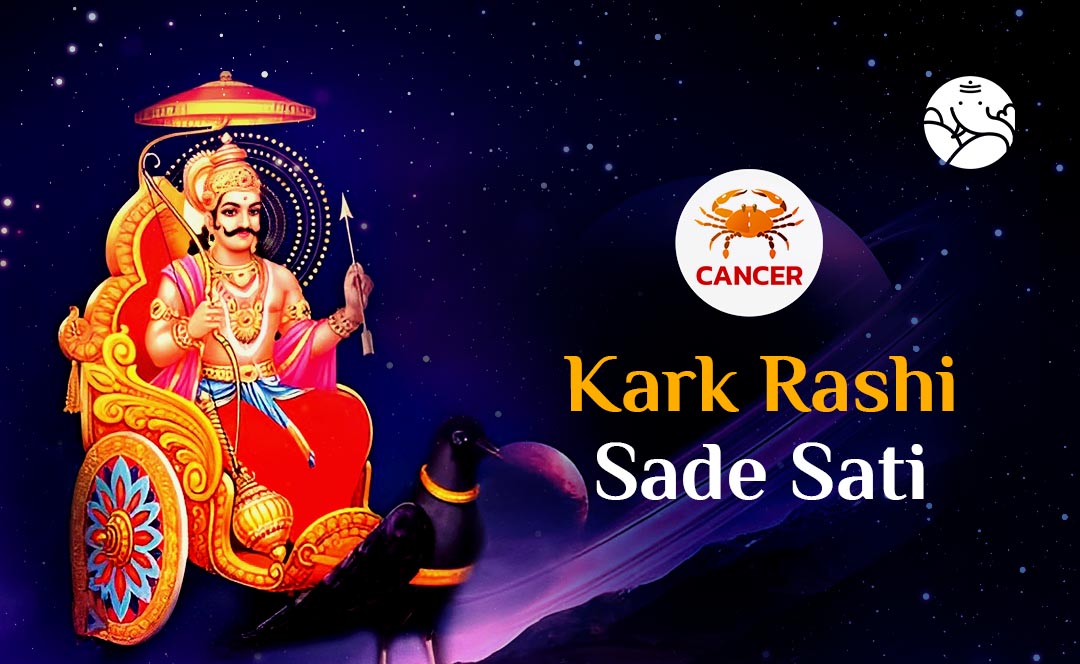 Kark Rashi Sade Sati - Sade Sati For Cancer
Cancer is ruled by the Moon, which is the arch-enemy of Saturn. This hostile relationship during Shani Sade Sati has a negative impact on the native. Their water and air elements collide in a way to create an emotional whirlwind in your life. The feeling of loneliness will pervade your life and you will feel very heavy-hearted. It's time to boost your morale and spirit!
During this, you need to be very careful in your married life. This is definitely not the time to trust people blindly, especially your spouse and business partners. The result of Shani Sade Sati for Cancerians is positive in terms of research projects. You may also make sudden gains from long-lost investments or find some hidden treasure in some way. You may overthink and fall into depression or anxiety.
Kark Rashi Sade Sati Period
Sade Sati for Cancer will be from 31 May 2032 to 22 October 2038. Shani's dhaiya has started on Cancer sign and this is the eighth Dhaiya. Cancer sign people need to pay attention to their health and family. You can unnecessarily get caught in a legal dispute. Work can go wrong. Chant the mantras of Shani regularly.
Sade Sati for Kark Rashi
For Cancerians, Saturn is the lord of the seventh and eighth house. He is the symbol of marriage, married life, business, misfortune, accident, etc. For you, Sade Sati begins when Saturn transits Gemini and ends when Saturn leaves Leo. Your Ardhashtam Shani moves when Shani transits the 4th house, Libra. Ashtam Shani runs when Saturn transits the eighth house, Aquarius. Saturn is an unfavorable planet for you as it rules the seventh and eighth houses. Therefore, you need to be extra careful when Saturn is going through a bad transit.
First Phase of Sade Sati for Kark Rashi
The first phase of Shani Sade Sati for Cancer is quite stable as it begins with the movement of Saturn to the 12th house from the natal Moon, which means Taurus, which is ruled by Saturn's friend Venus.

You will travel a lot during the first phase of Sade Sati. You want a blissful and comfortable lifestyle and can spend a lot to get it. You will feel interested in finding out the secrets and hidden realities of life. This phase will bring relief from any health problems that you may have been facing recently.
Second Phase of Sade Sati for Kark Rashi
The second phase is relatively worse than the first two and a half years. At this time Saturn is in conjunction with the enemy planet Moon. This can create domestic problems. You may run into problems due to a major female association in your life.

You may also face health-related problems during the second phase of Sade Sati. Some tension may also remain from the maternal side. Property and land-related matters will also not be smooth.

During this time you will feel lonely and sad. There may be a lack of mental peace and harmony in life. Unmarried may also experience delays in marriage. Apart from this, your career will also be unstable. This is the most difficult phase out of the three so you need to maintain your patience and calmness.
Third Phase of Sade Sati for Kark Rashi
During the third phase, Saturn will be situated in the second house from Moon, which means Leo, whose lord is Sun, which is again Saturn's enemy.

While the relationship between Surya and Shani in Hindu mythology is that of son and father, that doesn't make it any better for you. In fact, during this time you may experience differences with your father.

Your language will become harsh. For Cancerians, Saturn's Sade Sati during the third phase causes distance from family, especially parents. Finance loss and some charges are also possible.
Sade Sati Remedies for Cancer
Donate urad dal, mustard oil, and black sesame seeds.




Recite Shani Stotra.




Donate milk to needy old women.




Recite "Sunderkand Path" every evening.
Conclusion
During Sade Sati, you will have to control your speech and anger, on the other hand, special matters related to land will increase your enthusiasm. You will control the activities of the enemies. You will be praised in a public place. Good results will also emerge in matters related to life partners. If unmarried then some new proposals will come. Married people may have some problems related to children, but Jupiter is favorable and will give further benefits, due to which no major problems will arise. If the Cancer sign wants to know more about Sade Sati, then talk to astrologers.