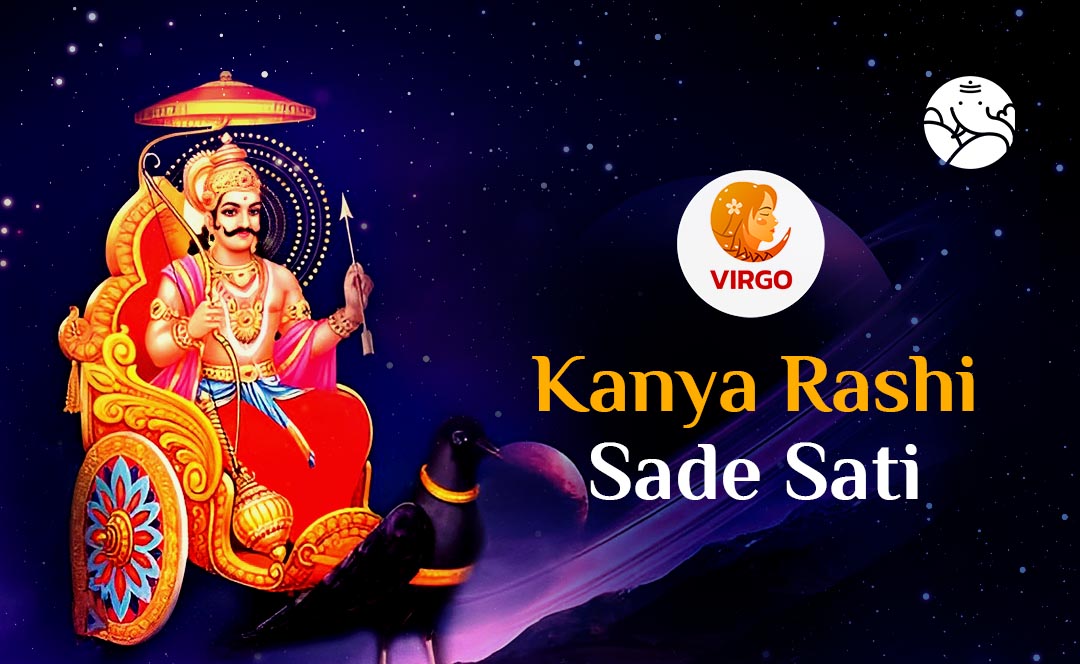 Kanya Rashi Sade Sati - Sade Sati For Virgo
The result of Shani Sade Sati for Virgo is usually average for the natives of Virgo. Virgo is ruled by Mercury, which Saturn considers its friend. Here, airy Saturn is in a friendly sign, so life will be stable for the most part, but expect some volatile moments as well. The Sade Sati for Virgo natives begins when Saturn enters Leo just before the natal Moon. This is definitely not the most opportune time to implement new business ideas. You should also be careful with your friends. Students also need to be alert. At this time more concentration and caution are needed in life.
Kanya Rashi Sade Sati Period
Sade Sati for Virgo will be from 27 Aug 2036 to 12 Dec 2043. The current position of Shani is very good for the people of Virgo. Enemies and opponents will face defeat. Will win in court cases. Changes in career and benefits are being made. It will be auspicious to donate food items.
Sade Sati for Kanya Rashi
Saturn is the lord of the fifth and sixth house for Virgo. He symbolizes progeny, love, creativity, knowledge, career, enemy, debt, health, etc. For you, Sade Sati begins when Saturn transits Leo and ends when Saturn leaves Libra. Your Ardhashtam Shani moves when Saturn transits the 4th house, Sagittarius. Ashtam Shani runs when Saturn transits the eighth house, Aries. Saturn is neutral for your zodiac sign lord, so you need to take some precautions while Saturn is going through bad transits.
First Phase of Sade Sati for Kanya Rashi
Since Saturn enters Leo during the first phase, the results are somewhat negative as the Sun, the lord of Leo, is an enemy planet. You may face business-related problems and losses during this first phase of Sade Sati for Virgo.

This can also hinder your career progress, there can also be a gap in your job. Health should definitely be taken care of if you want to avoid hospitalization. During this time you may also face difficulty in repaying the outstanding loan. Enemies also try to pull you down.
Second Phase of Sade Sati for Kanya Rashi
When Saturn enters Virgo with the natal Moon, it gives relatively positive results because Mercury, the lord of Virgo, is friends with Saturn. You will develop humanitarian instincts and you may also like to participate in social work.

You would also like to give advice to others but sometimes may get into disputes. However, you will win the debate. Although you will be very logical during this time, you can be very dependent on others.

You should avoid taking loans during the second phase of Sade Sati. This Dasha is positive for business progress. Colleagues will also cooperate with you most of the time. During this time you can get a new job or get a promotion. In terms of health, you will get relief from any old problem.
Third Phase of Sade Sati for Kanya Rashi
As soon as Saturn transits from the natal Moon to the second house i.e. Libra, the third phase of Shani Sade Sati begins for Virgo. Saturn is exalted in Libra, so the results will be positive to some extent as compared to the previous phases.

The native will spend a lot of his life on women and luxuries. You will also become more pious and honest. You will deal with other people very tactfully.

Some clever ideas may come to your mind in between. During this time you will try to impress other people. You may also want to work as a social worker.
Sade Sati Remedies for Virgo
Take mustard oil in a bowl, see your shadow in it, and donate it.




You can also donate shoes and slippers.




Feed the birds.




Practice meditation daily.




Visit a Ganesh temple every day.
Conclusion
During Sade Sati, there will be an increase in family relations, and some good work will also happen in the family. Interest in gaining knowledge will increase and your attention will be more towards mysticism. Economic benefits will increase but expenses will also be in the same proportion. If you want to dispose of any immovable property, you can do so at this time. There will be journeys away from the birthplace and you can take a big decision. There may be some problems for elder siblings and there may be some hindrance in their work. There can be talk of the marriage of unmarried people. If you are married then there will be some heat in the nature of your life partner, you will have to show patience. If the Virgo sign wants to know more about Sade Sati, then talk to astrologers.