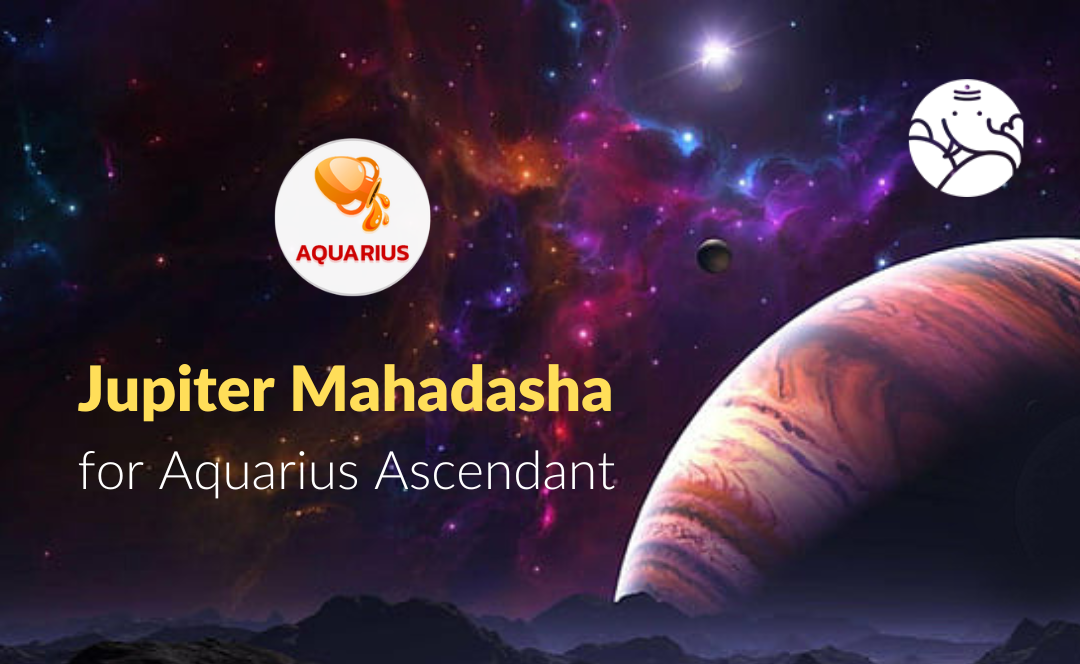 Jupiter Mahadasha for Aquarius Ascendant
Aquarius is also ruled by Saturn, which shares an indifferent relationship with Jupiter. When Jupiter is established in Aquarius, which is the sign of Saturn, its energy is not as effective due to the inauspicious effectiveness of Saturn. This is still a better position than Jupiter in Capricorn because Aquarius tends to be more sociable and flexible than Capricorn, who finds it difficult to adjust to the adversities Saturn imposes. People with Jupiter in Aquarius are welcoming and friendly. They are more intelligent and learned than the rich.

These are fair souls who accept diversity with open arms. They accept people as they are, irrespective of their caste, creed, color, or ethnicity. They are fair and impartial in every sense of the word. They are humble and humane, tolerant and kind. They are also intelligent, they have innovative solutions to problems. His thoughts are original. they are imaginative; They appear emotionally detached and lost in thought because of their dreamy nature. This is due to the philosophical bent and meditative nature of his mind. Although these people are a little undisciplined.
Results of Jupiter Mahadasha for Aquarius Ascendant
Jupiter is the ruler of the eleventh house in the Aquarius ascendant. Being the ruler of the eleventh house, Jupiter Moon represents subjects like greed, profit slavery, child inferiority, female child, relatives, bribery, and dishonesty. For good results in these subjects, you should study the place of Jupiter in your horoscope.

Jupiter, being the lord of the eleventh house, represents the person's greed, profit, selfishness, slavery, slavery, inferiority of children, female child, maternal uncle, uncle, brother-in-law, elder brother and sister, corruption, bribery, dishonesty, etc. Being under the strong and auspicious influence of Jupiter in the native's Janam Patri or its Dashakal, the native gets auspicious outcomes in the above-mentioned subjects, whereas being under weak and inauspicious influence gives inauspicious results.
Positive Effects of Jupiter Mahadasha for Aquarius Ascendant
With the presence of Jupiter in the first house, the person becomes knowledgeable and intelligent. In the Mahadasha of Jupiter, there is a possibility of getting a son, married life is happy, and there is a possibility of profit from the work of the partnership. The luck of the person supports. Such a person is a devotee of his father and travels abroad. If Jupiter is situated in the second house, then the native gets full support from his family. In the Mahadasha of Jupiter, money comes from the family of the native. There is victory in the competition, and court cases, all obstacles are removed by the power of intellect, and there is progress in professional life. Such a person has a special attachment to his younger siblings. Even after hard work in Jupiter's Mahadasha, the luck of the person rarely supports him. Your younger brother's yoga is formed. There are problems in married life and partnership. Jatak is not able to be religious. Along with elder brother and sister, there are chances of estrangement from the father as well, there is a decrease in potential profit.

By having Jupiter in the fourth house, the native gets complete happiness of land, house, vehicle, and mother. Obstacles are easily removed. There is a possibility of progress in the field of work. There are abroad trips, there is also a possibility of foreign country settlement. If there is any illness in the chest, it gets cured. The intelligence of such a person is very sharp. There is a chance of having a son in the Mahadasha of Jupiter. The health of the natives remains good. There is sweetness in relations with father and elder brother and sister, there is a possibility of getting benefits.
Negative Effect of Jupiter's Mahadasha on Aquarius Ascendant
Such a person has to face a lack of money. The health of a family member or elder brother remains bad. The fear of accidents remains. Vijayashree comes to hand after a lot of hard work in the competition. Profession comes in worse condition. The health of a family member is bad, the family member faces problems. Family support is not available and foreign settlement is also possible. Here, due to Jupiter being situated in the eighth house, the health of a family member may be bad. There is an obstacle in every work of the native. Useless expenditure keeps on happening. The family doesn't get support, there is a loss of money. There is a decrease in the happiness of land, house, and vehicle, there is bitterness in relations with mother and elder brother. There is also a possibility of staying away from the native's house. There is always some tension. Which family member's health can be bad? The mind remains troubled. The mother gets into trouble and does not get the happiness of a house, vehicle, or land. Expenses are incurred in law court cases and hospitals. The fear of accidents remains. Wasteful expenditure remains in Jupiter's Mahadasha.
Conclusion
Jupiter, being the lord of the 2nd and 11th two karaka houses in Aquarius ascendant, is considered a yoga karaka planet in this horoscope. In the first, second, fourth, fifth, seventh, ninth, tenth, and eleventh houses of the horoscope, Jupiter gives auspicious results according to its potential in its Mahadasha and Antardasha. Lord Jupiter situated in the third, sixth, eighth, and twelfth house gives inauspicious results by losing its beneficial effects. In this ascendant horoscope, Jupiter's gemstone Pukhraj is worn for the increase of wealth and profit. But Saturn's gem sapphire and Jupiter's gem topaz are not worn together. Falling in an inauspicious mood, their inauspiciousness is removed by donating and reciting Jupiter. Pukhraj is also not worn with diamond and opal. Through Astrology Phone Consultation, you can know in detail about Jupiter Mahadasha in Aquarius Ascendant.