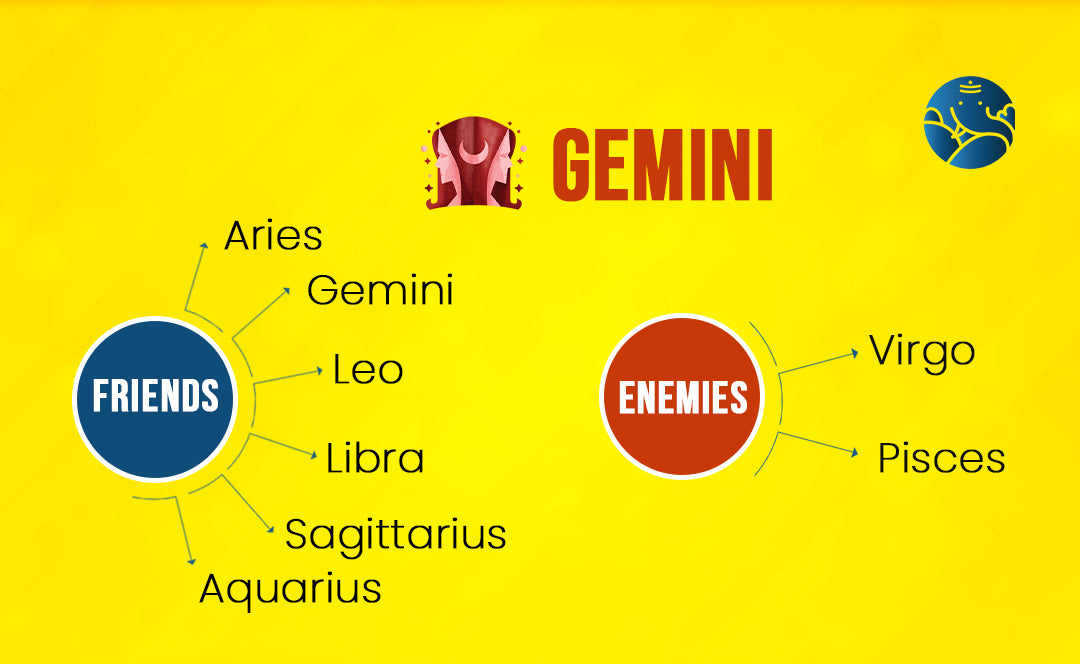 The Gemini Best Friend and who is the Gemini Enemy
According to our ancient history, zodiac signs are very important in our life. It uses to show the good and bad of our life. Zodiac signs are seen while doing all events and projects. Moreover, all zodiac signs are completely dependent on planets and an individual's born to date. And every zodiac sign has its friends and enemies like other zodiac signs.
Strengths and weaknesses of Gemini
Strength:
All individuals of Gemini are attentive and even they are insightful. In addition, they are friendly in nature and can be adjusted anywhere. Moreover, they are always excited and ready to learn new things.

Weakness: 
All of them use to stay quite messy and disorganized, even sometimes they use to think shallowly and behave restlessly.
A Brief Idea About Best Friend and Match of Gemini
Aries
 
Aries and Gemini will get a fantastic friendship. Both of them will always be ready to learn new things. Furthermore, you will always prefer to take risks together to have fun, as well as both of you together will make creative pair. Aries always appreciate your energy and attitude. And eventually, you will love their patience in nature while dealing with others. Both of you will support each other while doing creative activities.
Gemini
 
You and your Gemini friend always use to make a good bond together. Both of you will have full together while the place will be crowded and both will be spotted easily. Both of you will have fun together and you will discuss lots of topics and use to do arguments together. Both of you will share your ideas generally on news, moreover, you will meet whenever you want to share some talks with each other.


Leo
 
Leo individual is good to pair for Gemini. They will always use to play active games and use to do creative stuff. Both of you will be friends faster. Both of you will stay active together. Moreover, when they will come together, their active mood will be on and they act very energetically and fresh. Both together will make a fun-loving team.
Libra
 
According to astrology, Libra and Gemini's friendship will be enjoyed by both of them; it will be fun for them. They will be friendly with each other and won't hesitate to share talks and things with each other. They are never able to take decisions fast because of not having a stable mind. When both of them will have long discussions and at last decisions will be taken by chit or by tossing a coin.


Sagittarius
 
Generally you and the individual of Sagittarius are completely opposite. You love to grab brief information about anything, while Sagittarius always notices headlines about information. You always use to check all problems and risks in the path, however, Sagittarius believes in walking straight in a path without checking risks. Then also both you will form a good team together. Even you will travel together and even you will love your travel experience.


Aquarius
 
Aquarius and you both of you have some interest in some leisure activities both of you will ignore each other's negative side, Aquarius ignore our inability to keep promises and even you will ignore their stubborn nature.



Let's take a brief idea about the Enemies of the Gemini
Virgo
 
According to astrologers, both of you have lots of similarities both of you use your abilities in different ways. You will find them boarding and quiet, however, they will find you very interesting and different due to your challenging ability. Even they will see faults and mistakes always in you.


Pisces
 
Generally pieces and Gemini are completely different you are quite energetic and love to play; meanwhile, the Pisces individual is emotional, sensitive, and broody. These are some reasons why Pisces enemy of Gemini.
Conclusion
Gemini has its own friend and enemies. But according to astrologer predictions, Gemini is a really emotional fool's zodiac sign. and even a Gemini person can match all six zodiac signs.