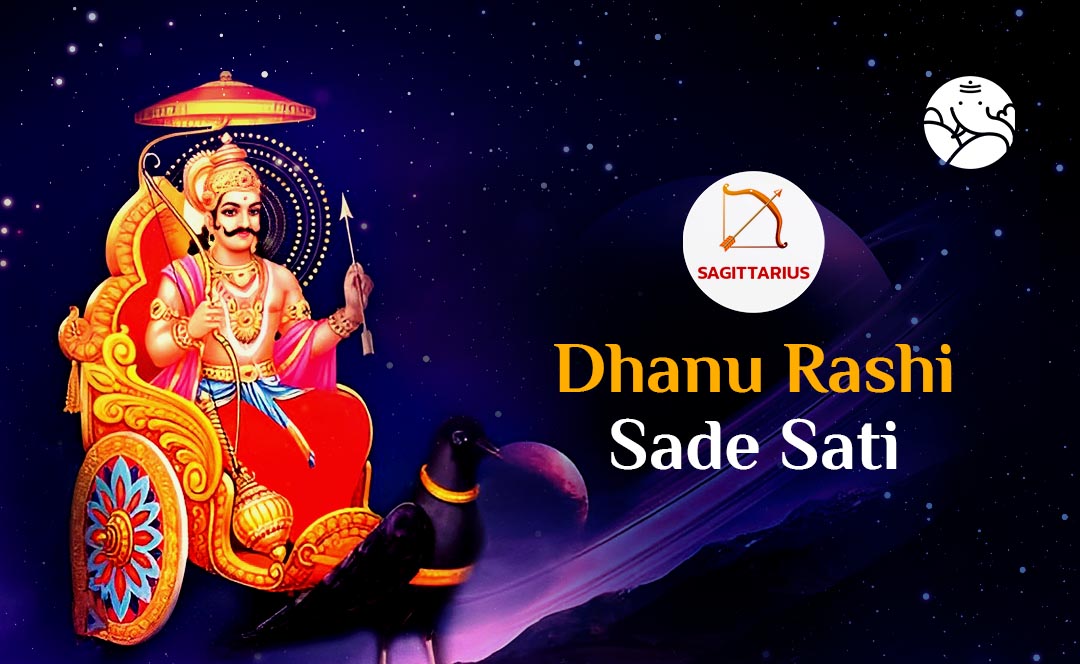 Dhanu Rashi Sade Sati - Sade Sati For Sagittarius
Sagittarius is a fire sign ruled by Jupiter, which shares a neutral relationship with Saturn. The results of Sade Sati are average for Sagittarius. Both these planets represent justice and equality but you have to remember that Shani wants you to work in a disciplined manner.

Although helping others is a good thing, getting too involved can be harmful. You should stay away from litigation and accusations. You should not get involved in any kind of controversy or debate during Shani Sade Sati in Sagittarius. Saturn wants you to limit your demands to be involved in anything and everything.

You too would like to lead in some way, but remember that there is a difference between leading and dominating. Sagittarius fire has to work together with airy Saturn here, just like a hot air balloon, where fire fills the balloon with hot air that lifts it above the ground. You need to maintain balance, otherwise, the Air-Fire combination can also be explosive.
Dhanu Rashi Sade Sati Period
On July 12, 2022, Saturn was retrograde in Capricorn, since then seven and a half years is going on in Sagittarius. After this, on January 17, 2023, you will get rid of Sade Sati. Then it will remain from 12 December 2043 to 3 December 2049.
Sade Sati for Dhanu Rashi
The current position of Saturn will be auspicious for Sagittarius people. Stopped work will be completed. The obstacles coming in marriage will also be removed. Will get the support of the officer class. Can also go on a trip somewhere. Donating food items every Saturday will give auspicious results.
First Phase of Sade Sati for Dhanu Rashi
The first phase of Sade Sati begins when Saturn enters the 12th house from Sagittarius i.e. Scorpio. This is going to be a difficult period as Saturn is hostile to Moon, the lord of Scorpio.

This makes the person aggressive and angry, which can affect relationships to some extent. During the first phase, you may see conflicts in the workplace and overall problems in your career.

Litigation matters can also cause trouble. Still, you will be inclined towards spirituality and you may also undertake some religious journeys which may provide solace.
Second Phase of Sade Sati for Dhanu Rashi
When Saturn conjuncts your natal Moon, the second phase of Shani Sade Sati begins for Dhanu Rashi. Now you will develop an interest in reading and writing, especially spiritual texts and material.

In this phase, you will work harder and will also do well in the field of education. You will show a lot of concern toward morality and righteousness. Your dutiful and honest nature can bring you fame in the field of politics as well. Your interest may also increase in areas like law and justice. Overall, the second phase is quite positive as compared to the previous phase.
Third Phase of Sade Sati for Dhanu Rashi
The results of Shani Sade Sati in the third phase are also relatively positive as Saturn has now entered Capricorn, which is its own sign. From this point, you will become much more helpful and fair.

You can give free education to people and also do charity. You will develop an interest in and knowledge of fine arts. Social work will also attract your moral self.

You will give priority to your career even at this stage of life and will not shy away from learning more or acquiring new skills. You are very motivated to achieve a better position in life. You can get fame and respect in politics during the third phase of Sagittarius.
Sade Sati Remedies for Sagittarius
Offer oil to Shani Dev and light a mustard oil lamp under the Peepal tree.




Chant "Mahamrityunjaya Mantra" 108 times every morning while circling the rosary of Rudraksha.




Recite Hanuman Chalisa every evening and light a jasmine oil lamp.




Donate shoes to needy children.
Conclusion
For Sagittarius people, Saturn is the lord of the second and third houses. He symbolizes wealth, family, eyes, siblings, short journeys, neighbors, etc. For you, Sade Sati begins when Saturn transits Scorpio and ends when Saturn leaves Capricorn. Your Ardhashtam Shani moves when Shani transits the 4th house, Meena Rashi. Ashtam Shani runs when Shani transits the eighth house, Cancer. Saturn is neutral for your zodiac sign lord, so you need to take some precautions while Saturn is going through bad transits. If the Sagittarius sign wants to know more about Sade Sati, then talk to astrologers.