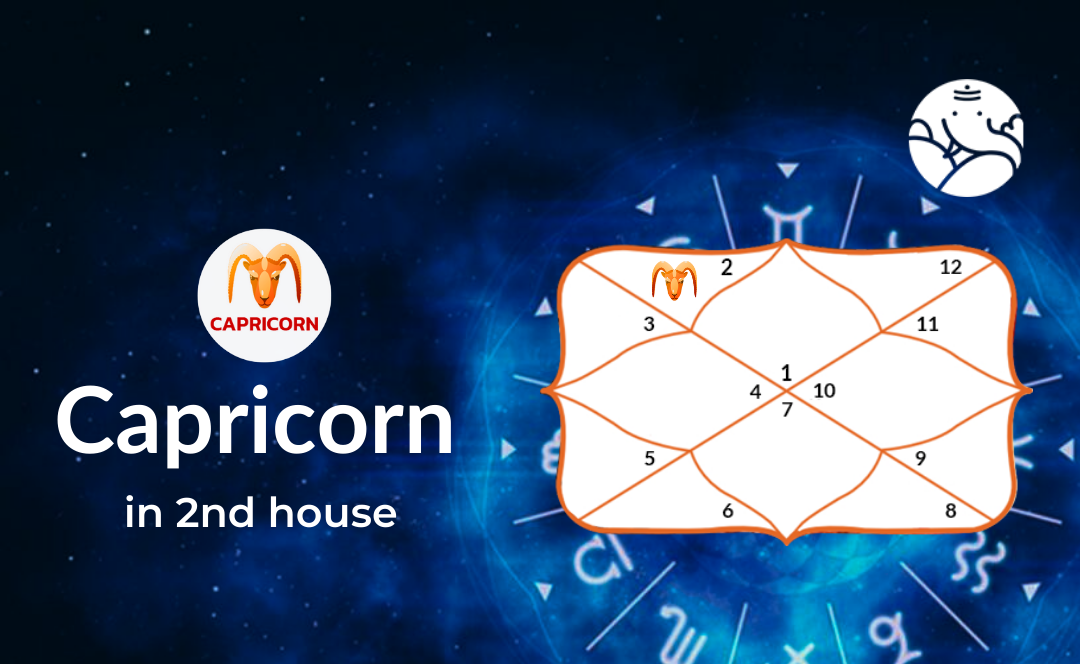 Capricorn in 2nd House
People with a Capricorn in the second house have a unique perspective on money and material belongings. The second house, which rules values, possessions, and money, lends a realistic and aspirational touch to a person's financial endeavours when this house rules Capricorn. These people prefer to manage their money with discipline and caution and need financial stability. Because of the influence of Capricorn, they have an intense work ethic and are diligent savers, which motivates them to establish a strong financial foundation. They place a premium on long-term investments and pursue financial success through tenacity, diligence, and strategic planning. This job gives people the potential to build financial security and a solid feeling of dignity through their material success.
Capricorn in 2nd House Astrology
Capricorn influences an individual's financial perspective and material possessions in the second house of astrology. When Capricorn rules this house, it infuses their financial endeavours with a realistic and ambitious vigour. These people place a high priority on financial stability and practise careful money management. They have a strong sense of responsibility and a strong work ethic, and they are strategic thinkers and diligent savers. Capricorn's presence in the second house emphasises making long-term investments and establishing a strong financial foundation.
People with Capricorn in the second house may get great insight by seeking advice from an online Jyotish consultation. A skilled astrologer may examine a person's birth chart and provide them with tailored financial advice by considering the unique planetary aspects and placements. They can point out favourable times for financial growth, recommend workable wealth-building plans, and assist people in balancing their values and their financial objectives. Additionally, they can assist people in finding an equilibrium between their goal of financial independence and the significance of overall well-being, ensuring that monetary achievement does not eclipse other facets of life.
People with Capricorn in the second house can acquire insight, make wise financial decisions, and endeavour to create a prosperous and joyful future through online jyotish consultation.
Second House Astrology
In astrology, a person's material belongings, moral principles, and financial affairs are governed by the Second House. It stands for how people accumulate and handle their possessions and is placed after the First House. Their perspective on money, the potential for income, and the stability of their finances are all influenced by this residence. It reveals their philosophies and life priorities. The Second House represents realism, security, and a need for prosperity and is linked to the Taurus zodiac sign. It controls a person's personal belongings, investments, and financial objectives. Excellent Second House placements frequently indicate individuals who value financial comforts, have excellent work ethics and are motivated to accumulate wealth.
Positive Effects of Capricorn in 2nd House
The second house placement of Capricorn has various advantageous consequences on a person's financial and material goals. First, it teaches them to manage their resources with discipline and a strong feeling of responsibility. Concerning their monetary goals, these people have a long-term perspective and are disciplined savers and planners. Capricorns make excellent investing selections due to their realism and strategic mindset, which leads to consistent growth and money accumulation. They have a solid work ethic and don't mind making sacrifices to secure their financial future. Their prudence and diligence frequently result in wise financial decisions and a strong basis for long-term stability.
Negative Effects of Capricorn in 2nd House
While having Capricorn in the second house has numerous advantages, there can also be drawbacks. One potential downside is an overwhelming emphasis on material prosperity and monetary stability, which can result in neglecting other facets of life. These people could become workaholics and too concerned with obtaining money, putting their relationships and overall well-being last. The intense sense of duty and discipline this position brings may also appear as a desire to implement monetary risks, preventing them from taking advantage of growth chances. For those with Capricorn in the second house, balancing pursuing wealth and taking pleasure in other life elements is crucial, ensuring that their quest for wealth does not eclipse their general well-being.
Conclusion
In conclusion, Capricorn in the second house affects a person's financial endeavours positively and negatively. They are better able to make sensible financial decisions, build wealth, and attain long-term stability because of their positive character traits of accountability, control, and dedication to their job. Their pragmatism and strategic mindset support the development of a strong resource base. However, people must be aware of potential drawbacks, such as an excessive emphasis on material prosperity and disregard for various facets of life. Balancing one's financial goals and personal contentment is essential for fulfilment and pleasure. People with Capricorn in the second house can successfully manage their financial journey by utilising positive traits while being aware of the potential dangers.