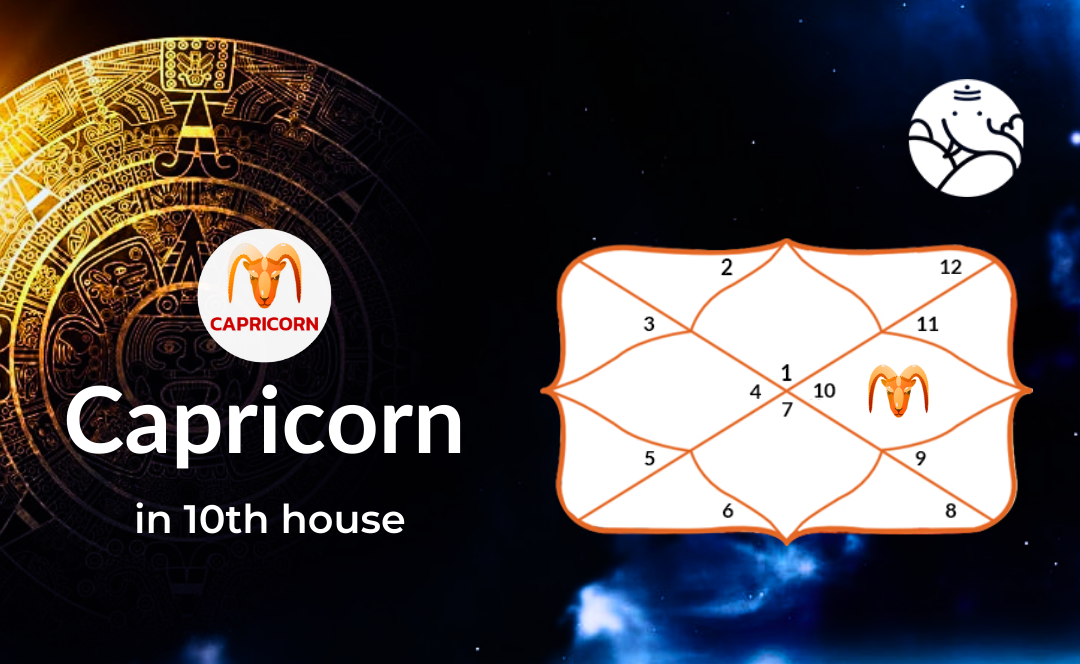 Capricorn in 10th House
A person's work, public perception, and social status are all significantly impacted when Capricorn occupies the 10th house of their birth chart. The earth sign of Capricorn, ruled by Saturn, stands for determination, self-control, and aspiration. The 10th house represents one's career, accomplishments, and societal standing. Consequently, Capricorn in the 10th house fosters a strong desire for success and a realistic approach to professional endeavors. People with this placement demonstrate an intense commitment to work, tenacity, and a willingness to rise to positions of power and notoriety. They aim for longevity, are regarded for their authority, and are prepared to make the sacrifices required to achieve their objectives.
Capricorn in 10th House Astrology
In astrology, Capricorn's position in the 10th house has a significant effect on a person's reputation, public image, and profession. Saturn's ruling earth sign, Capricorn, stands for determination, dedication, and desire. The 10th house is related to one's career, accomplishments, and social standing. As a result, this mixture produces a potent blend of tenacity and professional achievement.
A solid commitment to work and a desire to succeed characterize those with Capricorn in the 10th house. They are highly driven, tenacious, and prepared to make sacrifices to accomplish their objectives. These people frequently have long-term professional goals and are prepared to put in the time and effort necessary to advance to levels of authority and renown.

In addition, Capricorn in the 10th house represents a realistic and sensible approach to one's career. They want assurance and safety in their chosen professional choices and prefer measurable results. These people are frequently regarded for their professionalism, dependability, and capacity for effective task management.
Get an online jyotish consultation with a licensed astrologer for a thorough examination of your unique birth chart and personalized astrological recommendations. Based on your planetary configurations, they can offer insightful information about your potential for success, viable courses, and professional prospects.
Tenth House Astrology
In astrology, the tenth house significantly impacts a person's work, image, and status in society. It indicates a person's reputation and accomplishments. One's career path, goals, and achievement in the outside world are determined by the characteristics and planetary positions in this house. It defines the fields in which a person is most likely to succeed and achieve success. The tenth house also reflects one's attitude towards power, leadership, and responsibility. It controls how well one gets along with superiors and how well one can accomplish long-term objectives. The spiritual forces and elements in the tenth house can offer important insights about a person's goals for their job and methods for success.
Positive Effects of Capricorn in 10th House
There are several advantageous consequences when Capricorn is in the 10th house of a natal chart. Saturn's ruling earth sign, Capricorn, instills virtues like self-control, ambition, and perseverance. These qualities are enhanced in the areas of profession and public image when they are positioned in the tenth house. The strong work ethic, resolve, and endurance displayed by those with this placement are critical factors in their long-term success. They can make sensible goals, prepare thoroughly, and carry out their plans precisely. One's professionalism, dependability, and capacity for handling tasks well are further strengthened by Capricorn in the 10th house, garnering respect and distinction in their chosen industry.
Negative Effects of Capricorn in 10th House
Although Capricorn in the 10th house usually possesses beneficial qualities, there may also be possible drawbacks. As an earth sign ruled by Saturn, Capricorn occasionally magnifies specific characteristics that could harm one's professional and public image. These people may get overly preoccupied with achieving their professional goals and disregard their personal connections and work-life balance. They could have a workaholic personality, going through stress and burnout. Furthermore, the high expectations and perfectionism that come with this position may lead to feelings of inadequacy and self-imposed pressure. For those with Capricorn in the 10th house, it's critical to strike a good balance, prioritize self-care, and avoid letting work take over their entire existence. These potentially harmful impacts can be lessened through awareness and deliberate efforts to establish harmony in all facets of life.
Conclusion
In conclusion, the position of Capricorn in the 10th house of a birth chart has both favorable and unfavorable impacts. Positively, it strengthens traits like regulation, desire, and hard effort, which results in long-term achievement in the profession and public image. In their chosen sector, people with this placement are respected and recognized for their professionalism, tenacity, and strong work ethic. It's essential to be aware of potential drawbacks, including possible workaholic behavior, neglect of close connections, and self-imposed pressure. To maintain general well-being and prevent burnout, people with Capricorn in the 10th house must prioritize self-care and strike a healthy work-life balance.