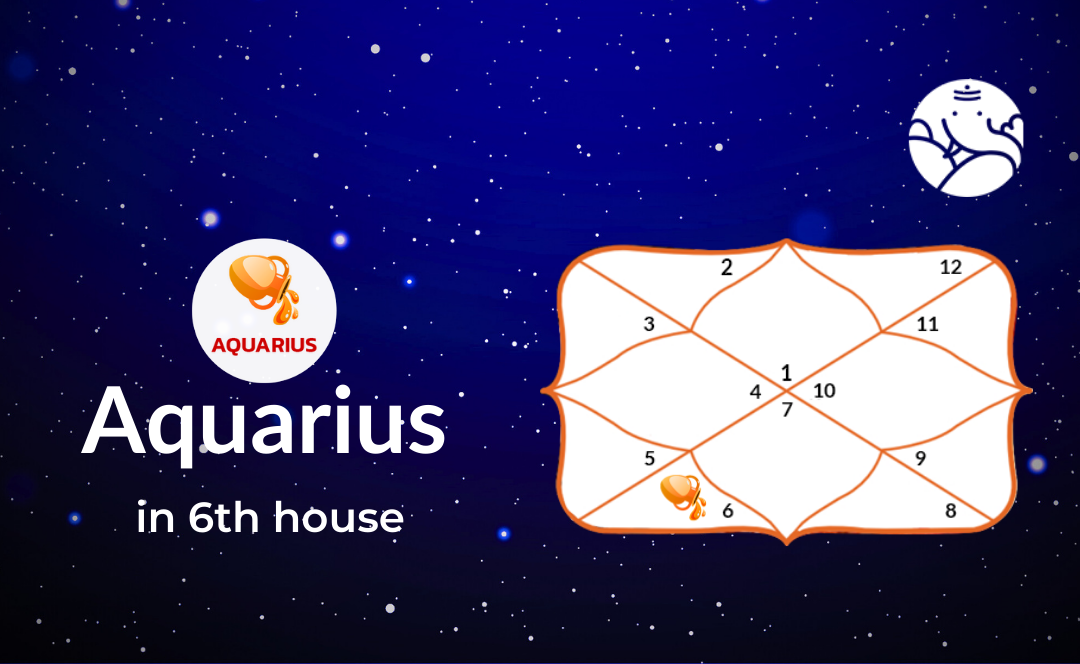 Aquarius in 6th House
Aquarius brings Distinctive and creative energy to the realms of employment, wellness, and everyday routines in the sixth house of astrology. The people with this placement take an individual and unorthodox approach to their duties and acts of service. They do best in occupations that allow them to problem-solve unconventionally and positively affect society. They are attracted to unconventional and integrative medical practices and are always looking for the newest developments in wellness. A forward-thinking attitude is encouraged by Aquarius in the sixth house, which embraces new technology and methods to increase productivity and well-being. This setting encourages people to contribute their uniqueness and intellectual strength to their job and service, leaving a lasting impression in these spheres of life.
Aquarius in 6th House Astrology
Aquarius indicates a distinctive commitment to employment, wellness, and service in the sixth house of astrology. People with this placement have an independent and creative attitude regarding their everyday duties and obligations. Jobs that enable people to think creatively, solve problems outside the box, and have an advantageous effect on the community may fulfill them.
In the sixth house, Aquarius brings an unusual and holistic approach to health concerns. These people might be lured to complementary treatments, holistic methods, or cutting-edge medical innovations. They are very interested in learning about new developments in health and wellbeing.
Online Jyotish consultation can offer helpful advice to folks looking to understand their Aquarius in the 6th house placement. Expert astrologers can evaluate the special characteristics of this employment and provide individualized guidance on how to handle employment, wellness, and business with simplicity and effectiveness. People can improve their attitude to career and psychological well-being by comprehending the impacts of Aquarius in the sixth house, which will result in a more satisfying and balanced life. Online Jyotish consultations are a practical and easy approach to getting professional astrological advice for solving the puzzles of this placement.
Sixth House Astrology
In astrology, the sixth house rules well-being, employment, daily activities, and selfless service. It depicts how we tackle these problems and potential difficulties. It affects our willingness to put in the effort, keen awareness of specifics, and capacity for taking on responsibility. This house also concerns maintaining physical health through dietary decisions and medical procedures. It encourages us to create doable habits and find happiness in activities that benefit others. The sixth house also indicates our capacity for effectively organizing and managing our life. Examining this house in our birth chart can help us understand our work habits, health issues, and how to live a balanced and productive life.
Positive Effects of Aquarius in 6th House
Having Aquarius in the sixth house can have several advantageous implications. People with this placement frequently take an original and creative approach to their jobs and daily tasks. They do not hesitate to think beyond boundaries, which can result in innovative approaches to problems and game-changing concepts. A sense of altruism and dedication to humanity is also encouraged by Aquarius in the sixth house. These people are frequently drawn to careers that allow them to advance society and have beneficial societal effects. Additionally, their fascination with cutting-edge technologies and complementary medicine may inspire them to develop novel approaches to enhance productivity and well-being at work.
Negative Effects of Aquarius in 6th House
Aquarius in the sixth house could bring difficulties and detrimental outcomes. People with this placement may need help maintaining regularity and structure in their everyday lives and at work. Their independence and outspokenness may cause them to lack discipline and need help following established rules and procedures. Their workplace may feel unorganized and ineffective as a result of this. Furthermore, their preference for unconventional methods occasionally makes it difficult to adhere to established procedures, leading to disagreements and misunderstandings with superiors or peers. Their enthusiasm for complementary treatments may also make people more likely to ignore traditional medical advice, which could negatively affect their health. Finding a balance between one's viewpoints and the real needs of one's job and well-being is crucial for those with Aquarius in the sixth house.
Conclusion 
Finally, Aquarius in the sixth house has a mix of favorable and unfavorable influences. Positively, those who hold this placement have a distinctive and creative attitude to their profession, everyday routines, and helping others. They positively influence society because they approach their work with new perspectives and innovative problem-solving techniques. But there are also drawbacks to take into account. The independent character of Aquarius in the sixth house could make it difficult to maintain consistency and abide by rules. Conflicts with superiors and coworkers may also result. For those in this placement, striking an equilibrium between their creative ideas and the realistic demands of their career and psychological well-being is essential.