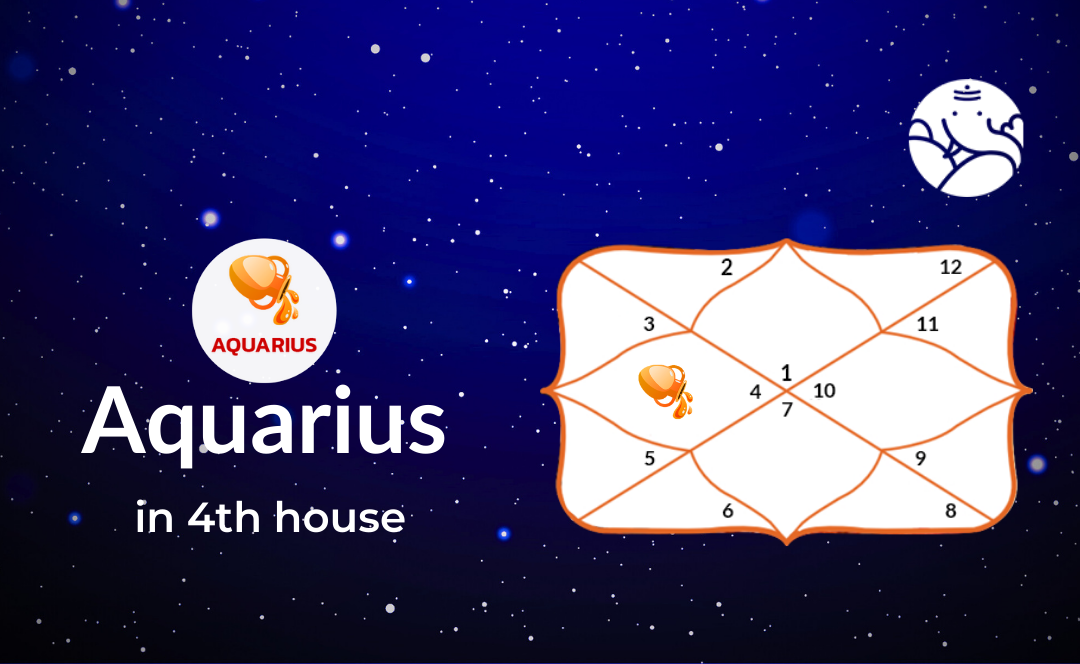 Aquarius in 4th House
Aquarius gives the home, family, and psychological safety sphere a distinctive and unusual vitality in the astrological 4th House. People with this placement intensely appreciate innovative ideas, personal freedom, and progressive ideals in their household environment. They aim to build a house that embodies their distinct ideals and unconventional method of family interaction. Their function inside the family is influenced by their open-mindedness and humanitarian viewpoint, which helps to create a welcoming and encouraging environment. However, difficulties could occur since the family dynamic could become emotionally distant due to the drive for independence. Navigating these dynamics and striking a happy balance between uniqueness and emotional ties can be made possible by comprehending the impact of Aquarius in the 4th House.
Aquarius in 4th House Astrology
Aquarius brings a distinct and outlandish spirit to home, family, roots, and emotional security in the astrological 4th House. People in this location strongly desire personal autonomy and independence in their homes. They frequently try to make their homes reflect their progressive views and values by embracing unconventional methods of nurturing and family dynamics.
People with Aquarius in the 4th House will likely approach their family ties and domestic life in an original and forward-thinking manner. They could be drawn to communal, unusual, or alternative lifestyles. Their desire to foster an inclusive and encouraging environment for everyone involved also impacts their role within the family. They are open-minded and have a humanitarian viewpoint.
However, its placement can present some difficulties. The drive for individual autonomy and independence can occasionally result in a feeling of emotional distance or detachment within the context of the family unit. People with Aquarius in the 4th House must balance their yearning for independence and emotional ties to their loved ones.
An online jyotish consultation can offer insightful advice for anyone seeking assistance handling Aquarius's effects in their 4th House. Expert astrologers can assess the placement and provide individualised guidance on fostering a happy and fulfilling home life while respecting autonomy and individuality. For those trying to manage their particular family relationships when Aquarius is in the 4th House, such sessions can offer assistance, clarity, and useful advice.
Fourth House Astrology
The Fourth House strongly influences the home, family members, origins, and psychological foundations in astrology. It stands for our feeling of safety, our ancestry, and the surroundings in which we were raised. Our relationship with our family, our feeling of community, and our most fundamental emotional needs are all governed by this house. It reflects our upbringing, our bond with our parents, and our definitions of home. The Fourth House also represents our home or residence and our haven. We can better manage our emotional health, build a nurturing home, and generate a feeling of attachment and stability when we comprehend the complexities of the Fourth House.
Positive Effects of Aquarius in 4th House
A person's home life and familial relationships are shaped by various favourable benefits Aquarius in the 4th House brings. People in this position have a distinctive and creative method for developing a nurturing and encouraging environment. They embrace unusual beliefs, non-traditional family structures, and non-traditional living situations. They promote an accepting and open-minded atmosphere in their home thanks to their progressive values and humanitarian approach. They support individuality, expressiveness, and the investigation of novel concepts. This posting also instils an awareness of social responsibility and a desire to change the world while remaining at home. In the end, Aquarius in the 4th House fosters a setting that values individual freedom, welcomes change, and encourages a futuristic outlook on family life.
Negative Effects of Aquarius in 4th House
While having Aquarius in the fourth house has some advantages, there can also be some difficulties. People in this position may suffer from emotional separation within their familial structure. Their intense desire for independence and personal freedom can occasionally cause them to feel distant or disconnected from their loved ones. They could put their uniqueness ahead of emotional ties, leading to strained bonds or an absence of support from others. Additionally, their unusual ideals and non-traditional outlook on family life may collide with those of their more conventional relatives, creating tension and misunderstandings. Finding the right balance between the need for independence and nurturing emotional ties with one's family is crucial for persons with Aquarius in the 4th House. The negative impacts can be lessened, and a peaceful family atmosphere can be promoted through cultivating compassion, candid dialogue, and an openness to compromise.
Conclusion 
In summary, Aquarius in the astrological 4th House has favourable and unfavourable effects on their homes, family members, and psychological well-being. While the setting offers a novel and forward-thinking strategy for building a caring household, it can also provide difficulties regarding emotionally distant family relationships within families. For those with Aquarius in the 4th House, finding the right balance between emotional relationships and personal freedom is essential. They may establish a harmonious and welcoming family life that acknowledges their uniqueness while creating emotional relationships by embracing their distinctive values, encouraging open communication, and promoting empathy. To navigate these dynamics and create a feeling of being rooted and secure within the family unit, it can be helpful to understand the impact of Aquarius in the 4th House.