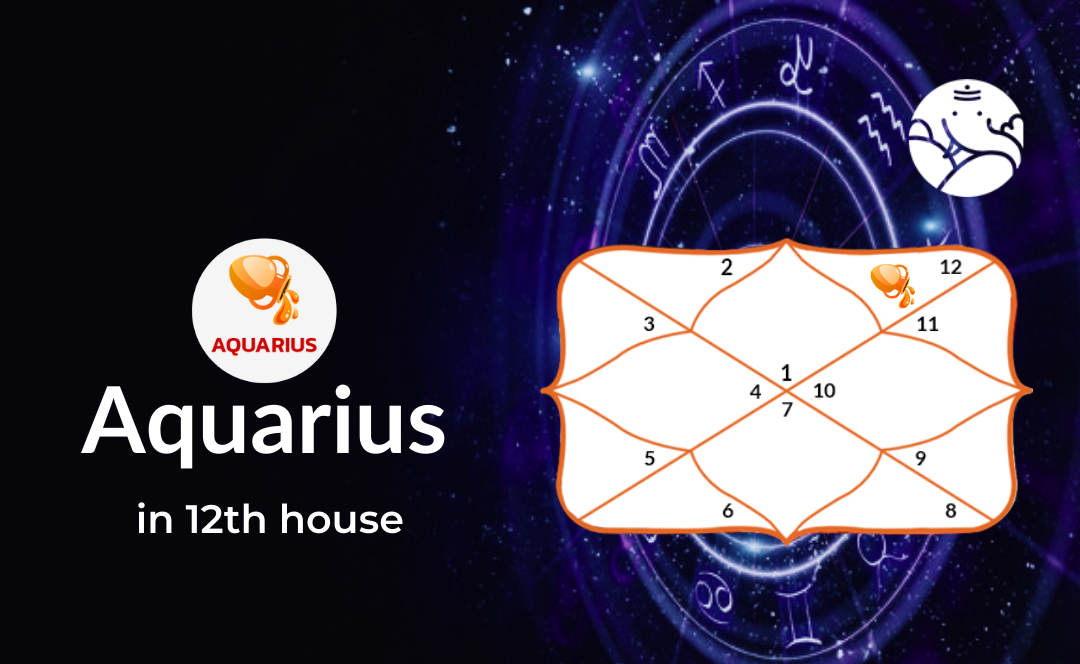 Aquarius in 12th House
Astrologically speaking, Aquarius in the 12th House signifies a special fusion of the unusual and mysterious. People with this placement have a strong spiritual connection and an intuitive grasp of how everything is interconnected. They are compelled to delve into the subconscious and frequently find comfort in solitude. Their vivid and creative imaginations serve as a source of endless inspiration. They have immense compassion and understanding and are drawn to social justice and humanitarian issues. A significant spiritual journey where these people can access their inner knowledge and advance communal awareness is indicated by Aquarius in the 12th House.
Aquarius  in 12th House Astrology
In astrology, Aquarius in the 12th House denotes a close affinity between Aquarius' inventive and altruistic traits and the esoteric and spiritual world of the 12th House. These people have a great affinity for progressive and alternative spirituality. A strong desire to delve into the depths of the collective unconscious and the subconscious mind is indicated by Aquarius in the 12th House. These people are driven to practices like lucid dreaming, energy healing, and meditation because they intuitively comprehend how intertwined all living things are.
They may experience a strong impulse to withdraw from the chaos of the outside world since they frequently find comfort and inspiration in solitude. They have vivid dreams and imaginative worlds that can stimulate innovative ideas. Aquarius in the 12th House also shows strong empathy and sympathy for the weak and marginalized. These people have a strong feeling of responsibility for social justice and actively participate in charitable activities.
It is advised to have an online jyotish consultation with an experienced astrologer to examine how Aquarius in the 12th House affects your spiritual path and personal development. Based on your particular birth chart, they can provide you with personalized insights and advice.
Twelfth House Astrology
The Twelfth House stands for the unconscious, spirituality, and buried issues in astrology. It is a place for reflection and growth on a personal level. People with strong placements in the Twelfth House have a strong affinity for the spiritual and metaphysical worlds. They frequently have keen intuition and are perceptive of energies around them. These people might find comfort in meditation or dream analysis because this house is linked to isolation, retreat, and introspection. The Twelfth House is also responsible for karma, self-undoing, and secret adversaries. Deep spiritual development and self-awareness can result from investigating and comprehending the forces of the twelfth house.
Positive Effects of Aquarius in 12th House
Having Aquarius in the 12th House has several advantageous consequences. People with this placement have a special combination of spirituality and altruism. They have an intense sense of intuition and a profound grasp of the interconnection of all beings. Their imaginative and artistic tendencies can be utilized for significant spiritual development and self-awareness. They excel in gaining insights through meditation, dream analysis, and probing into the mysteries of the subconscious mind. They become effective social justice campaigners thanks to their sensitive and sympathetic character. These people are encouraged by Aquarius in the 12th House to access their inner wisdom, make a constructive contribution to society, and inspire others via their own transforming experiences.
Negative Effects of Aquarius in 12th House
While Aquarius has benefits in the 12th House, there can also be drawbacks. People in this location could struggle with a propensity to withdraw from others and favor isolation over interpersonal connections. Experiences of isolation and disconnection from the outside world might result from this isolation. Furthermore, they could feel alienated by society's misunderstanding or rejection of their unorthodox and creative beliefs. They may become bogged down in their ideas and dreams, making it difficult to stay grounded in reality. They might also have trouble setting emotional boundaries and separating their feelings from those of others. People with this placement must strike an equilibrium between their spiritual aspirations and involvement in the worldly facets of life.
Conclusion 
Lastly, Aquarius in the 12th House exhibits an intriguing fusion of spirituality, altruism, and contemplation. Although this employment has advantages and disadvantages, it offers people a special opportunity for personal development. Aquarius's clairvoyant and intuitive traits allow for exploring the subconscious and establishing spiritual connections deeply. However, there is a chance of emotional instability, disconnection from the outside world, and loneliness. People with this position can use their skills to constructively impact society and encourage others on their mystical journeys by embracing their distinctive perspectives and striking the right equilibrium between their reality and the practical realities of existence.