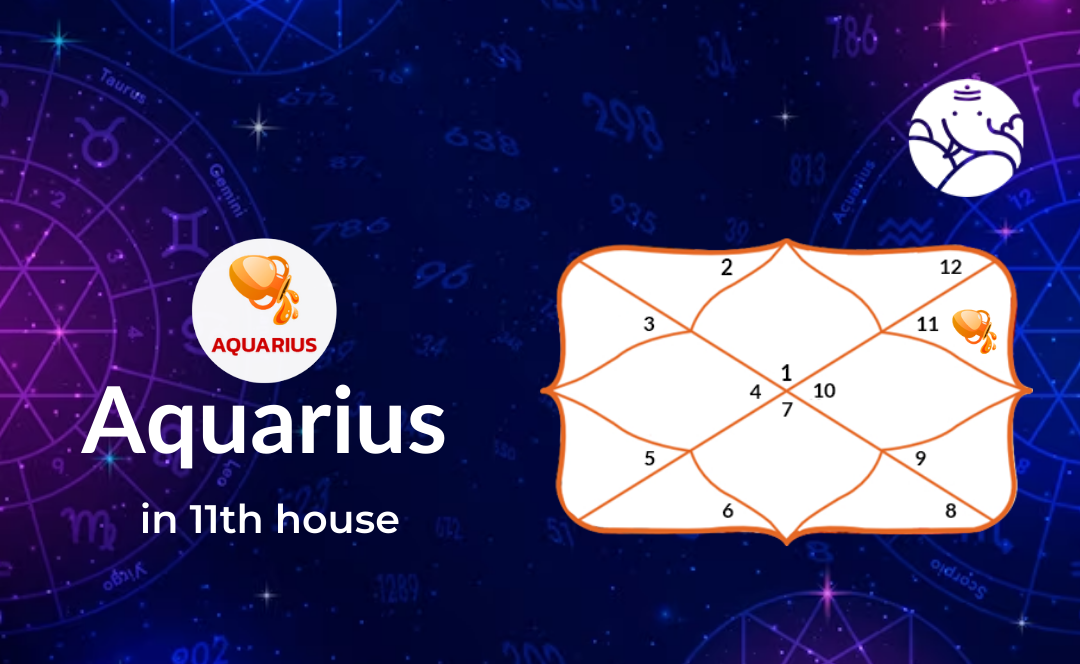 Aquarius in 11th House
An innovative and forward-thinking strategy for connections, social circles, and objectives is indicated by Aquarius in the 11th House. In astrology, the 11th House stands for our relationships with our communities, common goals, and a feeling of kinship. When Aquarius is in this house, it infuses these aspects of life with an unorthodox and visionary spirit. People with this placement have an intense passion for societal change and frequently gravitate toward others and organizations who share their creative and progressive values. They naturally support humanitarian issues and are attracted to justice and equality initiatives. Through their distinctive ideas and progressive values, people are empowered by Aquarius in the 11th House to build meaningful relationships, question social norms, and advance society.
Aquarius  in 11th House Astrology
An original and imaginative strategy for connections, networks of friends, and objectives is indicated by Aquarius in the astrological 11th House. People in this location are frequently drawn to progressive and unusual groups where they can express their beliefs. They adapt well to various social situations and naturally desire to advance fairness and equality among their peers.
There is a significant propensity towards internet groups and technological breakthroughs when Aquarius is in the 11th House. These people are tech-savvy and enjoy connecting with others online. Their friends may be made up of like-minded people who support the same political, social, or technological issues.
Aquarius in the 11th House symbolizes a deep desire for freedom and independence. These people might follow unusual job routes or have particular objectives consistent with their beliefs and desire to see societal change. They are masters at networking and have no trouble connecting with powerful people who share their goals.
Seek an online jyotish consultation with a licensed astrologer to thoroughly examine how Aquarius in the 11th House affects your life and relationships. Using information from your unique birth chart, they can provide you with specialized insights and advice.
Eleventh House Astrology
In astrology, the Eleventh House, which stands for friendships, social groupings, and our ambitions and aspirations, is crucial. It stands for our sense of belonging to the group, our participation in neighborhood activities, and the accomplishment of our objectives. This house is responsible for networking, teamwork, and how we affect society. People with a high Eleventh House placement frequently gravitate towards other like-minded people and groups who share their ideals and objectives because they strongly desire to interact with others on a social level. The Eleventh House encourages community, friendship, and working towards shared objectives. It motivates people to develop deep relationships, get involved in their communities, and do good deeds. The Eleventh House stands for the strength of cooperation and unity and the positive effects our shared beliefs may have on the globe.
Positive Effects of Aquarius in 11th House
The influence of Aquarius in the 11th House has a variety of favorable impacts on a person's objectives and social life. This setting encourages a distinctive and forward-thinking attitude to friendships, social groupings, and group objectives. This combination is seen in individuals with elevated optimism and ambition for social transformation. They naturally gravitate towards like-minded people and progressive societies and strongly support humanitarian initiatives. Individuals can establish deep connections, question social standards, and work towards improving society when Aquarius is in the 11th House. They motivate and bring others together to work towards common goals by being inventive and forward-thinking individuals that support fairness, liberty, and positive change. Thanks to their distinctive ideas and progressive beliefs, they can have a big and long-lasting effect on the people they surround themselves with and the larger community.
Negative Effects of Aquarius in 11th House
While having Aquarius in the 11th House has its share of benefits, there can also be drawbacks to this placement. People with these traits might have trouble being extremely disconnected or rebellious when it involves relationships and social groups. Their independence-driven nature and unusual way of thinking may make it challenging for them to build meaningful relationships with others. Additionally, their great propensity for progressive values and the quest for social revolution may spark disputes within already-existing social systems. They might find it difficult to compromise or conform to social norms, which could result in feelings of loneliness or being misunderstood. They may manage their social life more peacefully, have a beneficial effect while upholding genuine relationships, and preserve balance by accepting the worth of group efforts.
Conclusion 
Finally, Aquarius in the 11th House has an unusual mix of favorable and unfavorable influences on a person's social life and objectives. Although it encourages creativity, ideological thinking, and an appetite for positive social change, there may be difficulties with detachment, conflicts with pre-existing social institutions, and trouble forging close relationships. For those with this location, striking a balance between their forward-thinking perspectives and the necessity of sincere relationships and collaborative efforts is essential. They can have an enduring effect on society, motivate people to make positive changes, and create deep relationships within their social networks by accepting their creative character and appreciating the significance of teamwork. Aquarius empowers individuals in the 11th House to defy conventions, unite like-minded people, and work towards a brighter future by pursuing common goals and dreams.