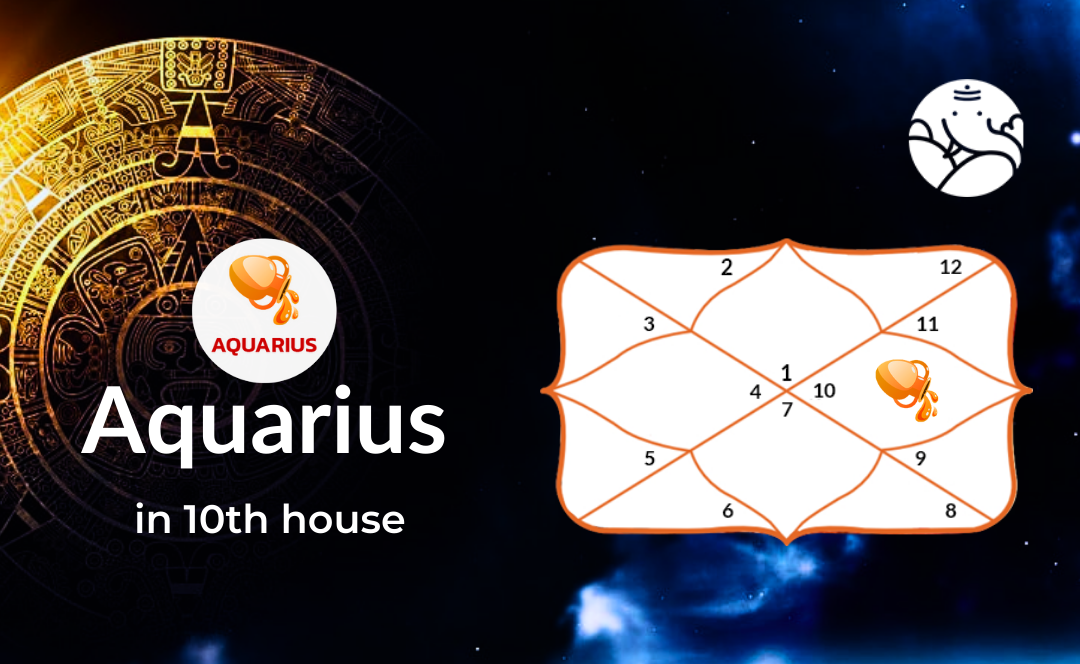 Aquarius in 10th House
A distinctive and imaginative approach to authority, public image, and career is indicated by Aquarius in the 10th House. The 10th House is traditionally linked to one's goals and accomplishments in the workplace, and while Aquarius is active, it infuses these areas of life with a rebellious and futuristic energy. People with this placement have a strong urge to defy social norms and traditional job pathways by choosing alternative, progressive paths that complement their distinctive personalities. They are compelled by jobs in technological advances, fairness, or innovative sectors because they are born dreamers and change-makers. By fusing creativity and a non-conformist attitude with their real selves, Aquarius in the 10th House allows people to accept their authentic selves, disrupt the current quo, and make a good effect in their chosen professions.
Aquarius in 10th House Astrology
Regarding career, public image, and authority, Aquarius in the 10th House in astrology gives a distinctive and innovative spirit. This placement denotes an unconventional and progressive approach to career aspirations. These people strongly urge to reject conventional job pathways and societal norms in favor of alternative, forward-thinking paths that complement their distinctive identities.
A potential interest in using technology and online resources, such as online jyotish consultation, is also suggested by Aquarius in the 10th House. These people can visit astrologers via internet platforms, taking advantage of the accessibility and ease of online jyotish consultation to learn more about their job path and life purpose.
Individuals are encouraged to accept their true selves and experiment within the fields they have selected by the conjunction of Aquarius with the 10th House. They might be drawn to occupations in cutting-edge fields, societal equality, humanitarian endeavors, or technology. These people frequently perform exceptionally well in leadership roles where they can effect good change and upend the status quo.
They can explore their paths, get clarification on their professional goals, and get advice on navigating their professional path through online jyotish counseling. They may combine their innovative nature with the knowledge and insights offered by astrologers through interaction with astrology through digital platforms, which eventually supports their development and success in their chosen industries.
Tenth House Astrology
In astrology, the tenth house, which stands for one's career, reputation, and social position, is crucial. It represents our goals, successes, and how we present ourselves to others. The pursuit of power, reputation, and professional achievement are all under the control of this house. People with a strong Tenth House placement are driven to succeed in their chosen fields and leave a lasting impression on society. They seek attention and are frequently drawn to executive roles. The Tenth House encourages ambition, self-control, and a dedication to long-term objectives. It motivates people to choose their direction, put in much effort, and establish a good reputation. The tenth house stands for the results of our labors and the mark we make on the world.
Positive Effects of Aquarius in 10th House
The influence of Aquarius in the 10th House has various favorable benefits for a person's professional life and public perception. This setting encourages individuals to approach their professional endeavors distinctively and creatively, helping them stand out. Individuals with these traits are driven to change the world and have an intense sense of identity. Because of their visionary tendencies, they are frequently drawn to occupations in modern technology, societal advancement, or unorthodox businesses. Individuals are empowered to rebel against conventional job pathways, confront the current quo, and effect constructive change by Aquarius in the 10th House. They stand out thanks to their rebellious and progressive attitude, which helps them get credit for their creativity and contributions. They have a lasting and inspirational impact on society by fusing creativity and an unconventional soul, reshaping the years to come in their special way.
Negative Effects of Aquarius in 10th House
While having Aquarius in the 10th House has its share of benefits, there can also be drawbacks to this placement. These traits can make it difficult for people to follow established standards and challenge authority, leading to conflicts and impeding their professional development. Due to their rebellious temperament and non-conformist outlook, they may need help to follow conventional career pathways and obtain respect from more traditional industries. Furthermore, they may need help to retain stable jobs and long-term commitments because of their relentless quest for innovation and change. Finding harmony between their distinctive viewpoint and the realities of the working world is crucial for those with Aquarius in the 10th House. They may capitalize on their abilities and succeed in their conditions by using their invention constructively and adjusting established systems when appropriate.
Conclusion 
In conclusion, the consequences of Aquarius in the 10th House on a person's work and public perception are a special mix of both positive and bad. Although it encourages creativity, uniqueness, and an unconventional attitude to work, authority, stability, and conventional expectations can present problems. People with this placement must strike an equilibrium between their rebellious inclination and the realities of the working world. They can benefit and make a lasting imprint on society by accepting their true selves and using their new ideas in productive ways. Individuals are empowered to defy the existing quo, break free from traditional career pathways, and mold the future through their distinctive contributions by Aquarius in the 10th House. They can be successful and bring about significant change in their chosen industries because they combine tenacity, determination, and flexibility.