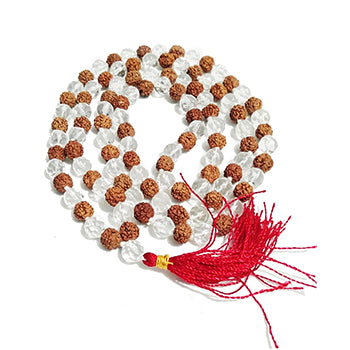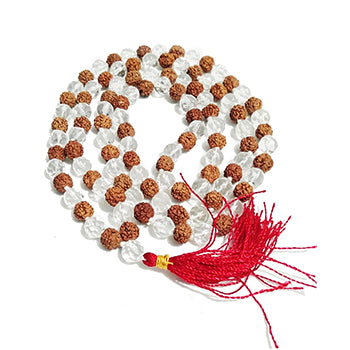 Rudraksha Sphatik Mala Remove Negative Energies
Authenticated from The House of Bejan Daruwalla.
Rs. 2,200.00
Rs. 2,750.00
20% Off
Delivery in India: 2-3 working days
Delivery Out of India: 7-10 working days
100% Safe and Secure
Free Shipping Worldwide
Rudraksha Sphatik Mala is used in Hinduism. It is one of the most powerful symbols. It is used to save mankind from worldly sufferings and miseries. Rudraksha Sphatik Mala is a blessing of Lord Shiva himself. Rudraksha Sphatik Mala is a very beautiful and original Rudraksha and Sphatik combination mala. Rudraksha is considered a blessing of Lord Shiva. The person wearing Rudraksha has good health and attractiveness. Rudraksha Sphatik Mala represents the unity of Lord Shiva and Goddess Parvati. If you want to know more about Rudraksha Sphatik Mala, then you can talk to astrologers online.
Rudraksha Sphatik mala has the blessings of Lord Shiva and Goddess Parvati.


It brings prosperity to the life of the person wearing it.


It removes negative energy.


It helps to control anger in life.


It improves energy.


It improves concentration power and sharpens the mind.


It helps in preventing diseases.


Wearing this mala reduces stress.


Rudraksha Sphatik Combination Mala helps to pacify the planet Venus.


It helps to concentrate on work and study.


It helps in preventing lifestyle issues affecting the body.


It brings a new direction in life.
Why Should Buy Rudraksha Sphatik Mala From House of Bejan Daruwalla
Rudraksha Sphatik mala strengthens positivity within a person. It frees the person from anger. Rudraksha Sphatik Mala helps to fulfill wishes. Rudraksha Sphatik Mala has spiritual powers, it provides peace in life and calms the stressed mind. Rudraksha Sphatik Combination Mala can be worn to pacify the planet, Venus. It protects the wearer from the evil eye and the bad effects of negative energy. Rudraksha Sphatik mala removes the effects of stress, also removes anxiety. The person who wears Rudraksha Sphatik Mala is always blessed.
Our team provides a quality product that can give you positive energy. We will give you the right guidance before we start providing you with Rudraksha Sphatik Mala. Wearing this mala brings prosperity in life and removes negative energy. It helps to keep anger away. Rudraksha Sphatik Mala helps you to prevent diseases in life. We are here to give all kinds of solutions and guidance regarding any problem in your life. Our team will give you proper results and guidance on how to use and wear this Mala. After which the negative energy, stress, and problems of life will go away and you will have a good time.
Delivery Instructions 
We deliver Rudraksha Sphatik Mala all over the world. Delivery in India takes five or seven days.
You can Mail us at info@bejandaruwalla.com for any kind of Inquiry.
For further types of inquiries, you can call us at 09825470377 (For Shipping in India) or +919825470377 (For out of India)
Frequently Asked Questions
When you just don't know who should you approach for guidance when problems crop up, then consultation from astrologers over the phone helps you out. You can receive instant advice on your specific queries from anywhere in the world. It will also save your time and cost which you usually spend by visiting an astrologer. You will get a response you can feel confident about and also peace of mind.

To purchase our Remedies, you just have to Email, Call or Whatsapp us and we will help you to purchase the same.
Payment methods
We accept all major Credit and Debit Cards and payment modes.
Delivery in 72 hours
We put in best efforts to ensure that the services and products that you order reach you within 72 hours in India. Out of India it will take 7-10 working days.

100% Satisfaction & Guaranteed Results
By associating with us, you can be assured of premium services and high-quality products with super fast delivery. Your satisfaction, our motivation!