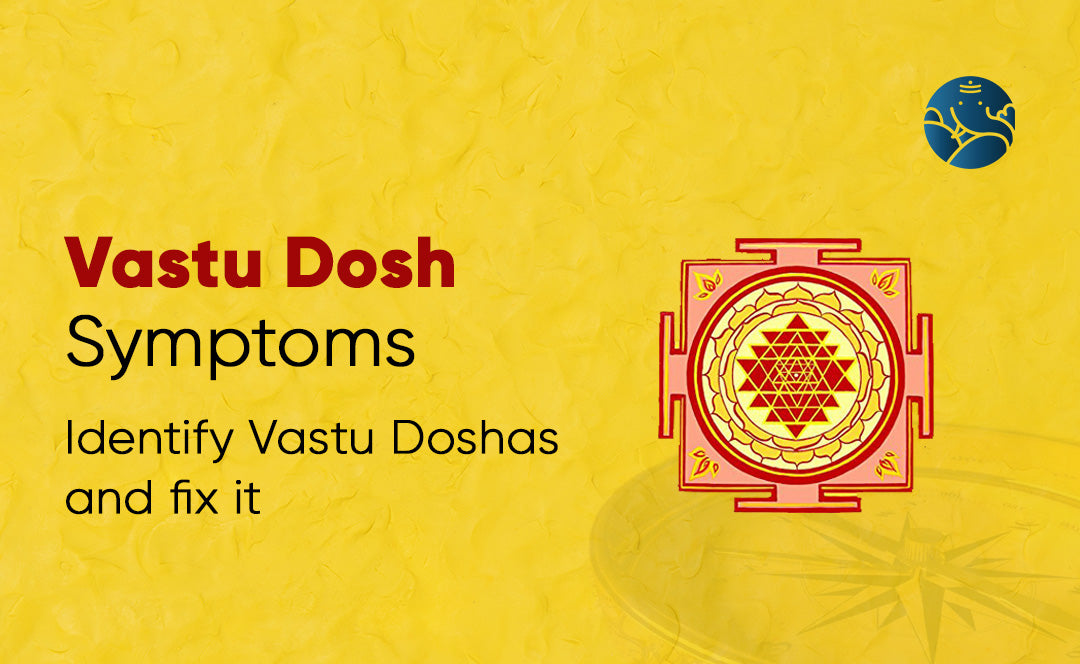 Vastu Dosh Symptoms: Identify Vastu Doshas and fix it
Vastu Shastra principles and Vastu Shastra tips, when applied to our living or office space, can help in bringing lots of luck, abundance, and health into our lives. But, spending a lot of time in a place that is not Vastu-compliant can cause problems in your life.

A house with Vastu defects can encourage negativity, illness, financial loss, and relationship troubles. If you live in a place like this, it's time to make some changes. No, you don't need to demolish your home and rebuild it or move the offices for that matter. You can solve major Vastu defects with small changes in our environment with some easy Vastu Shastra tips and Vastu remedies.
How to Identify Vastu Dosh


If freshness is not felt at the home, office, or any other place, then it is a sign of Vaastu defect. That is if you feel tired and weak even after having a good sleep and drinking enough tea and coffee without any health problems, then it is a sign of negative energy at that place.



Many people do not get progress in their job without any reason, there is a loss in business and even after that the person is not able to take any bold step, then this is also a symptom of Vaastu defect. Vastu defect has a bad effect on the courage and self-confidence of a person.



Being sick all the time can also be a sign of a Vastu defect. Family members often falling ill is a sign of Vastu defect.



Even after all the efforts, money not remaining in the house, income not increasing, and not progressing are the symptoms of Vaastu defect. The possibilities that come into the hands of such individuals also go away.



Frequent loss of money or frequent ups and downs in financial condition is also a sign of Vaastu defect.



There is always discord in the house, and unnecessary irritation among people can be due to negative energy created due to Vaastu's defects. The people of the house do not get along with each other.



Lack of enthusiasm to live life, always being surrounded by despair or sadness is also a sign of Vaastu defect.
Ways to Fix Vastu Defects


If after your main door, the inner doors are also in the same line, then it also creates Vastu dosh. For this, put a thick curtain in the middle of the door or put a wind chime in the house. If the hall or room after your main door is large, you can also do this by putting a plywood door at some distance right in front of the other door and putting a nice painting on it.

If Vastu defects are being created at any place in the house, then keep two pieces of camphor there. When those pieces are finished melting, then keep the other two pieces. If we keep changing in this way, Vastu dosh will not be created.



If the bathroom and toilet are together then it also creates terrible Vastu defects. For this, first of all, always keep it clean. Keep only blue-colored mugs and buckets. Fill a bowl with standing salt and keep it in a corner of the bathroom toilet. If by mistake your toilet is built in the northeast, then it becomes the cause of great loss and unrest. As a first aid, put a picture of a lion hunting outside.



If there is any kind of Vastu defect in the house, then decorate the house with the Swastik symbol, Mandane, and plants. Use yellow, pink, and light blue. Keep heavy things like iron cupboard, bed, fridge, etc. in the south direction. Vastu defects can also be rectified by changing the location of objects in the house.



To keep love in married life, put a picture of Radha-Krishna in love in your bedroom. Do not keep a mirror or any other god's picture in your bedroom.
Conclusion


Decorating the house according to Vastu Shastra not only brings happiness and peace to your home but also shines on the fortunes of the people living in the house. If there is a Vastu defect in the house, sometimes there is an atmosphere of unrest without any reason. Sometimes there is a feeling of wretchedness in the house. Lack of happiness in any work is a sign of Vastu Dosh. Even after all the efforts, there are neither blessings in the house nor the fruits of hard work received. If you want to get more knowledge about it, then online Jyotish Consulations will help you.