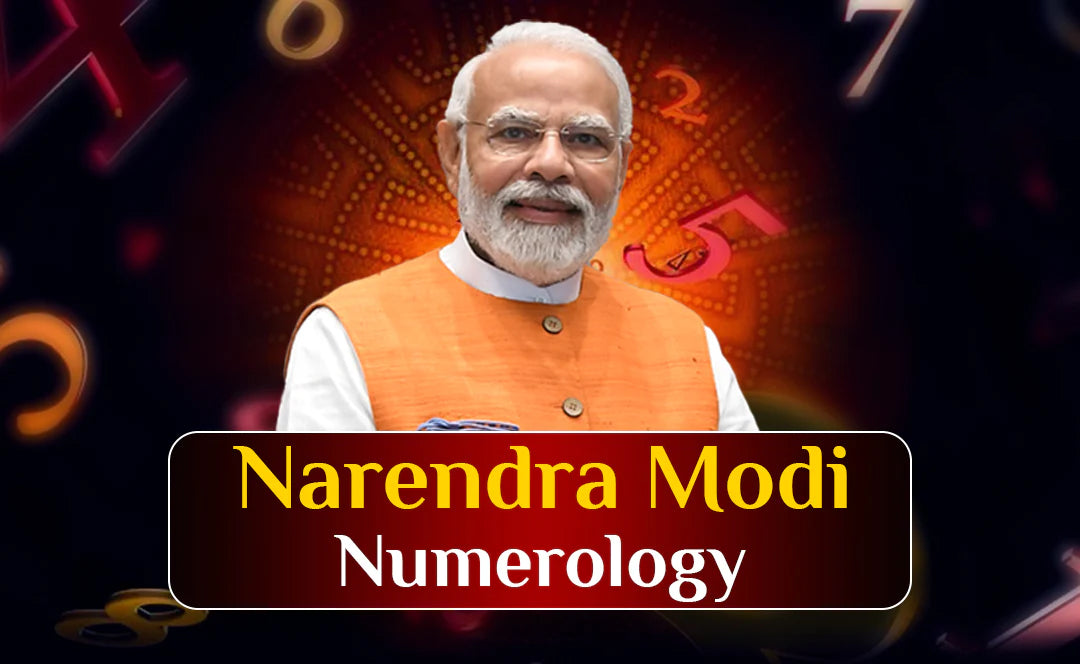 Narendra Modi Numerology
In astrology, the way predictions are made on the basis of 12 zodiac signs, in the same way, numerology has been told about numbers 1 to 9. Mulank is the sum of the date of birth of a person. September 17, is the birth date of Prime Minister Narendra Modi. According to PM Modi's birthday, his Mulank is 8. In numerology, the natives of Mulank 8 are considered very special. People born on the 8th, 17th, or 26th of any month will have a number of 8.
Prime Minister Narendra Modi was born on the day 17th of September 1950. For this reason, the Mulank of PM Modi is made - '8'. If we talk about Bhagyank, then this number becomes '5'.
PM Modi and 8-Digit Connection
In all the incidents related to PM Modi's life and in his important decisions, 8 numbers have always seen a special coincidence. In numerology, the sum of the numbers 8, 17, and 26 is 8. Which is called Mulank in numerology.
Date of birth of PM Narendra Modi - 17 September ( 1+7=8 )




Date of the oath of Gujarat CM for the fourth time before becoming Prime Minister of India - 26 December ( 2+6=8 )




Campaign date for 2014 Lok Sabha elections - March 26 ( 2+8=8 )




Date of oath to become Prime Minister for the first time – 26 May (2+6=8)




Date of decision on demonetization - 08 November (0+8=8)




Date of nomination of Prime Minister Modi for Lok Sabha Elections 2019 - 26 April ( 2+6=8 )




Date of Pradhan Mantri Mudra Yojana – 8 April (0+8=8)




Date of the decision to conduct air strike in Pakistan's Balakot - 26 February (2+6=8)




PM Modi becoming Prime Minister again in 17th Lok Sabha- ( 1+7=8 )




Prime Minister Modi was born in Scorpio ascendant, Scorpio ascendant is considered as number 8 ascendant.




As per Narendra Modi Horoscope, Scorpio is also the birth sign of Prime Minister Modi. Scorpio is the 8th number in the zodiac.




Modi's birth ascendant is in the zodiac sign number 8.
PM Modi's Mulank and Bhagyank
Natives of Mulank 8 are very hardworking and dedicated to their goals. According to numerology, these people usually get great success after the age of 35 to 40. PM Modi also became famous after the age of 40, when he hoisted the tricolor flag at Lal Chowk in Srinagar, Kashmir. Mulank 8 has been considered as the number of Saturn. With the grace of Shani Dev, the people of Number 8 get a lot of progress and fame in their life. They get a high position and become famous in the country and the world. These people get huge success after hard work.
Due to the harmony between PM Modi's Mulank and Bhagyank, he has been able to achieve great success in life by working hard gradually. According to numerology, the number 6 is also very favorable for the PM. The total number of the current year 2022 becomes 6, which is very auspicious for the PM.
The total number for the next year 2023 is 7, in which PM Modi will be seen trying to make progress in the spiritual field and can also do some new and special work regarding the promotion of religion in the country and the world. During this time there may be some problems regarding health. That's why special attention needs to be paid to the matter of health.
Saturn Number is 8
In numerology, the number 8 has been considered the number of Saturn. In astrological texts, Shani has been described as the giver of karma and judgment. Due to having 8 numbers, the effect of Saturn's qualities is visible on PM Modi. Shani has also been considered the factor of hard work.
It causes a lot of struggle in life. It is also a symbol of power. The downside of this number is that it makes the person stubborn, I don't agree with type. This is the number 8 i.e. Shani makes Zero to Hero and Hero to Zero. Throws from the ground to the sky and from the throne to the floor.
In Numerology, the Number 5 Represents Mercury
Mercury is the significator of intelligence, memory, eloquence, ability to make quick decisions, oratory, media, publicity, etc. Mercury has included all this maturity in the personality of Narendra Modi. But many times the combination of 5 and 8 makes a person take such decisions in a fit of rage or makes such statements, which harms his reputation. People with 5 and 8 numbers are their own bosses. These qualities will be found in Narendra Modi.
Number 8 People are Hardworking
According to numerology, people who are born on the 8th, 17th, or 26th have a radix of 8. For people whose Radix is 8, it is a bit difficult to understand them. Finding out what is going on in their mind is like solving a puzzle. They do not do any work in a hurry, they do all the work gradually with complete planning. That's why they get success late in life, but when they get it, it lasts for a long time.
Conclusion
People with Mulank 8 believe in karma more than luck. People with this number get success after a lot of hard work. These people are not able to share the things of their hearts with everyone. The number of their friends is also less. The thinking of the people of this Mulank is different. They always do such things that they immediately come into the limelight. Once people with this number set a goal, they make every possible effort to fulfill it. Then no matter how many difficulties they have to face to achieve that goal. They do not get disheartened by anything easily. They have the amazing art of making impossible work possible. Perhaps their stubborn nature motivates them to do so. Once they decide to do something, no one can shake them from their decision. Through Numerology Predictions, you can know in detail about the importance and lucky numbers in your life.