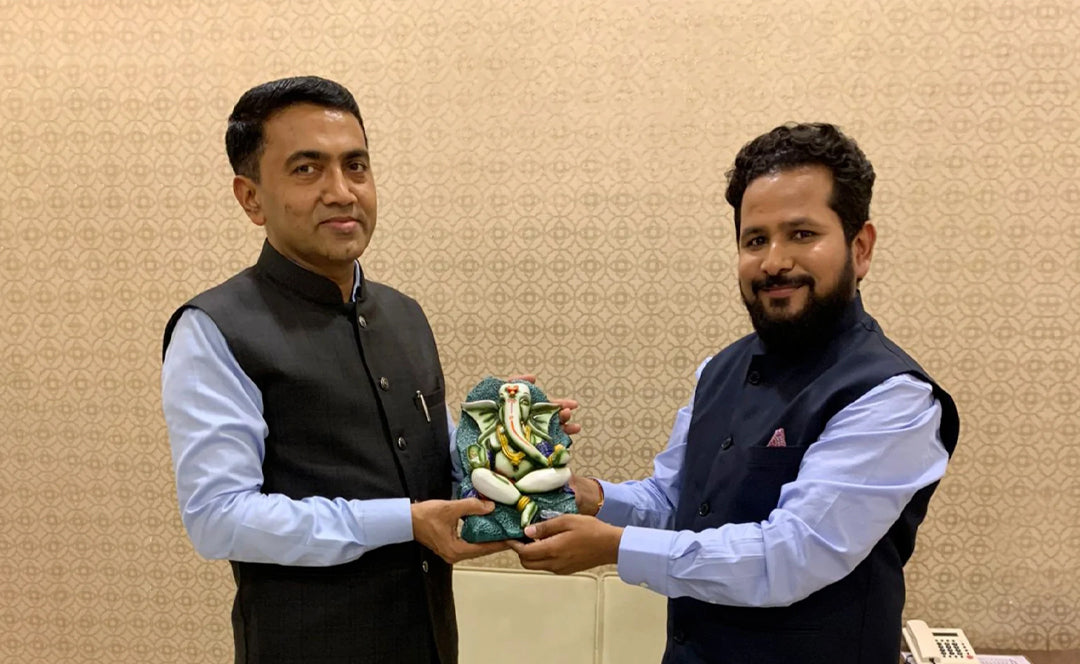 Goa CM Pramod Sawant Meeting with Astrologer Chirag Daruwalla
We are happy to inform you that renowned astrologer Chirag Daruwalla, son of Shri Bejan Daruwalla, had a pleasant meeting with the 13th and current Chief Minister of Goa, Shri Pramod Sawant. Honored to meet such a great personality and share his good thoughts and values about life.
Pramod Sawant is widely considered to be an uncontested MLA from the Sanquelim constituency in North Goa. He was elected twice in this constituency even though he had no prior political experience. A staunch supporter of the late Chief Minister of Goa, Manohar Parrikar, Sawant was chosen by Parrikar as the Speaker of the Assembly, despite never having found a place in the state cabinet. A doctor by profession and a member of the RSS, Sawant graduated from Ganga Ayurvedic Medical College in Maharashtra's Kolhapur district and holds a Masters's degree in Social Welfare from Tilak Maharashtra Vidyapeeth. He was the chairman of the Goa State Infrastructure Development Corporation, an initiative set up by Parrikar. He was sworn in as the Chief Minister of Goa on 18 March 2019 after the death of Manohar Parrikar. Know about them in detail.
About Birth and Education
Pramod Sawant was born on 24 April 1973 in Bicholam, Goa, India. His full name is Pramod Pandurang Sawant. His father's name is Pandurang Sawant and his mother's name is Padmini Sawant. His wife's name is Sulakshana Sawant, she is a chemistry teacher by profession. Who teaches at Sri Shantadurga Higher Secondary School in Kollam and is also the president of the Goa unit of the BJP Mahila Morcha.
Pramod Sawant has completed his graduation in Ayurvedic Medicine from Ganga Education Society, Kolhapur, Maharashtra. Apart from this, Pramod P Sawant has also obtained a bachelor's degree in Social Work from Tilak Maharashtra University, Pune, and has done many other things Pramod Sawant has also studied Medico-Legal System. Apart from being a leader, Pramod Sawant is also a farmer and practitioner of Ayurveda medicine. Pramod Sawant has also served as a physician.
Pramod Sawant Political Career
Pramod P Sawant considers Manohar Parrikar as his godfather. They say that it is Manohar Parrikar who brought Pramod Sawant into politics. Pramod Sawant is a generous person who is a social worker and helps poor needy people.
Due to good interest and knowledge in politics, the proposal came in 2008 to contest the election from Sangli. For he left his doctorate and contested for Sangli opposite Congress and but he lost in this election. After this, he contested again in the year 2012 and he won. After this, the elections were contested in 2017 as well and Pramod Sawant won with a good margin of votes. Seeing his work, his popularity started increasing and he has also been the speaker of the Goa Lok Sabha.
Pramod Sawant has once again been sworn in as the Chief Minister of the state of Goa. Dr. Pramod Sawant has been elected Chief Minister on behalf of the Bharatiya Janata Party (BJP) and has formed a government with an absolute majority in the year 2022 Lok Sabha elections.
Kundali Predictions of Pramod Sawant
Astrologer Chirag Bejan Daruwalla, while analyzing the birth chart of Hon'ble Chief Minister of Goa, Pramod Sawant, advised that if we look at his Sun chart, then Sun is exalted along with Venus in the first house of the Kundli. This is a very powerful planetary combination that bestows Pramod Sawant with leadership qualities. This Graha Yoga indicates that there is an efficient worker hidden in him, and this ability is visible in any political event. This ability has helped him move forward in his political career. The exalted Mars is situated with the debilitated Jupiter which is creating Neech Bhang Raj Yoga. It shows that he is capable of achieving great achievements. Due to the energy of Mars, he is naturally enthusiastic and fulfills the plans stated in his election promises. Due to Jupiter, their nature includes fighting on their own and doing everything by themselves.
Conclusion
The Chief Minister of Goa, Dr. Pramod Sawant is the only BJP MLA who is from the RSS cadre. Pramod Sawant, a resident of Kothambi, Goa, has been communicant with the RSS since childhood. His father Pandurang Sawant has been a former District Panchayat member and an active member of Bharatiya Jan Sangh and Bharatiya Mazdoor Jan Sangh. Before becoming the Chief Minister of Goa, he was the spokesperson of the party and the speaker of the Legislative Assembly. According to the horoscope of Mr. Pramod Sawant, the coming new year is going to be good for his health. Business-related trips will be successful and fruitful. Pramod Sawant is a very active person who inspires others to act. A busy person who is always doing something or the other creatively. With the blessings of Ganesha, Celebrity Astrologer Chirag Bejan Daruwalla wishes Pramod Sawant ji a bright future ahead and prays that the coming year brings lots of happiness in his life.