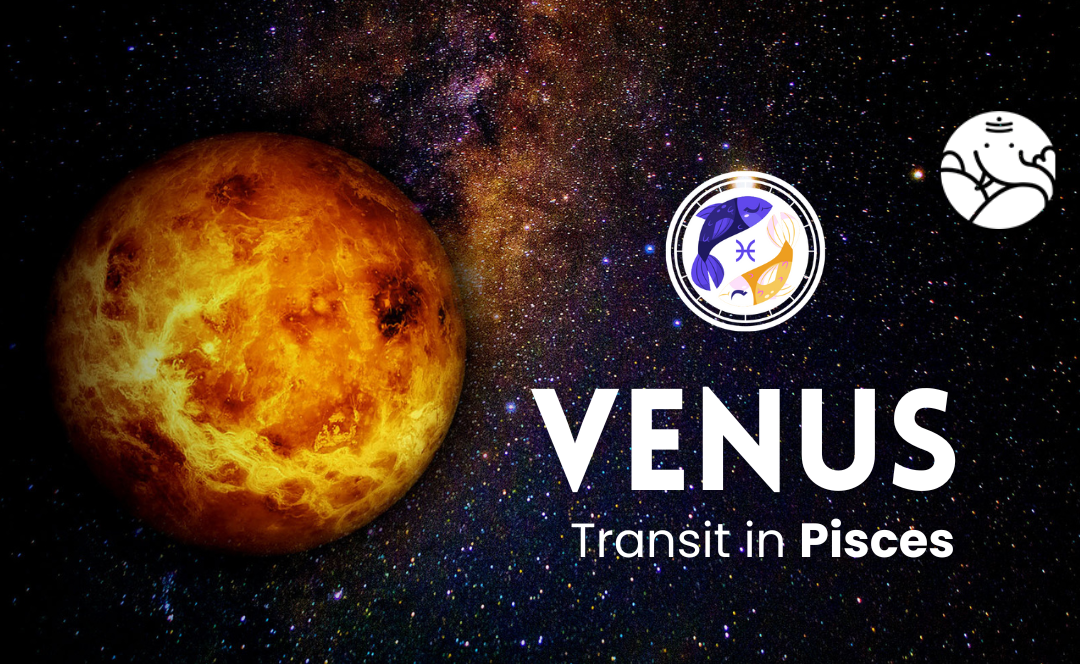 Venus Transit in Pisces
Venus is going to move from Aquarius to Pisces on 31st March 2024. In Vedic Astrology, Venus has been considered the factor of enjoyment, luxury, and pleasure. When Venus transits, it affects all zodiac signs. It will have an auspicious effect on the life of some zodiac signs, while some zodiac signs may have to face ups and downs in life. He will benefit greatly in many matters including career, finances, and health. According to astrological predictions, let us know what effect Venus's transit in Pisces will have on all zodiac signs.
Venus Transit in Pisces 2024
Venus Transit in Pisces 31st March 2024
Aries
Ganesha says that you have to control your expenses and work on future plans. The transit of Venus will be very beneficial for the job profession and businessmen. During this, chances of an income increase and promotion increase. Also, businessmen can get some good opportunities related to abroad. Will spend a good time with the spouse and respect their feelings.
Taurus
Ganesha says that during this time your wishes related to your workplace will be fulfilled and you will be successful in achieving your goals. The financial condition will be favorable and will also spend well on amenities. There will be an increase in the salary of employed people and businessmen are also likely to get good profits. If you are suffering from any disease, then your health can improve during the period of transit.
Gemini
Ganesha says that during this time there will be an increase in career and respect and new opportunities for progress will also be available. If you are associated with any foreign organization, you will ensure good profit. Employed people will get appreciation from the officers and will also perform well in the workplace. Talking about financial life, there are possibilities of getting good money. Talking about married life, you can plan to go out with your spouse.
Cancer
Ganesha says that during this time your creative potential will increase and you will be interested in books. If you are planning to buy a property then the time is favorable. Getting the support of a father or guru will give the right guidance. You can plan for an outing with the family during the transit period. Time will be very favorable for the love partner and understanding and relationship will improve.
Leo
Ganesha says that during this time some ups and downs may have to be faced in the workplace. Along with this, some of your government work may also get stuck. If you remain alert and responsible from the beginning for success in your career, then you can achieve success. Your expenses may increase during the transit period, so keep your distance from economic activities without any reason. However, there are chances of getting benefits from the in-law's side.
Virgo
Ganesha says that during this time those doing business in partnership will get good profits and will also plan for business expansion. At this time, business trips will also give good benefits, and chances of getting fame are also being created. If you are planning to invest in something then you will get auspicious results. The ongoing misunderstandings and disputes in married life will be removed.
Libra
Ganesha says that during this time the daily traders will have to work harder to get profit because it will take work to get the desired results. To work on any plan, you will have to use all your art and skills during the transit period. It will be beneficial for you to stay away from fighting during the period of transit, otherwise, many types of obstacles may be present in your life.
Scorpio
Ganesha says that during this time every wish of the people associated with education will be fulfilled and the time will be very favorable for the students who wish to study abroad. Job profession Jatak should stay away from any kind of dispute with colleagues and concentrate on work because this time can give you success. Talking about financial life, this time will be normal for you. Keep your distance from unethical activities like gambling and betting during transit.
Sagittarius
Ganesha says that during this time you will enjoy the ongoing progress in your career and will also get peace of mind due to better results at the workplace. During the transit period, your comforts will increase, and what will remain on buying material things. If you plan to renovate your house, then the time will be auspicious. Also will have a good time with family and friends.
Capricorn
Ganesha says that relations with siblings will be cordial during this time and their needs will be taken care of. Good relations will be formed with colleagues at the workplace and with their help, you will be able to complete every task, due to which you will get good results in future. You will get full support of luck during the transit period, due to which your financial condition will also improve. If you are planning to go out on a vacation, then your wish will come true.
Aquarius
Ganesha says that during this period things of happiness and comfort will increase and this period is going to be favorable for you in terms of career. With the help of Shukradev, you will get the full support of luck and your wishes will also be fulfilled. For progress, you will continuously move towards your goals, but expenses can also increase. If you invest for a long period, you will get good results. Love partner's romance and love will increase and a female member will get full support.
Pisces
Ganesha says that Venus is transiting in your zodiac sign. During this time you will be able to earn good profit in business and will also work on business expansion plans. The relationship of married people with their spouse will be stronger and they will also discuss any important topics. You are advised to take good food and exercise during the transit period. This period will be good for lovers, they can take their relationship to the next level.