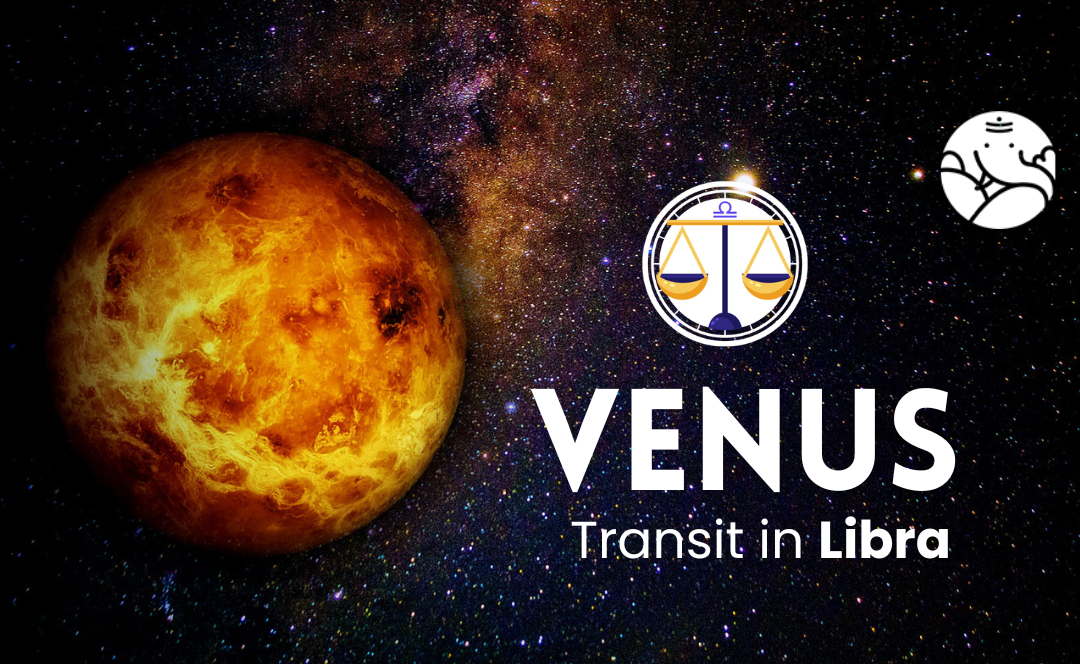 Venus Transit in Libra
According to Vedic astrology, the planet Venus is considered to be the factor of love, luxury, beauty, and marital happiness. Jatak gets all these types of happiness when he is in an auspicious place in the horoscope. Venus travels from one zodiac sign to another at an interval of 23 days. Venus is entering Swarashi Libra on 18th September 2024. Earlier, Venus was sitting in its debilitated sign Virgo. Out of all the zodiac signs, the planet Venus has the supremacy of Taurus and Libra. When the planet Venus is strong in the horoscope, the person gets all the comforts of life. But on the other hand, when the planet Venus is weak, the person has to face a lack of money. According to the astrological predictions, we know which zodiac signs will get auspicious results from the transit of Venus in its own sign Libra.
Venus Transit in Libra 2024
Venus Transit in Libra 18th September 2024
Aries
Ganesha says that with the auspicious effect of Venus transit, the people of the Aries zodiac will make a lot of progress in their careers. During this, your relations with the boss and officers will be better. For those who are involved in business, this transit can prove to be very beneficial. During this transit, you can make a big business deal, which will give you big profits in the future. Apart from this, you can also get benefits from ancestral property. On the other hand, if we talk about married life, then it will also give happiness due to the auspicious effect of Venus. You can also go on a romantic dinner with your partner.
Taurus
Ganesha says that this transit of Venus will bring new opportunities to earn money in your life. What you have been working hard for a long time to achieve, you can get at this time. There can be the talk of an increase in the salary of employed people or they can get expensive gifts on Diwali. Financially, at this time you should focus on saving your money. In married life, it would be better to avoid any kind of argument and argument.
Gemini
Ganesha says that there will be an unexpected and unexpected success for the students and students appearing in the competition. There will be intensity in love-related matters. If you want to do love marriage, then the occasion will be favorable, and the responsibility of the child will be fulfilled. For the new couple, there will also be chances of having children and emergence. 
Cancer
Ganesha says that this transit of Venus has brought very auspicious effects for Cancerians. With the effect of this transit, you can spend on decorating and beautifying your home. On the other hand, those who are involved in business can get more profit than expected in this festival season. At this time you should not do any reduction in hard work. Officials can take you forward by being happy with your work. You are expected to get the fruits of hard work in the form of monetary gains at this time. This period of transit is going to be wonderful in terms of love and romance as well.
Leo
Ganesha says that not only will there be a growth in courage and bravery, but there will also be appreciation for the decisions taken and the tasks done. Interest in religion and spirituality will increase. Once we have decided, we will leave it only after completing it. If you want to apply for service in any kind of foreign company or for foreign citizenship, then the opportunity will be favorable. Social position prestige will increase.
Virgo
Ganesha says that this transit is believed to increase all kinds of physical pleasures for the people of Virgo. There is a possibility of an increase in your accumulated wealth during this period. You will also be successful in saving money. Financially, this period will be beneficial for you and your performance in the workplace will also improve. Your financial condition will improve and where your money is stuck, you can get it back before the festival. New sources of income can also be found and you are expected to be successful in repaying the loan.
Libra
Ganesha says that the transit of Venus is going to take place in your Ascendant and after this transit, your financial condition is expected to strengthen. You will be able to save more money than before and you will get additional sources of income. Positive changes will be seen in your personal and professional life during this period. Wherever you invest money at this time, it will give you better returns in the future and will bring improvement in your financial condition. This transit will give positive results in terms of love affairs and lovers can get married or engaged during this period.
Scorpio
Ganesha says that the effect of Venus will be very unpredictable, many times the work will stop at the last moment, but don't be discouraged, ultimately you will get success. That's why it will be better if you focus on the work itself. Be careful about health, especially problems related to the left eye. Chances of receiving unpleasant news from friends or relatives.
Sagittarius
Ganesha says that the effect of Venus will be good, whatever resolution we take, we will leave it only after fulfilling it. This time will be very fruitful for you, so do not delay in making a decision if you want to start a big task, start a business, or sign a new contract. Talks related to marriage will be successful. Time will be more auspicious for the students and the students appearing in the competition. Try for government service.
Capricorn
Ganesha says that the transiting impact of Venus is no lower than bliss for you. Social prestige will increase. If you want to try for a change in the job also, then the opportunity will be favorable. Matters related to land or paternal property will be settled. Signs of court cases also come in your favor. Even if you want to make a decision related to the election, the opportunity is favorable. Planet Transit will be completely beneficial for you, so do whatever you want.
Aquarius
Ganesha says that the transiting effect of Venus will give progress toward religion and spirituality. The sum of cooperation from foreign friends and relatives. If students also want to try to study abroad, then the opportunity will be favorable. The effort made for foreign citizenship will be successful. Will do charity and charity extensively in religious trusts and orphanages etc. If you want to apply for any tender in the central or state government departments, then the planetary transits will be favorable.
Pisces
Ganesha says that the effect of Venus will be very mixed while transiting. There will be a lot of economic ups and downs. Health will also be adversely affected, but some big social honors or government awards can be announced for you. Time will be relatively better for women. Avoid secret enemies. Stay away from quarrels and disputes in the workplace and it would be prudent to settle matters related to the court outside.