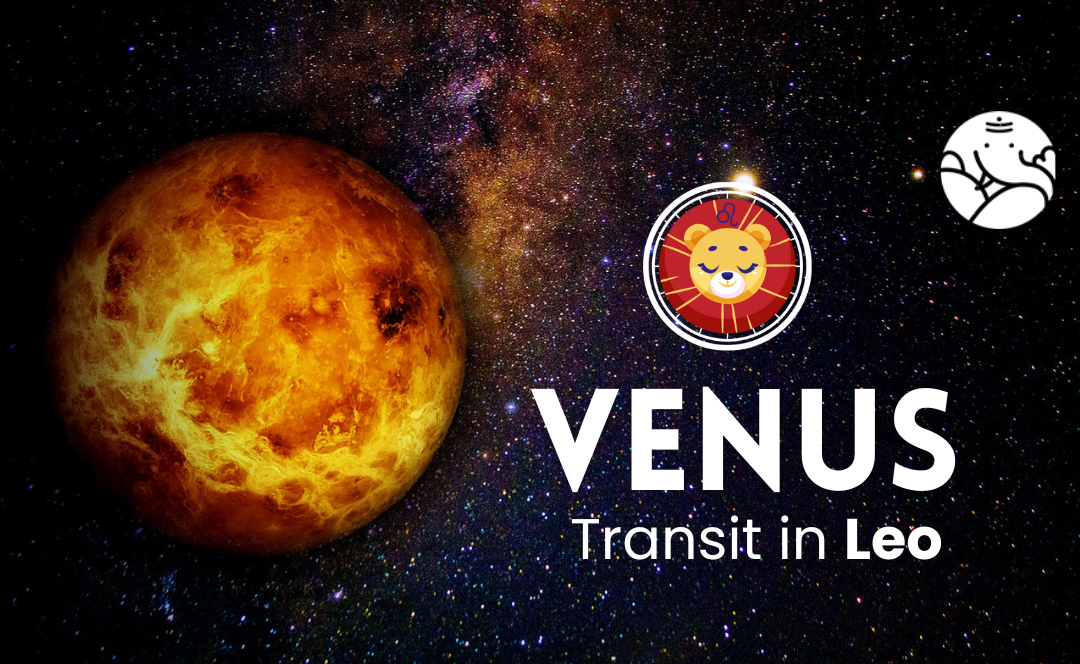 Venus Transit in Leo
Presently Venus is situated in Cancer, but soon Venus will enter Leo. The transit of Venus in the Leo sign will bring a lot of changes. Shukradev is considered the teacher of the Asuras. Venus is considered to be the factor of opulence and happiness. The transit of Venus, the giver of all kinds of wealth and knowledge, is considered very important and auspicious. When Venus is auspicious in the horoscope, then the person gets much happiness from time to time. On the other hand, if Venus is weak, then many types of problems arise in that situation, and desires may remain unfulfilled due to which there may be a decrease in happiness. On July 31, 2024, Venus will move out of Cancer and enter Leo. The transit of Venus in Leo will create a lot of disturbance for the natives of many zodiac signs. According to astrological predictions, let us know which are those zodiac signs.
Venus Transit in Leo 2024
Venus Transit in Leo 31st July 2024
Aries
Ganesha says that the people of Aries will get benefits from the transit of Venus in Leo. His wealth and prosperity will increase and he will get family happiness. Also, you will be more alert toward family responsibilities. Foreign travel is also becoming a coincidence for businessmen.
Taurus
Ganesha says that the lord of Taurus is the planet, Venus. In such a situation, there will be some ups and downs in the life of these zodiac signs. There is a need to take more care of soundness. There is a possibility of spending more than the income of the natives of this amount. That's why put a little rein on the expenditure so that you don't have to take a loan from anyone. The people of this zodiac will have to give more hard work and time for every work only then success will be achieved. Along with this, be careful while driving the vehicle.
Gemini
Ganesha says that the transit of Venus can increase a little difficulty for the people of Gemini. The people of this zodiac may have to face many challenges. You will have to give your full time to do any work because there will be no cooperation from others. There is a need to be a little cautious about health. Avoid any kind of show-off, otherwise, it can prove to be harmful to you.
Cancer
Ganesha says that the transit of Venus can increase your expenditure. During this time you will find it difficult to fulfill your hobby. Even the situation of taking a loan can be created. Try to ignore this condition as much as possible. During this time period, do not spend money on those things, which are unnecessary, or are not useful at the present time. Keep in mind that Moon is the lord of Cancer and Venus has enmity with Moon.
Leo
Ganesha says that the zodiac sign of Venus is going to change in your own zodiac, so you need to be very careful. During this, attention has to be paid to married life. One has to be careful about character and image. During this time expenses can also increase.
Virgo
Ganesha says that this planetary transit will prove to be mixed for the people of Virgo. In the workplace, you will leave an indelible mark on your strength and with this success, the possibilities of economic growth will also increase. Those who are single can find a suitable life partner.
Libra
Ganesha says that the people of the Libra zodiac are likely to get maximum benefits from the transit of Venus. Promotion is becoming a coincidence for employed people and they may also get a call from some institute. Those who are working will get an appreciation for their work from all sides. Along with this, their economic condition is showing improvement.
Scorpio
Ganesha says that this change will increase the hard work of the people of the Scorpio zodiac. The transit in Leo will make you aware of new things. There can be some ups and downs in health during this period. The transit of Venus in the place of happiness will reduce happiness. Expenses may increase. You will spend money on shopping. Some renovation work can also be done in the house. Be careful while using any vehicle. You will benefit from political change.
Sagittarius
Ganesha says that the transit of Venus can also increase some difficulties for the people of this zodiac. There may be some difficulties in job and business. Keep full control over your speech, otherwise, there may be differences between family and friends regarding something. If you are thinking of investing somewhere, stop now.
Capricorn
Ganesha says that there can be some upheavals in the life of Capricorn people. The transit of Venus will have a little bad effect on married life, due to which there can be a debate between husband and wife. Therefore, to keep the relationship strong, try to solve the problem with a calm mind. Along with this, you may have to face a financial crunch.
Aquarius
Ganesha says that the effect of Venus's transit on Aquarius is going to be very auspicious. With the effect of this transit, your marital relations are going to improve further. All kinds of disputes with the life partner will end and mutual understanding will increase between you. For those who are still looking for a partner, there can be a new entry in their life and you can take a big decision in this regard. This time is strong for people doing business in partnership. Your deals done in the past will give profits at this time. At the same time, your physical attractiveness will also increase. Those who are trying to reduce obesity are expected to get success. As a remedy, you should keep a pink crystal in your bedroom.
Pisces
Ganesha says that during the transit of Venus, Pisces sign people will need to be careful about their careers. Think several times before taking any career-related decision. You may also face difficulties in balancing your professional and personal life. If the married people of this zodiac meet the people of the in-law's side, then they should use words very carefully during the conversation, otherwise, the relationship may deteriorate. During this time any valuable item in the house may also get damaged and you may have to spend money on it. As a remedy, you should donate white things like rice, ghee, curd, sugar, etc.