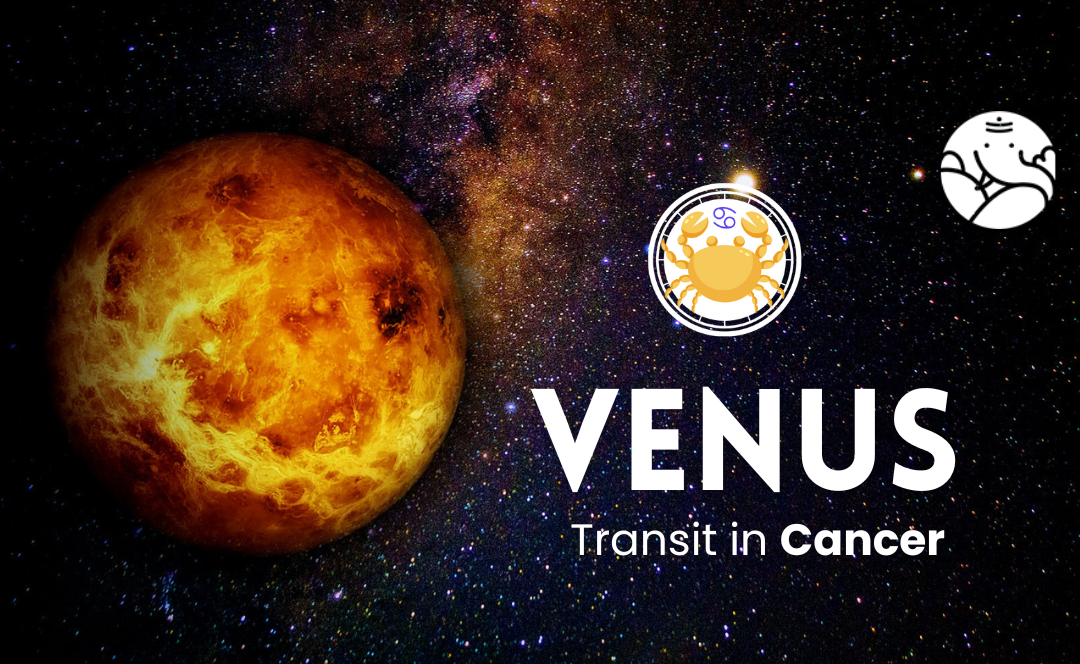 Venus Transit in Cancer
The planet Venus is known to be the karaka of love and other material aspects in a horoscope. As a result, many changes come to the fore when this particular planet transits. In Vedic astrology, Venus is considered to be the benefactor of love, romance, marital happiness, beauty, art, happiness, splendor, and luxurious life. It is generally recognized as a beneficial planet. But sometimes but when it is not pleasant, it is difficult for people to maintain a stable love life, and other difficulties come to the fore. Venus will transit in Cancer on 7 July 2024, which is the fourth sign of the zodiac. Through astrological predictions, let us know which zodiac signs will benefit from this transit of Venus.
Venus Transit in Cancer 2024
Venus Transit in Cancer 7th July 2024
Aries
Ganesha says that the transit of Venus can bring positivity to your life, and those who want to buy a vehicle can fulfill their dreams. Along with this, you will see improvement in your relationship with your mother and you can also get financial benefits from them. If the health of the mother was bad then improvement can also be seen in that. However, some people of this zodiac may have some health problem related to the throat, so take care of yourself.
Taurus
Ganesha says that financially at this time you will get very good benefits from the point of view of your business, while this time will be good for a job change for the employed people. It is natural for lovers to see the transit of Venus in a powerful house that this time will bring sweetness to you, you will be able to unite the thinking of both to give good results to others. Good results will be seen in the field of education. Health gains will remain stable and ongoing chronic diseases will not end.
Gemini
Ganesha says that an increase in family happiness can be seen. Any auspicious work in the family can also be completed during this time. Along with this, Shukra Dev can mix sweetness in your speech, due to which your fame can increase at the social level. Businessmen can benefit from this transit. On the other hand, some people can also do the work of taking forward the ancestral business during this period. Gemini sign people can also get many opportunities to have delicious food during the transit of Venus in Cancer.
Cancer
Ganesha says that due to the transit of Venus, you may increase your financial and financial expenses during this period. Chances of financial gain will be less because at this time you can use your connected money in social work. Professionally, you can benefit from foreign cooperation. This time will also be favorable for business and partnership. There may be more love and sweetness, the ongoing disputes will go away and there may be some problems in the life of married people, but after counseling married life becomes strong. You can go on a trip with both of them. You will get relief from ongoing health problems.
Leo
Ganesha says that the attractiveness of your personality can increase during the transit of Venus. People of this amount who are associated with the media or work in the film industry, their work can be appreciated. You can also develop your artistic ability during this time. Although you can spend a lot on material things at this time, due to this the budget can get a bit disturbed. People will like your humility at the social level and during this time the number of your friends can also increase.
Virgo
Ganesha says that during this transit of Venus, this time will be very good for the natives of a foreign region. New employment avenues will open, and the way for planners abroad will be paved. People will get good results at this time only by preparing for competitive exams. Love can increase among loved ones. Sweetness will remain in married life as well. Pay special attention to health.
Libra
Ganesha says that the transit of Venus will make you spend on travel and luxuries. Although there are strong chances of money coming in, it will cost more. There will be good news and cooperation from friends and relatives. If you want to try to travel abroad, you will be successful. There is also a sum of purchase of land, property, and house-vehicle.
Scorpio
Ganesha says that this transit of Venus will increase the courage of the natives of your zodiac. The decisions taken and the work done will also be appreciated. Will get the support of senior family members and younger brothers. Interest in religion and spirituality will increase. Efforts made for jobs or citizenship in foreign companies will be successful. The amenability of the child will be fulfilled. The birth and birth of a child are likely for the newly married couple.
Sagittarius
Ganesha says that during this time your interest in the field of religion and spirituality will increase and you can also benefit from it. Students will get the cooperation of teachers and with their cooperation, many problems in education life can be overcome. You may get to hear some good news from your spouse's brother or sister. The feeling of disinterest may also arise in the minds of some people during this time.
Capricorn
Ganesha says that the ongoing disputes in married life will be resolved during this time, but you will also see problems like ongoing court cases. In the middle of married life, there will be good relations and romance and love in the relationship. On the other hand, new avenues of foreign trade and business will open for the people associated with the business sector, as well as there will be favorable changes in the lives of employed people during this period and there is a possibility of promotion. From the family point of view, you will get the benefit of ancestral property during this period, the same will open the way for improvement in financial life and inflow of trapped money and you can get profit from recent investments.
Aquarius
Ganesha says that the transit of Venus will bring good changes in married life at this time. On the other hand, for those who are not married yet, their marriage can also be confirmed during this period. The people of Capricorn can also get a lot of profit in partnership business during this period. The content of the people of this zodiac can be liked a lot on social media platforms. However, the natives of this zodiac are advised not to let lust dominate them during this time, otherwise, there may be problems in life.
Pisces
Ganesha says this transit will be a favorable period for those who are in the designing and creative industry, you will be able to deliver the best of the products and services, also you may get an increment for your good work. Those who are planning to convert their hobbies and interests into their profession will get good opportunities. Pisces students will be well-focused on their studies during this transit of Venus. Their concentration on studies will increase and they will be able to understand and remember their subjects better. Candidates having an interest in art, music, drama, etc. will also get the advantage.