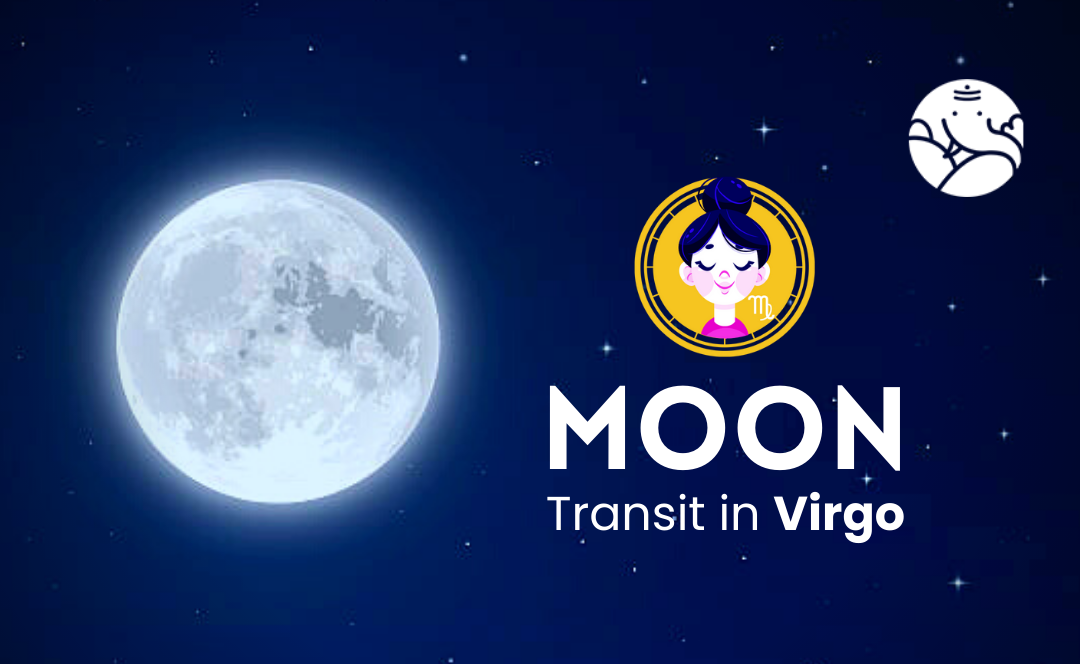 Moon Transit in Virgo
In January to December 2024, the Moon is transiting in Virgo, which is the first sign of the planet Mercury. According to astrology prediction, this transit will be best for the people of Aries. There may be obstacles in the work of the people of Taurus. Gemini sign people will get wealth from inheritance. Cancer natives should beware of enemies. The day will be auspicious for the people of Leo's zodiac sign. Virgo sign people can buy new property. Libra signs people will work hard at work. Scorpio sign people will remain a little stressed. Sagittarius sign people may face some problems in their eyes. There will be a mixed time for Capricorn sign people. Aquarius sign people will have to keep the sweetness in speech. People of Pisces should take any decision after thinking carefully. Through this blog, know what the effect of the Moon's transit in Virgo on the twelve zodiac signs will be.
Moon Transit in Virgo 2024
Moon transit in Virgo 27th January 2024
Moon transit in Virgo 23rd February 2024
Moon transit in Virgo 22nd March 2024
Moon transit in Virgo 18th April 2024
Moon transit in Virgo 15th May 2024
Moon transit in Virgo 11th June 2024
Moon transit in Virgo 9th July 2024
Moon transit in Virgo 5th August 2024
Moon transit in Virgo 1st September 2024
Moon transit in Virgo 29th September 2024
Moon transit in Virgo 26th October 2024
Moon transit in Virgo 22nd November 2024
Moon transit in Virgo 20th December 2024
Aries
Ganesha says that all your work will be completed during this transit. Will participate in any social and religious activity. If your enemies were active in the workplace, then you will be able to defeat them too. Today will be a lucky day for your love relationship. Your love for your spouse will increase. From the health point of view also you will see improvement in your health and you will enjoy a good and healthy life. Today is the best day to start a new business for business class.
Taurus
Ganesha says that the time is going to be a bit painful for Taurus. There will be obstacles at work. Even in family life, there is a possibility of having an argument with your family for some reason. For employed people who are thinking of changing their jobs, time will be better than usual. This time will be inauspicious for your love affairs. Keep balance in your speech. Your mental stress may also increase.
Gemini
Ganesha says that marriage proposals will come to unmarried people. There can be many challenges in married life. Merchant people will get new partners or business proposals. In a court case, the results will be in your favor. Students will have to make more effort to get the best outcomes. Skin-related problems can cause problems for you. Will be successful in getting good and profitable opportunities in the field.
Cancer
Ganesha says that during this time all the problems related to his health will be seen to be removed. Will give very positive results in your career. Business people will also get an opportunity to travel during this period and these trips are going to be very beneficial for you. As far as possible, do not borrow wealth or things from anyone. If the students are going to participate in any competitive examination, then success will be achieved with a struggle. Married life will remain favorable.
Leo
Ganesha says that this transit is going to be very important for the student. Time will be fortunate for the prosperous couple. Business people, in terms of the economic side, at this time you will need to be careful in all kinds of money-related transactions. Do not take rash decisions regarding your business. If you are in a job then your day will be favorable. If you want to invest in a new house, then this is the best time to do so. You may have problems related to fever and food.
Virgo
Ganesha says that there will be some ego growth in you at this time and as a result, your relationship with your loved ones may get affected. If you want to buy a new property then the time is auspicious. This transit period can also give you physical problems like fever, headache, gas, indigestion, etc. There will be congenial relations with the spouse. There will be some religious work or work related to home decoration at home. There are also possibilities of attending any social or family celebration.
Libra
Ganesha says that during this transit you will need special hard work and effort to achieve your goals. There will be chances of going on a foreign trip. During this period, some people may have to stay away from home for some time due to their work. There will be opportunities to participate in auspicious celebrations at the house of a close relative. Be careful while buying a vehicle. Avoid eating unnecessary and outside food and take special care of your health. There will be contact with an old friend or there is a possibility of a sudden meeting.
Scorpio
Ganesha says that this transit is indicating many changes in life. You will have to struggle hard due to which you may remain tense and tired. Sources of income will increase. Even in family life, the atmosphere of peace at home will give you mental happiness. It will be necessary for you to take your father's opinion before taking any major decision. Relationships with life partners will remain harmonious. If you increase your interest in charity work, then you will be successful.
Sagittarius
Ganesha says that those who are employed are seeing chances of getting promotions in their jobs. There will be a festive environment in your family. Will be satisfied with the economic side. You will get successful in expanding the business. This transit is going to get rid of all the problems or problems related to health. By getting an opportunity to meet many influential people in society, your prestige in society will also increase. The spouse's support will be received in family work.
Capricorn
Ganesha says that this transit is going to bring some ups and downs in your life. You may get disappointing outcomes in every field. So be patient and chant the following mantra of the planet Moon to solve problems. To relieve mental stress, take the help of meditation or exercise. Married life will be good. Joint pain can bother you. Students focus on their goals.
Aquarius
Ganesha says that time is especially auspicious for investing. Many debates may have to be faced in life. As far as possible, do not get involved in any kind of debate, and keep yourself calm in every situation. Married natives will get stressed during this period due to the poor health of their spouse. This time is favorable for business. Jobseekers can get new tasks. Control expenses and save your money.
Pisces
Ganesha says that at this time you will be able to get desired results at work. You will definitely get respect and prestige in society. There are definitely possibilities of many benefits for the traders. This is a good time to invest in the business. Employed people will remain self-sufficient. There will be happiness in family life. During this period, you may have problems due to stomach pain, headache, indigestion, gas, mental discomfort, etc.