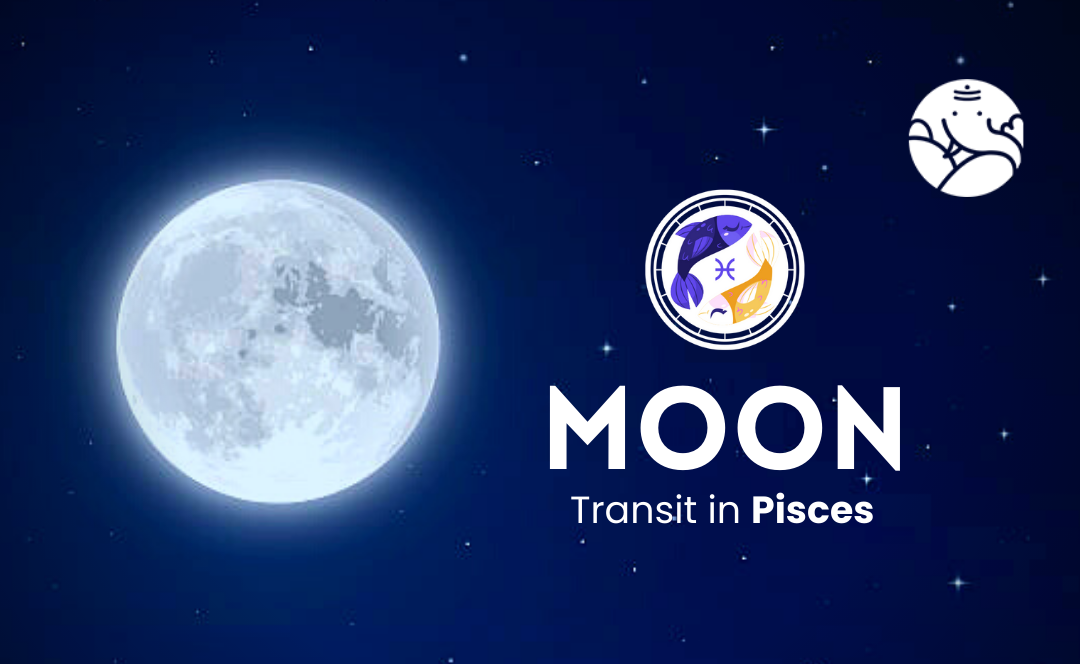 Moon Transit in Pisces
On January 25, 2023, Moon is going to transit in Pisces, which is the second sign of Jupiter. According to astrological predictions, if people of Aries sign buy electronic goods at this time, it will be auspicious. The health of Taurus may be somewhat weak. The results of this transit will be excellent for the children of Gemini. There will be sweetness in the speech of the people of the Cancer zodiac. Leo signs people should follow patience. Investment in business will be auspicious for Libra. This time will be best for the people of the Scorpio zodiac. There will be hindrances in the work of Sagittarius sign people. Capricorn sign people will get success in court-related work. Aquarius sign people should keep their work plan a secret, otherwise, there may be a loss. For the people of Pisces, this transit is lucky in the matter of love. Don't know how the transit of the Moon in Pisces will affect the twelve zodiac signs.
Moon Transit in Pisces 2024
Moon transit in Pisces 13th January 2024
Moon transit in Pisces 10th February 2024
Moon transit in Pisces 8th March 2024
Moon transit in Pisces 5th April 2024
Moon transit in Pisces 2nd May 2024
Moon transit in Pisces 29th May 2024
Moon transit in Pisces 26th June 2024
Moon transit in Pisces 23rd July 2024
Moon transit in Pisces 19th August 2024
Moon transit in Pisces 16th September 2024
Moon transit in Pisces 13th October 2024
Moon transit in Pisces 9th November 2024
Moon transit in Pisces 7th December 2024
Aries
Ganesha says that you will get full cooperation and benefits from your family or any good person in society. If you want to buy a property then this time is auspicious. It would be auspicious to buy electronic things. Will go out to watch a movie or have a picnic with the family. Economic expenses will increase. You will have the sweetest relationship with your life partner. There will be some additional construction work at home or work related to home decoration. There are also indications of attending a social or family function.
Taurus
Ganesha says that you will need special hard work and effort to achieve your goal. Can become a new friend. Relations with neighbors will improve. It is possible that there will be an occasion to participate in some festival in the house of a close relative. Drive carefully, there is a fear of an accident. Take special care of your health. Avoid unnecessary and outside food. There will be contact with an old friend or there may be a sudden meeting.
Gemini
Ganesha says that it is time to fight hard, due to which you may remain tense and tired. Time is favorable for starting a new business plan in partnership. Will take any decision with courage and will work hard for its success. So be patient and continue your work. Money will come only through hard work. Relationships with life partners will remain harmonious. Time is going to be fruitful for the students.
Cancer 
Ganesha says that there will be a festive atmosphere in the family or you will be involved in some social activity. Will be satisfied with the economic side. Family members will agree with you on any decision. You will charm others with your sweet speech. Will stay at home by canceling the idea of ​​buying and selling. There may be some problem with the right eye. It is possible for you to get money from various sources. You will get the support of your Life partner in family work.
Leo 
Ganesha says that this transit is showing wastage and sadness. You may get hopeless outcomes in every field. Chronic disease can emerge. There can be a dispute with someone. Take special care of the food. To solve problems, chant the following mantra of the planet Moon. Be careful while traveling. It is auspicious for lover and girlfriend to get each other's company.
Virgo
Ganesha says that time is particularly auspicious to invest. Investments made in difficult times will prove to be of help to you. The speech will remain sweet and people will be attracted to you. There are more chances of some people coming to your house as guests. Avoid working tirelessly as health is not favorable. Love will remain with the spouse.
Libra
Ganesha says that there is a possibility of financial gain. Can go on a foreign trip for some work. Keep your distance from strangers. Opponents will remain active at work. Do not be lazy to fulfill the responsibility. There can be a new twist in married life. This time will be more beneficial for the business class. Students may have to face some problems. Health will be fine. Will meet an enlightened person.
Scorpio
Ganesha says that this transit will be mixed for you. Suddenly there can be a controversy with someone. Anger has to be controlled. There may be damage. Due to excessive work, there will be fatigue. There can be a bad effect on physical and mental health. You may have to face domestic discord. Will meet relatives. Take care of the elders. Keep an eye on the actions of the opponents.
Sagittarius
Ganesha says you may feel a bit depressed. There will be obstacles at work. Be careful shopping there. Money can be invested in betting. There can be debate due to ideological differences between spouses. This time will be bad for your love affairs. Keep balance in your language otherwise, you may face unnecessary problems.
Capricorn
Ganesha says that unmarried people will get marriage proposals. The businessman will get a new partner or business proposal. Auspicious results will be obtained in the matter of court. Relationship with spouse will be good. There are signs of getting money or financial assistance from the in-law's side. Students will have to put in more effort to get the best results. Be careful about your health.
Aquarius
Ganesha says that your health may remain bad. You should be careful of your hidden enemies. Do not share your thoughts and strategy for doing your work with anyone else. Otherwise, you may get cheated. As far as possible, do not borrow money or goods from anyone, it may be difficult to return. If you are going to appear in any competitive exam, success will be achieved with a struggle. Avoid any unnecessary debate. Opponents will try to target you.
Pisces
Ganesha says that the moon is going to transit in your zodiac sign. Students will take an interest in-class study. The transit will be auspicious for the loving couple. Business people can take important decisions for their businesses. If you are in a job then your day will be normal. If you want to invest in land or a house, then the time will be good to do so. Your soundness will be good and you will feel energetic.